Los Angeles Kings' 2015 Off-season Acquisitions
After a 9th place Western Conference finish this past season, there was some much needed work to be done throughout the off-season. The Los Angeles Kings were short 3 points from making the playoffs. As the off-season approached, the lengthy playoffs gave the Kings some time to plan out their big moves. There were four notable acquisitions the Kings made this off-season, and this article will go through each and explain the benefit each plays to the Kings organization. Without further ado, a look into the Kings off-season acquisitions.
On June 26, 2015 the Los Angeles Kings made a blockbuster deal with the Boston Bruins.
The trade:
Los Angeles Kings acquire: Milan Lucic (LW)
Boston Bruins acquire: Martin Jones (G), Colin Miller (D), & Kings 1st round 2015 draft pick.
Before looking into Lucic, let's take a look at the players being shipped out of Los Angeles. Jones: a young goal tender, that has proven he is capable of being successful in the NHL. After a quick turnaround in Boston, Jones was flipped to San Jose, where he will be the bona fide starter. Miller: a young defensive prospect that the Kings drafted in 2012. To sum up Miller's abilities, he won hardest shot and fastest skater in the AHL All Stars competition. The final piece of the puzzle was the 1st round pick, which turned into the Bruins selecting Jakub Zboril. He is a high potential defenseman that was ranked very high within International Scouting.
Now to the important part of the deal: What did the Kings get? Well, they got Milan Lucic! The 6'3″, 235lbs left winger adds another big body to the Kings line-up. Lucic is one of those guys that does just about everything. He will get you goals & assists, he will play on the power play, rack up the penalty minutes through his aggressive play, and he will be clutch in key situations. Lucic has had three 20-goal seasons, and 60+ points twice in his career. Although his skilful statistics are not above and beyond amazing, he makes up for that in all other aspects of his play. Look for Lucic to be slotted in as the 1st line left winger with Kopitar and Gaborik as his line-mates. Lucic will be a great asset to this line with his rugged and grinding play combined with both Gaborik & Kopitar's undeniable skills. Lucic is the type of player that fans love & hate. He is loved by his team's fans and hated by everyone else. He will fit in very well with the Los Angeles Kings.
With Martin Jones traded away and Jonathan Quick labelled as the Kings' starter, they needed to fill the backup role. Thus leading to July 1st, on Free Agent Day, the Kings locked up Jhonas Enroth as their backup goalie. Enroth has spent most of his time as a backup, and being in that position behind a star goal tender is no new feat for him. He was 2nd in line behind Ryan Miller for the Buffalo Sabres for a number of years. Enroth took on the starting role in Buffalo last season playing 37 games and finishing the season with a 0.903 Save %, and 3.27 GAA. Now sliding back into a role that he is used to backing up Jonathan Quick. This signing makes sense as Enroth is a good alternative to stick between the pipes when Quick is in need of a rest. He also has the capability to fill in for Quick barring any injuries down the road. He will fit in nicely with the Kings roster and will play anywhere from 10-20 games.
A couple days later on July 3rd, the Kings signed Jamie McBain. Last year, the Kings signed McBain to a one year contract in November. After a few games in the AHL, he was called up and played 26 games in the line-up. The Kings did not re-sign McBain, and let him go back into the free agent market. After most of the bigger name free agents were signed, the Kings went ahead an signed McBain back on board. He is an offensive defenseman, that lacks physicality, but has a mind for reading plays. McBain will be the 6th or 7th defenseman on the team this year. Often he will sit out so the Kings can get some of their younger players in the line-up to gain some NHL experience. With his two-way contract, he will likely be up and down between the Ontario Reign & the Kings for the majority of the year.
After going unsigned by the Pittsburgh Penguins, Christian Ehrhoff was sent into the free agent market to look for a new team to play for in 2015-16. As the free agent days moved on, Ehrhoff remained unsigned. That was until August 23, 2015 when the Los Angeles Kings signed him to one year $1.5 million contract. Last year, Ehrhoff ran into some concussion issues, which left him on the shelf for almost half the season. The games he did play, he did not have much of an offensive effect. Defensively however, he was quite successful. He averaged 2.3 hits and 1 blocked shot per game. Ehrhoff in the past has been known for his offensive ability as a defenseman. Look for the Kings to give Ehrhoff the option to rush the puck, take the shot, make that extra move, and feed his forwards that 100 foot pass. He will likely slot in the 2nd defensive pairing with Alec Martinez, who is more of a stay-at-home defenseman. These two will compliment each other and prove to be a solid combo behind Drew Doughty & Jake Muzzin.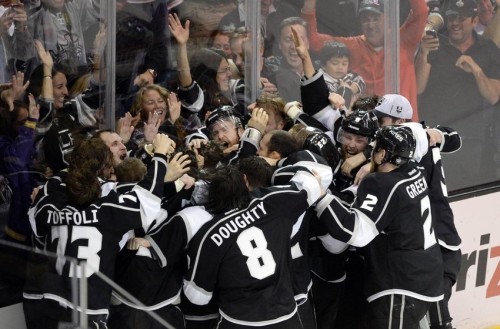 Thus concludes the Kings newest acquisitions for the 2015-2016 NHL season. With Lucic, Enroth, McBain, & Ehrhoff added to this roster, the Kings will be a very competitive team this year. The organization and its' fans do not want to miss the playoffs two years in a row, so look for many more acquisitions to be made to put the best product on the ice to win games.
Love Reading About Hockey?

Subscribe to keep up-to-date with the latest and most interesting hockey news!
| | |
| --- | --- |
| | We hate spam just as much as you |