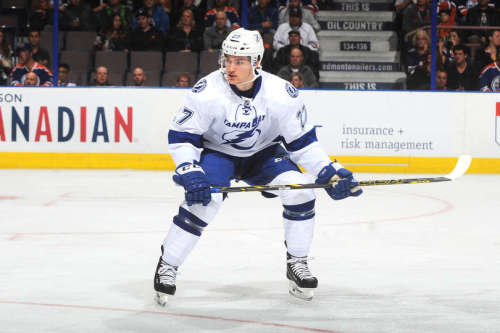 He has succeeded at every level in his career so far, and now Jonathan Drouin has reached the pinnacle. After Alex Killorn's late scratch on Monday night, Drouin made his NHL debut against the Edmonton Oilers.
Now, I'm not going to make conclusions about where his career is headed based off of this one game, but I want to talk briefly about how he looked out there.
The Lightning are already arguably the most exciting team in the league to watch: They score a ton of goals; they field one of the three best players in the world; they are full of young guys with very high ceilings; they possess the puck well; and they have a 6'7" stud goalie closing things down in net.
Drouin, meanwhile, has long been one of the most exciting YouTube prospects around. Lightning fans have spent a great many hours watching tape of him undressing defenders and goaltenders. And even in his debut, there were some moments that stood out. He threw the puck through a defender's legs on the way to setting up a near goal, nearly scored on his first pro shot and drew a penalty, just in the first period.
But what stood out to me wasn't any one play in particular. I was most impressed by just how comfortable he looked, pretty much from the get-go. He wasn't forcing anything, didn't over pursue, didn't make many mistakes, helped create several good scoring chances and generally looked like he had been playing on NHL ice for years.
And like I said, it was just one game. He'll have worse games, and he'll have better ones. But he certainly did not look out of place against the Oilers on Monday night.
There are already a lot of guys on the Lightning who I'm looking forward to watching grow and develop through the years, and now we can finally, officially, add another one to the list. Because Jonathan Drouin is here to stay.
Notes:
Drouin played 16:10 in his debut, tallying one shot on goal. He helped create several scoring chances, though, and generally looked strong on and off the puck.
My only fear with this team up to this point has been staying healthy. So the weekend's developments were, needless to say, unpleasant. Victor Hedman, who was leading NHL defenseman in points before going down with an injury, has a broken hand and will likely miss 4-6 weeks. Alex Killorn took a tumble at practice on Monday and was scratched against Edmonton (the main reason why Drouin debuted at all Monday). Killorn seems like he won't be out long, but Hedman will certainly be missed. Let's hope the rest of the Bolts can stay healthy.
Full disclosure: I wrote bullet point number two during the second period. Then Ryan Callahan left the game against Edmonton with a lower-body injury and did not return. So yeah…
How did you feel about Jonathan Drouin's debut? Let me know in the comments or on Twitter @GainesTaylor.