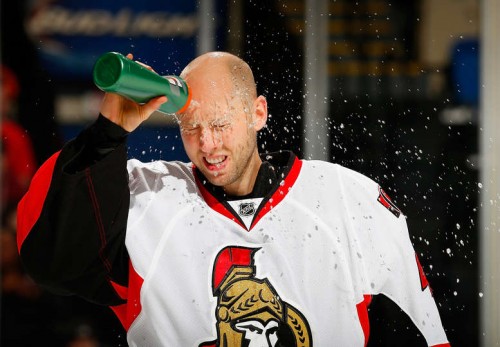 The Ottawa Senators 2013-14 season was packed with peaks and valleys, and to stay consistent with the metaphor, there were more valleys for Ottawa. Only those from the area will understand that half-hearted attempt at comedy.
Regardless, before the season began, I predicted the performance of key Senators players. Below are the results and predictions with a little analysis for each as well as some concluding remarks regarding the philosophy of this team going forward.
Let's start with Kyle Turris.
Simply, Kyle Turris had an excellent season and not only surpassed my expectations, but largely the expectations of the media and fan base. He buried the most goals on the team and was third among team point-getters. But for me, the most important statistic that doesn't show up on the above infographic was his plus/minus. Turris was a plus-22 this season, good for eighth among all league centremen. He spoke for the team when mentioned defensive zone struggles as players cleaned out their lockers Monday — but his two-way play was consistently reliable from start to finish. You'll be happy to know then that the 24-year-old is currently under contract through 2018.
Next up is Clarke MacArthur.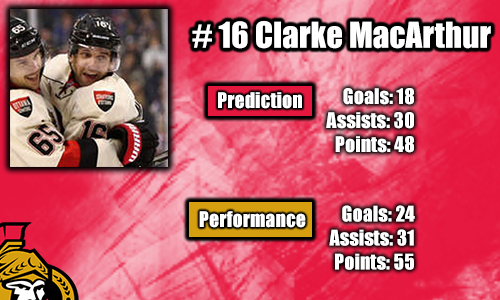 The new guys truly did all the work this season, an intentional motif and you'll see why shortly.
MacAthur, acquired from the Toronto Maple Leafs last summer, set career-high in goals (24) and plus/minus (+12). He also played above my expectation of his offensive output.
The word 'disappointing' was repeated numerous times in the questions of reporters Monday. His scrum was no different, but he seemed optimistic.
"As much as it feels like a let down, I still feel like we're moving in the right direction," the former Maple Leaf said. "Right now it's disappointing but I still feel this team [is] on the climb and next year we're really going to find out." The 29-year-old remains under contract through 2014-15 but seems interested in staying in the nation's capital. "That's something we'll have to look at down the road," he said. "I think the direction we're going in … I like — so that's obviously going to weigh into it."
Again, no quarrels with MacArthur's performance. He's where he needs to be and consistently is the name of his game going forward.
Bobby Ryan.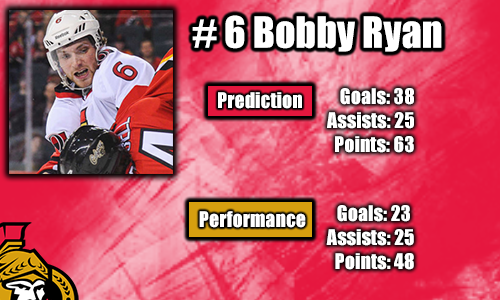 Bobby Ryan was a four-time 30-goal scorer before he arrived in Ottawa during free agency in 2013. He was fairly close to hitting the mark once again — all while playing through a sports hernia injury he sustained back in November. Of course, it's difficult to speculate what his production could amount to assuming he's completely healthy next season, but it's reasonable to say he's capable of 40 goals if surrounded by the correct players.
Erik Karlsson is where slight changes need to start happening.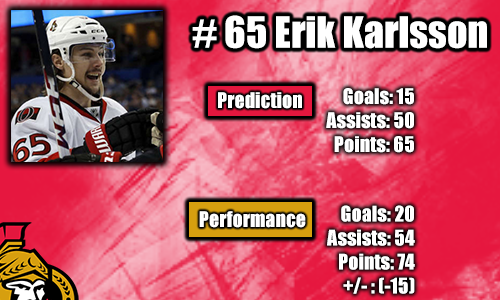 Karlsson's offensive numbers are great and he led the league in points among defensemen, but that last plus/minus number is, for lack of a better term, garbage. Sure, he's an offensive defenseman and offence is why he was drafted and why he's paid $6.5 million per season, but as a defensemen in the NHL, even an offensive one, you absolutely must be defensively accountable. Minus-15 doesn't cut it for me. That puts him at 283rd among all league defensemen and that is atrocious. Other big-name blueliners like Duncan Keith (+22) and Alex Pietrangelo (+20) were both in the top ten for scoring with those plus/minus stats, so why can't he be better in that area? I'm not asking for Karlsson to be those two guys defensively, but I do believe it's more than reasonable to ask the best puck-moving defenseman in the league to be more responsible in his own end. A plus/minus between -5 and +5 would suffice.
To address the notion of putting him on forward like the Winnipeg Jets did with Dustin Byfuglien — no. Karlsson's allure comes from the fact that he holds the title of defender. Why? Because when shut-down lines from other teams do chalk talks prior to games, the guys the coaches ask their team to cover are predominantly forwards. Forwards are inherently direct threats to their net which makes it psychologically easier for shut-down guys to fathom their containment.
Karlsson is an under-estimated sharpshooter and can strike from long distances and can also easily create attacks with quick break-outs. And if he gets caught in the offensive end, he can recover, no questions asked. In essence, Karlsson is a silent assassin because of where he's originally situated on the ice. Teams have to worry about the forwards and a speedy defenseman. Two-pronged attack. If they merge Karlsson with the forward unit, the only players teams have to worry about are the forwards.
To gather these points, Karlsson just needs to be more defensively responsible.
Craig Anderson.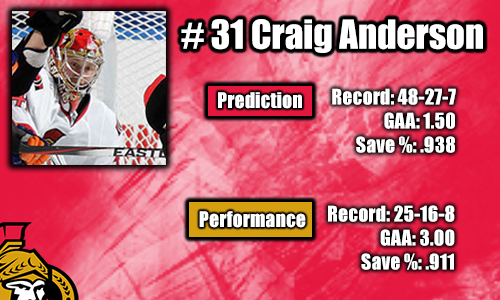 Anderson hasn't had a losing season since starting the 2010-11 campaign 13-15-3 with the Colorado Avalanche.
His record this season, however, was pretty good as seen above but with the other numbers, we can start to see not only where he went wrong, but where the team did as well. A 3.00 goals against average and a .911 save percentage are the result of team defensive failure as well as an inability to simply stop the puck. But I do believe that the latter is partially caused by the former.
When your team gives up the second most total season shots, the issue is predominantly not one on the shoulders of the goalie. By virtue of ratios alone, any goaltender who faces more shots will, for the most part, give up more goals.
But this particular situation goes deeper than numbers. When guys who play in front of a goalie are disorganized and show a perpetual failure to play simple defence on any given night, that goaltender's confidence hits the basement floor.
This is not just about Anderson or Lehner, or the defencemen. It's about playing defence as a team and that will be expanded upon as I cover the last player I made predictions for.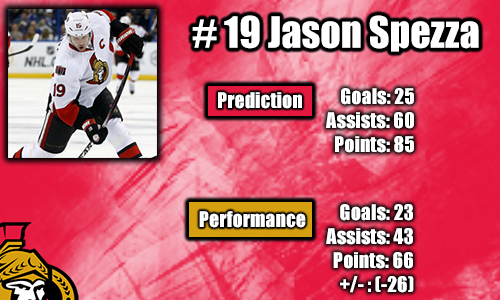 Again, solid offensive numbers from the team's captain, but Jason Spezza embodies the main issue this team was plagued by all season. Like Spezza, the team could score craft goals and plenty of them, but also like his basement plus/minus, the team was horrible in their own end. Not just the defensemen, not just the forwards and not just the guys between pipes– but the collective team needs to establish a better coverage system.
When asked if he wanted to remain an Ottawa Senator, Spezza's response was that of a spouse whose marriage was destined to fail from the beginning. "Yeah, I do," he said, non-nonchalantly.
Now, I was a Jason Spezza supporter since the beginning. I ignored his tendency to pass the puck to the other team and lack-lustre defensive efforts because he's a career point-per-game player. But from the non-committal-sounding team personnel involved (no matter how much they deny it); him, Bryan Murray and Eugene Melnyk, I get the feeling that he played his last game with the Ottawa Senators in Pittsburgh last Sunday.
If that is true and he is traded, the return must help the Senators win a Stanley Cup in the short term (2-4 years), and if they don't, at minimum, make the playoffs next season — that will mark a colossal implosion of a rebuild constructed with what, at the moment, seems like weak girders.
How can that be avoided? Well, if you've recognized the theme of this article, you may understand that perhaps 'out with the old, in with the new' is the best way forward for all involved.
Also, some discipline wouldn't hurt.