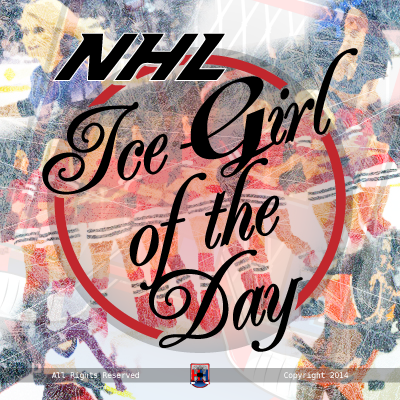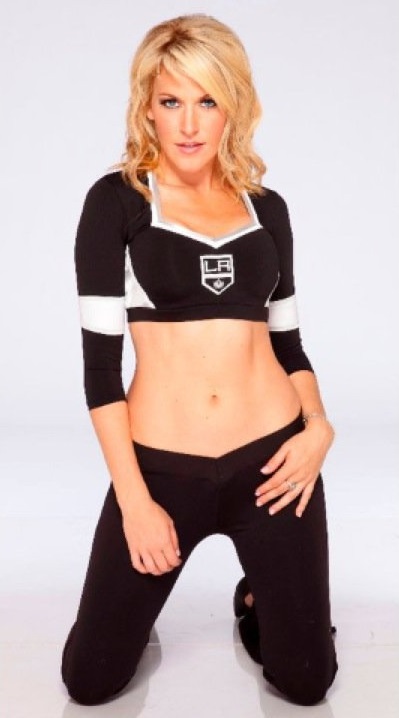 1) When and how did you get into hockey?
A: I grew up surrounded by hockey. My youngest brother played and my dad would take us the Phoenix Roadrunner games growing up. They were an IHL team in Arizona. We would sit right behind the glass every game. When Arizona finally got the Coyotes my dad would take us to every home game there was. He had season tickets and I would beg to be my dads date to all the games.
2) Who is your favorite hockey player of all-time?
A: Growing up I had two favorite players, Mario Lemieux and Wayne Gretzky
3) If you could meet any current hockey player, who would it be?
A: I would love, love, love to meet Marty Brodeur. He is my absolute favorite player.
4) What are some of your hobbies and interests?
A: I live at the beach. I am a total beach babe/bum. I love going to the beach, running at the beach, playing beach volleyball or just chilling at the beach. I work in sports TV and I can never get enough of it. I love working in TV production and being a part of the big show and making TV magic happen. I am the current Ms. California United States and I love making appearances and being super involved with all different charities. A few of them that I am so passionate about are the Amateur Baseball Development Group and The Gentle Barn. My next appearance is packing boxes for our troops and it's called Operation Gratitude and I couldn't be more excited to be a part of it!! I am so excited to give back to the brave people who risk their lives to defend our freedom. We are so blessed.
5) What's the best thing about being an NHL Ice Girl?
A: The best thing about being an Ice Girl was getting to meet and interact with the LA KINGS fans. They are so passionate about hockey! So many people say "Hockey is dead in California." But our fans prove that couldn't be further from the truth! Our fans are loyal whether the Kings are winning or losing. They are so kind and generous and support the Ice girls no matter what too. There is one in particular that wrote us thank you cards at the end of the season! I mean it doesn't get much better than that! How lucky are we to cheer on such a great team and represent such an amazing organization as the LA Kings.
6) Did you play organized hockey growing up or if not would you be interested in learning to play?
A: I never played growing up. I was always dancing or cheering or doing gymnastics. In fact, I didn't ever ice skate until the first day of auditions for the LA Kings and I fell in love with it. I often go to my local ice rink and skate at open skate now. It's such a great work out and it's so much fun. I would love to be in a league playing. I feel like I would make a great defenseman like, Drew Doughty. I actually skate at the Toyota Center where the Kings practice.
7) How many seasons have you been an NHL Ice Girl?
A: I was an ice girl for 2 seasons.
8) What do you love the most about hockey?
A: I love culture of hockey the most. I love that you can take a non- hockey fan to a hockey game and instantly they become a fan! It's a whole other world. And these athletes, these hockey players don't mess around. It takes so much athleticism to be able to skate on ice and carry around all the extra weight of the pads, control a puck and defend their goal and goalie. There is no other sport like hockey.
9) What would be your dream job?
A: My dream job is to be a sports reporter/host
10) How would you describe yourself in 3 words?
A: A passionate hard work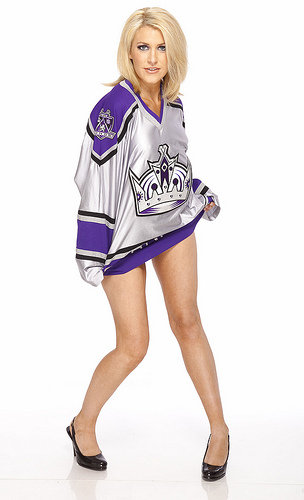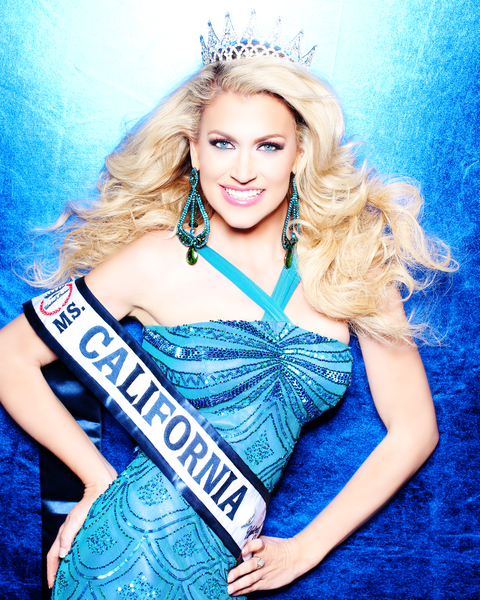 Love Reading About Hockey?

Subscribe to keep up-to-date with the latest and most interesting hockey news!
| | |
| --- | --- |
| | We hate spam just as much as you |