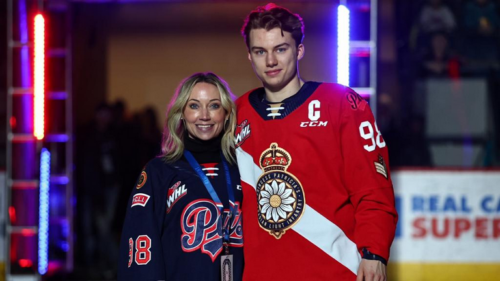 Connor Bedard is a future superstar in the making.
Bedard is the projected first overall pick in the 2023 NHL Entry Draft, and no-one else is even really that close.
We haven't seen a prospect with this much hype since Connor McDavid and Auston Matthews, and Bedard's record-breaking performance at the 2023 World Junior Championships has only elevated him further.
Melanie Bedard, Bedard's mother, is concerned about her son's rising status in the sport.
Melanie, in fact, issued a statement on Instagram, addressing some disturbing behavior from Connor's fans.
"There are very often people surrounding our house and waiting outside, then they photograph us as soon as we step outside. One day, someone even came through the back of our property, accessed the yard, and started screaming for Connor. And I would say that all this happens more frequently since the last Junior World Championship."

"Recently, I had to turn off my cell phone for about ten days because I was receiving too many messages. It was uncontrollable! I've never been used to that, you know? And it's now almost impossible to go to the grocery store or the mall with Connor without being recognized."

– Melanie Bedard
WOW People, come on……
You're stalking a teen boy just because he's really good at hockey?
That's…umm…troubling. With all sincerity, I say: Get a grip.
For those who don't know the Bedards live in North Vancouver, which, as the name suggests, is just north of Vancouver over the Lion's Gate Bridge. While Vancouver Canucks fans have a reputation for being a little crazy and going a little too far, this is on a whole other level. Allow the child to be alone. Please leave his family alone.
Period. It's not that difficult.
However, Canucks fans on the other hand, may not have much time with Bedard in their city. While it appeared for a time that the Canucks would be in contention for a lottery pick and the opportunity to select Bedard first overall, the team has been on a tear since hiring head coach Rick Tocchet in late January. The Canucks appear to be stuck in a limbo: not good enough for the playoffs, but not bad enough for a high lottery pick.