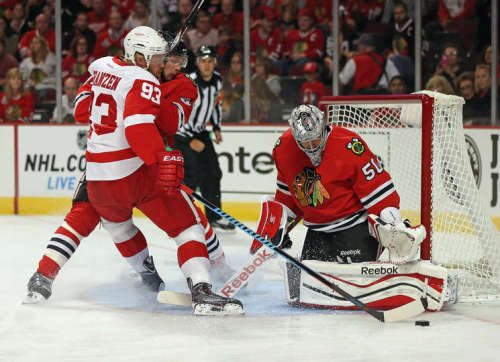 The Detroit Red Wings have reached a turning point. The formula has largely remained the same over the past few years, but it isn't working. The Red Wings are not content with merely making the playoffs. Recent free agent signings have not panned out the way they wanted. Something needs to change.
Before we begin to discuss the upcoming season, let's review what went wrong for the team this past year.
The 2013-14 campaign began with a handful of big-name players joining the roster. The additions of forwards Daniel Alfredsson and Stephen Weiss were supposed to be exactly what Detroit needed to propel them deep into the playoffs. Alfredsson held up his end of the bargain. However, Weiss would miss the majority of the season due to injury, and was not effective when said to be healthy.
Along with the new arrivals, there were some key departures. Also occurring during the preceding off-season, Detroit parted ways with some key members of the front office, namely assistant general manager Jim Nill (now GM of the Dallas Stars) and director of amateur scouting Joe McDonnell (now director of amateur scouting for the Dallas Stars). Second line center Valtteri Filppula left for Tampa Bay in search of a better paycheck, and Damien Brunner would sign with the New Jersey Devils.
It was the first season under the NHL's divisional re-alignment. Detroit joined former Original Six rivals the Montreal Canadiens, Toronto Maple Leafs, and Boston Bruins, along with Steve Yzerman's Tampa Bay Lightning. The east coast adjustment was not smooth for the Red Wings. They failed to secure one of the top three spots in the Atlantic Division while skating on thin ice into the new wild card slot.
As always, the team was plagued by a rash of injuries. A new record was set, and it wasn't one to brag about. The team lost a collective 421 man-games, breaking the previous record of 346. In addition to Weiss's ailments, the Red Wings also were forced to play without captain Henrik Zetterberg (45 GP), Pavel Datsyuk (45 GP), and Johan Franzen (54 GP). Weiss played in 26.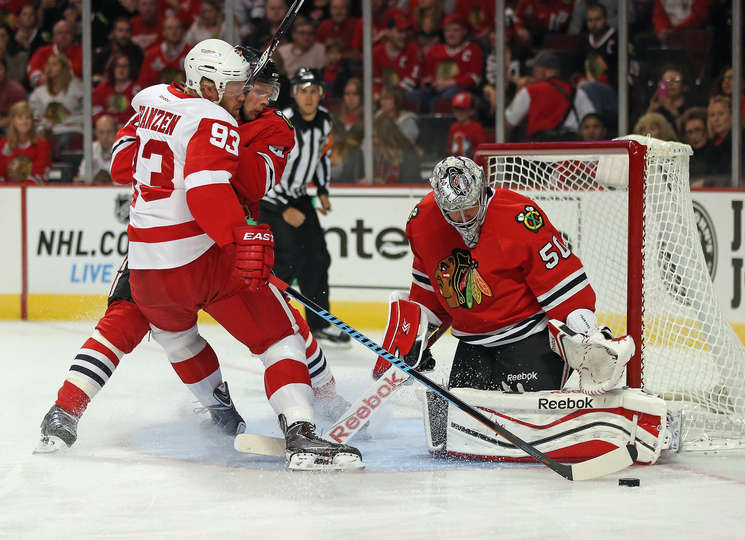 The team's playoff record seemed to be nearing its end. However, the injuries gave new opportunities to younger players, such as Gustav Nyquist (48 Pts in 57 GP), Tomas Tatar (39 Pts in 73 GP), Tomas Jurco (15 Pts in 36 GP) and Riley Sheahan (24 Pts in 42 GP). Without their contributions, Detroit's streak of 23 consecutive playoff appearances would have surely concluded.
Now let's talk about this season.
After Detroit's free agent splash in 2013, this off-season would look to be a major let-down. The only two signings were contract renewals for veterans Daniel Cleary and Kyle Quincey, both of whom have had significant declines in performance.
Unfortunately for the Red Wings, the injury bug has already bitten before the regular season has even begun. Pavel Datsyuk has been placed on injured reserve with a shoulder injury. Tomas Tatar has a concussion after taking a knee to the head in an accidental run-in with an official. Jonas Gustavsson has a knee injury (may or may not be ready for Thursday). Anthony Mantha was injured in mid-September with a leg injury. Daniel Alfredsson hasn't even decided whether he will return because of his back injury. Gustav Nyquist (knee), Darren Helm (groin) and Jonathan Ericsson (hip flexor) have all been injured but have since returned to the lineup.
So what will Detroit's opening day lineup look like?
Well, something like this:
Line 1: Johan Franzen – Henrik Zetterberg – Justin Abdelkader (with center Pavel Datsyuk on ST-IR)
Line 2: Tomas Tatar – Riley Sheahan – Tomas Jurco
Line 3: Andrej Nestrasil – Darren Helm – Gustav Nyquist
Line 4: Drew Miller – Luke Glendening – Joakim Andersson
Pairing 1: Niklas Kronwall – Jonathan Ericsson
Pairing 2: Danny DeKeyser – Brendan Smith
Pairing 3: Kyle Quincey – Jakub Kindl
Goalies: Jimmy Howard – Jonas Gustavsson
Here are their strengths and weaknesses
Strengths:
Detroit should feel more comfortable in the Eastern Conference with a full year of experience. They should be able to adapt quicker against the teams in the Atlantic Division, which they were not used to seeing so often prior to the re-alignment. Nyquist, Tatar, Sheahan, and Jurco all have an NHL season under their belt, so look for each of them to take more chances and put up more points throughout the year. They have a wealth of prospects playing for their AHL affiliate Grand Rapids Griffins. If injuries begin to pile up, which will happen at some point (according to yearly trends), there are many replacement players waiting to fill roster spots. Defensemen Xavier Ouellet is next in line for the back-end, while Ryan Sproul, Alexey Marchenko, and Nick Jensen are not too far off. Forwards Landon Ferraro, Mitch Callahan, and Tomas Nosek are also available if called upon. Lastly, goaltender Petr Mrazek provides Detroit with a solid option in net if needed.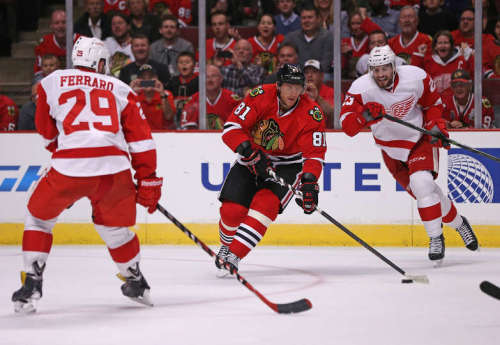 Weaknesses:
Injuries are their main weakness. If everyone can stay healthy, this team can go far. But as has been the case for countless seasons, that never happens. As long as they don't re-break the man-games lost record again, it will be a vast improvement on last season. Their defense is mediocre with Kronwall, Ericsson, and DeKeyser being the only consistently reliable blueliners. Smith, Quincey, Kindl, and Lashoff are prone to make mistakes at inopportune times. Additionally, Stephen Weiss needs to produce points in bulk this year. He still has four more years of $4.9 million per season, so he'll need to prove his worth.
My Prediction:
Detroit will be battling for fourth place in the Atlantic Division. The rise of the Florida Panthers will challenge the Red Wings for the wild card slot, while they will also have to fend off the Bobby Ryan-led Ottawa Senators and the unpredictable Toronto Maple Leafs. The top three will easily consist of Boston, Montreal, and Tampa Bay, while the wild card will be hard to secure. Do I think they'll still make the playoffs? Probably. They always find a way. Unfortunately, it won't be any easier for them.
OK so when is the first game?
Wait no more, because the season begins tomorrow (Thursday, October 8th). The Red Wings host the Boston Bruins at 7:30 ET.
Follow me on Twitter @yungspork
Love Reading About Hockey?

Subscribe to keep up-to-date with the latest and most interesting hockey news!
| | |
| --- | --- |
| | We hate spam just as much as you |