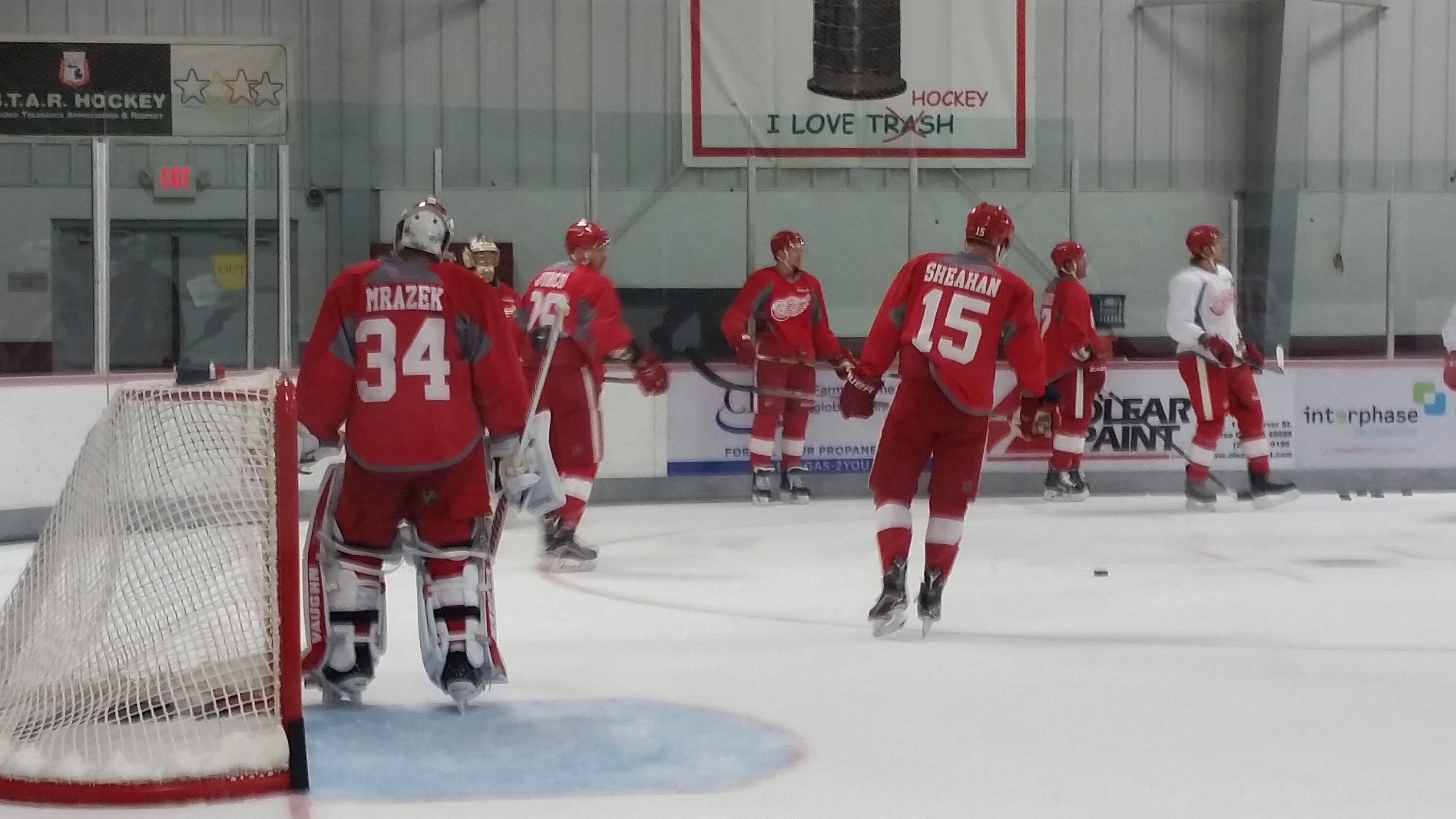 Day 2 of Red Wings training camp took place Saturday morning and afternoon.
General manager Ken Holland announced this morning that forward Darren Helm, who was involved in a collision with Jerome Verrier during a drill on Friday, has suffered a grade-one shoulder separation in addition to a concussion. His estimated timetable is two to four weeks.
Helm's teammates expressed their concern, including his linemates Tomas Tatar and Brad Richards.
"I didn't see much, I just heard it," said Tatar on Friday. "I turned and saw two guys on the ice. You don't want to see this on the first drill of the camp. It happens. It's hockey, it's a fast game…Those collisions are the worst, you know, you're not looking and you hit each other. That's why I think it sounded really bad."
"That's not something you want to see," said Richards. "Never been through something like that. It was pretty loud and not a good scene on the ice. Hopefully they get better quick."
Coach Jeff Blashill gave his update after the day's on-ice practices had concluded.
"Let's start with just that it's concussion protocol," he said. "I don't want to say it's day-to-day because it's not with a concussion protocol. For right now, he's out and other guys are in his spots."
"My understanding is I don't think the shoulder will hold him back any longer than [the length of time] coming back from the concussion," he continued.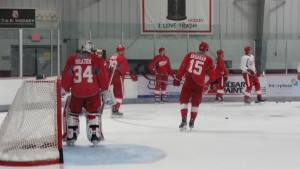 The Scrimmage
Today's scrimmage was between Team Lindsay (Zetterberg, Kronwall, Howard, Nyquist) and Team Delvecchio (Franzen, Richards, Tatar, Sheahan, Green, Mrazek).
Louis-Marc Aubry, not known for putting points on the board, began the scoring at the 15:16 mark of the first half. (Each scrimmage consists of two 23 minutes halves, the first 18 played 5-on-5 and the last 5 played 3-on-3). Camp invite Nick Betz scored the first goal of the second half, extending the lead to 2-0, before Mike Green helped make it a one-goal game. Green took the puck from his own end and circled the opposing net before wheeling around to take a shot from the top of the faceoff circle. The shot was then deflected by Tomas Jurco for the goal.
Brendan Smith would restore the two-goal lead on a great breakaway marker by sliding the puck past goalie invite Conor Ingram. It was an unassisted effort.
Defensive prospect Ryan Sproul displayed his booming slap shot and earned himself a goal with assists by Franzen and Jurco.
Lastly, Tatar would tie the game, assisted by Jurco (his third point) to lead to a shootout.
Jake Paterson and Ingram were the goalies for team Lindsay and Delvecchio respectively.
Round 1:
Richards was stopped by Paterson as he attempted a backhand-forehand shot.
Nyquist tried to backhand it five-hole on Ingram, but was stopped.
Round 2:
Tatar wrists a quick shot that trickled through the five-hole of Paterson. 1-0
Zetterberg scores an easy forehand-backhand goal after completely selling Ingram on a deke. 1-1
Round 3:
Green attempts a low shot that is easily saved by Paterson.
Justin Abdelkader was stopped next on a low shot.
Round 4:
Franzen tries a Forsberg deke, which Paterson saw through.
Niklas Kronwall was stopped on a good save by Ingram.
Round 5:
Riley Sheahan thought back-to-back Forsberg dekes would fool Paterson, but his left toe had other ideas.
Finally, Jakub Kindl (you read that right) pulled off an amazing top-shelf deke to win the shootout 2-1 for Team Lindsay.
Other Notes:
Players that impressed me today: Sproul, Tatar, Glendening, Marsh, Nosek, Campbell, Athanasiou
Johan Franzen switched teams and has now replaced Helm on the Tatar-Richards line. Tomas Jurco also switched teams.
Mike Green was very good today, not only in the scrimmage, but in the practices as well.
Follow me on Twitter @KevinSporkaHOHM