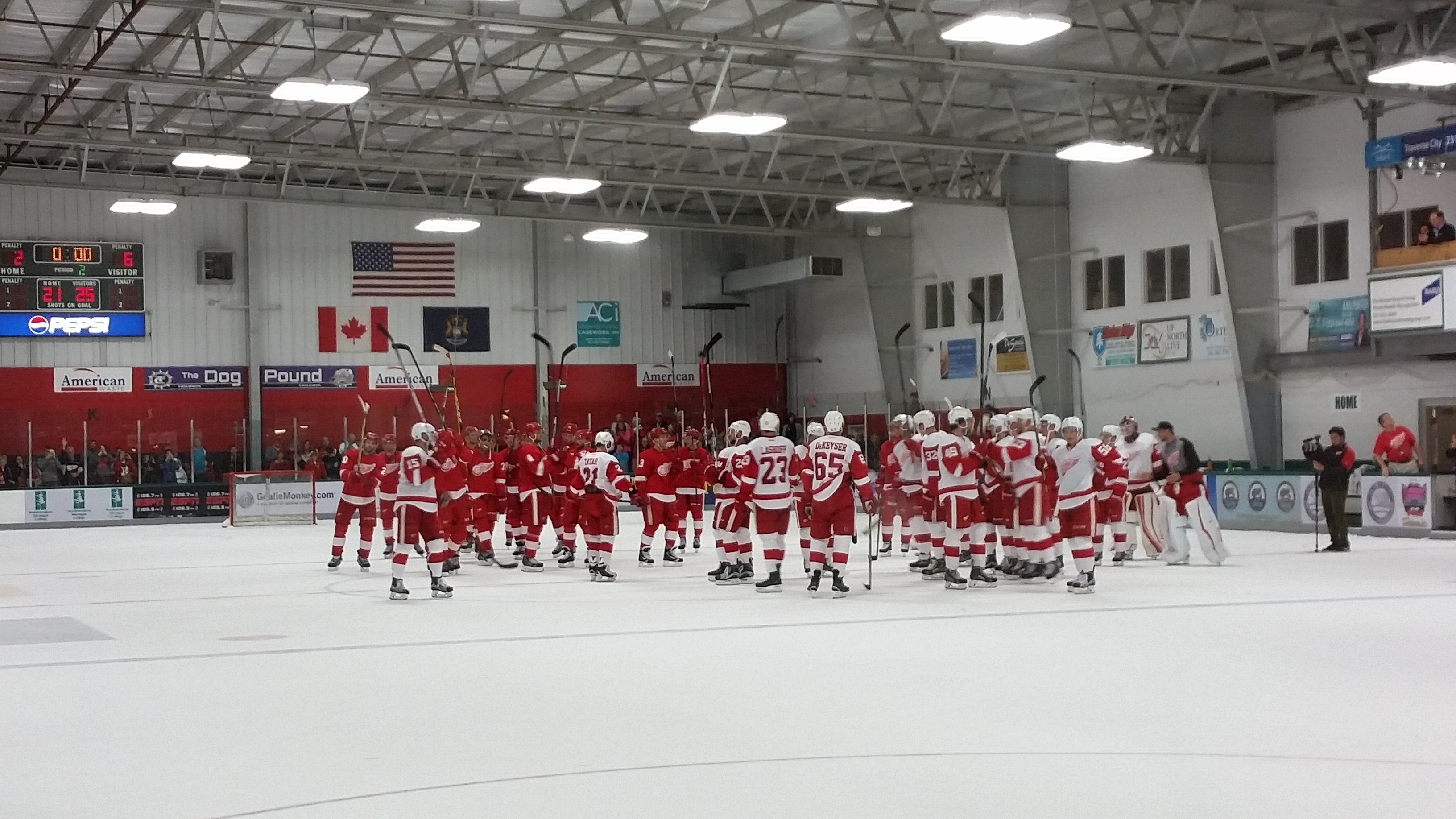 The Red and White game was played at noon on Monday, and it was more than just an inter-squad scrimmage.
In the first few minutes, newcomer Brad Richards accidentally stuck captain Henrik Zetterberg in the face following a faceoff. The next time the two met at the dot, they shared a laugh about the unfortunate occurrence.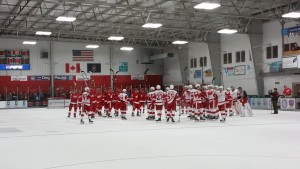 Scoring
Anthony Mantha scored the game's first goal (on the team's first shot) on a forehand-backhand effort that beat goalie Petr Mrazek glove side. Tyler Bertuzzi assisted. 1-0 Red
Defenseman Xavier Ouellet would score a power play marker four minutes later, assisted by Tyler Bertuzzi and Andreas Athanasiou. 2-0
Riley Sheahan capitalized on a power play after Joakim Andersson sat for two minutes. Sheahan deftly deflected a Johan Franzen shot upward, beating Jimmy Howard. Tomas Tatar had the secondary assist. 2-1 Red
Before the first half concluded (the game was divided into two 25 minute halves), Athanasiou scored after he deflected a Xavier Ouellet shot. Nick Jensen had the secondary assist. 3-1 Red
In the game's second half, Nosek scored on a wrist shot in the slot at the 11:10 mark. Mitch Callahan assisted. 4-1 Red
Mantha scored his second of the contest following a quick flick of the wrist past goalie Tom McCollum. 5-1
Richards scored Team White's second goal during the five-minute 3-on-3 section of the second half. Tatar and Green assisted. 5-2
Nosek scored his second of the game with 1:11 left in the half, also during 3-on-3. The goal was of the forehand-backhand variety and the puck was snuck just past the left toe of McCollum. Justin Abdelkader and Jonathan Ericsson assisted. 6-2 Final
Notes
Athanasiou showed his ability to pull off a nice spin deke.
Nosek played very well, stripping the puck from Mike Green and nearly scoring early in the first half.
Luke Glendening out-skated Ouellet to negate an icing call for his team.
Eric Tangradi does more than just hit. His skating and positioning are underrated. Additionally, he nearly stole the puck from Howard while he was playing the puck in the trapezoid.
Ericsson was able to steal the puck from Tatar on great coverage.
Landon Ferraro, fighting to prove his ability to play at the NHL level, passed the puck to himself along the boards to skillfully get behind the defense before his pass was intercepted by the other blueliner.
Gustav Nyquist tried twice to saucer a pass high to Zetterberg in close. Twice Zetterberg attempted to bat the puck golf-style but missed.
McCollum robbed Zetterberg on a great shot attempt.
Training Camp Grades
Here are my thoughts on individual players at the camp. Not included are those already established as NHL players or camp invites.
Andy Miele – Miele was outstanding in his first season as a Griffin in 2014-15, scoring 70 points in 71 games, equaling his previous season's AHL totals. The only thing keeping him from the NHL is his size. At only 5-7, 169 lb, he is not your typical hockey player. But his smaller stature enables him to have lightning fast speed. He dazzled in the Red and White game with his speed and skill.
Landon Ferraro – He got his first taste of the NHL playoffs last season, playing in seven post-season contests after playing three in the regular season. He scored his first career goal in one of those three. Ferraro has a high amount of determination, more than most players, and it is clear that he plans on establishing himself as an NHLer very soon. He had a really good training camp and will challenge for a roster spot in the pre-season.
Evgeny Svechnikov – After a sub-par development camp, the Wings' 2015 first round draft pick came to Traverse City on a mission. In four prospect tournament games, he registered four points, right behind Nosek, Athanasiou and Larkin, who each put up five. He carried that momentum over to training camp and immediately had an impact on the players around him. He is not timid about getting physical in the corners, as some players out of the QMJHL tend to be. Svechnikov was one of the more interesting players to watch throughout the week.
Anthony Mantha – Mantha is good. Let's get that straight. But exactly how good is he? The 2013 draft pick has quickly been passed over by 2014 drafted Dylan Larkin in terms of development and overall skill and his 15 goals in 62 AHL games last season left much to be desired. His two goals in 16 playoff games even more so. He has a great shot and can pick his spots when he's on his game. At other times, his wrist shot seems to be a bit out of control, sometimes sailing over the net. Mantha has much work that needs to be done before he can play in the NHL, but he is showing signs of promise, having scored twice in the Red and White game on Monday.
Martin Frk – Another example of a QMJHL forward struggling to play at the professional level. Frk has a high level of puck skills but has a distinct lack of physicality. He has floundered at the AHL level, scoring only nine goals in a combined 82 games with the Griffins over the past two seasons. However, he has succeeded at the ECHL level, scoring 51 points in 44 games with the Toledo Walleye. It is difficult to say whether he will ever be anything more than an ECHLer.
Teemu Pulkkinen – The Finnish sniper has the best shot among all Red Wings prospects by a mile. His cannon is every goalie's nightmare. In his 34 NHL games, he has struggled a bit. This is due in large part to the difference in the AHL and NHL game. In the American League, players like Pulkkinen have much more time to take their shot. Whereas, in the NHL that time and space doesn't exist. He knows what he needs to do and he will adjust accordingly this season, especially with his former Griffins coach Jeff Blashill at the helm.
Dylan Larkin – If ever there was a Red Wings player to make it to the NHL out of his first training camp, it would be this guy. He graduated from the college level (47 points in 35 games) and advanced to play six post-season games with the Griffins, of which he scored five points in six games. Larkin has a great overall, as there are very few weak aspects of his game. He skates hard, doesn't give up on plays, fights for the puck, and drives to the net with force. Don't be surprised to see him in a Wings uniform in the very near future.
Andreas Athanasiou – The one they call double-A has it all, lightning fast speed, the skill to finish on breakaways he creates for himself, and a keen playmaking ability. He scored five points in four tournament games and was a team-best plus-six, one point greater than the team total of plus-five. He has everything he needs to make it to the NHL. Now it's just a matter of time for the 2012 drafted winger to find his spot, and Larkin may have pushed him back again.
Tomas Nosek – Nosek had a really good year in his first professional season with the Griffins. Throughout training camp, it was clear that his play really made a good impression with Jeff Blashill, who is pleased with his quick progression. Expect him to have a much bigger role with in Grand Rapids this season.
Nick Jensen – It is hard to tell just where Jensen is in Detroit's prospect depth chart. I would place him just below Xavier Ouellet and just above Alexey Marchenko (Ryan Sproul being number four). He is a good two-way defenseman that checks, has good positioning, an accurate passing ability, and great hockey sense. He anticipates the play and doesn't let opponents behind him.
Vili Saarijarvi – Saarijarvi will play for the Flint Firebirds in their inaugural season following the sale of the Plymouth Whalers. He is a good skater that will excel in the Ontario League. He scored three points in four prospect tournament games, and that speaks to his offensive upside as well. He moves the puck very well.
Ryan Sproul – Sproul's strength is his powerful slap shot. The tallest of all Detroit's defensemen (6-4) and second only to Mantha overall (6-5), he uses his size to his advantage. He has great first strides and has potential to put up some points in addition to his stellar defensive game.
Alexey Marchenko – Marchenko has developed very well since his draft year (2011). His English may still not be strong, but his ability certainly is. Given the fact that Detroit played him in 13 regular season and three playoff games, the Russian defenseman will continue to see time if injuries begin to plague the team.
Robbie Russo – The 22-year old defensive free agent was signed by Detroit just over a month ago following a dominant year with Notre Dame of Hockey East (he scored 41 points in 40 games). He was the second-highest scoring player on the team. It was easy to see why the Red Wings signed him. He looks like a professional defenseman. Russo was drafted in the fourth round of the 2011 Entry Draft but never had the opportunity to play a pro game.
Joe Hicketts – The small defenseman with the booming shot would be spending this season with the Griffins were it not for 1. Detroit's wealth of defensive prospects and 2. His one year remaining junior eligibility. In his third season with the Victoria Royals of the Western League, he scored 64 points in 62 games.
Xavier Ouellet – The best of the crop of Detroit's defensive prospects, Ouellet has many strong points in his game. A good shot, a good breakout pass, good positioning, good hockey sense, good coverage. He played in 21 regular season games with the Red Wings last season and fit in really well.
Training Camp Ends / Pre-Season Begins
Detroit's pre-season begins tonight in Chicago, as they take on the Blackhawks at 8:30 ET.
Schedule:
Wednesday – Chicago at Detroit (7:30 ET)
Thursday – Pittsburgh at Detroit (7:30)
Saturday – Boston at Detroit (7:00)
Monday, September 28 – Detroit at Boston (7:00)
Wednesday, September 30 – Detroit at Pittsburgh (7:00)
Friday, October 2 – Toronto at Detroit (7:30)
Saturday, October 3 – Detroit at Toronto (7:00)
Follow me on Twitter @KevinSporkaHOHM
Love Reading About Hockey?

Subscribe to keep up-to-date with the latest and most interesting hockey news!
| | |
| --- | --- |
| | We hate spam just as much as you |