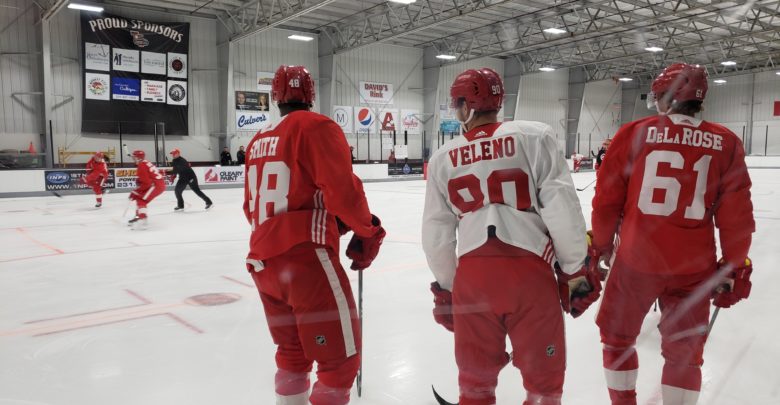 There were a lot of newcomers to Red Wings Training Camp this weekend. The Steve Yzerman era has begun in Detroit, and the camp represents step one. New prospects and free agent signings alike are all vying for spots on this team.
Here's who to watch for as the camp wraps up and the pre-season begins and roster spots are earned or lost.
Moritz Seider is in his first camp, after being drafted in the first round of this year's draft. Yzerman selected the German-born defenseman earlier than anyone had projected. He played very well in last weekend's Prospect Tournament, helping the Wings win only their second championship since the tournament's inception (the other win coming in 2013). On a team that appeared weaker than past years on paper (due to injuries there were more free agent invites on the roster than usual), Seider held his own and performed admirably for his first taste of North American-speed hockey. He has a big body and is not easily moved. His shot is good, and he even stayed after practice on Saturday working on a variety of different shots. He noted that the game is faster here than he is used too, but he never seemed frazzled by the pace. He spent the summer training in Detroit with a number of other Wings. "I'm really excited. I'm looking forward to pulling over the jersey the first time and walk into LCA. I think it's going to be great."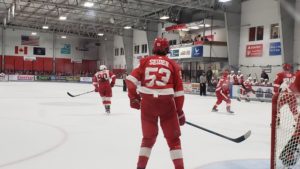 Joe Veleno excelled in the Prospect Tournament, scoring seven goals in four games. This success and his experience in his second training camp will allow him to showcase his tales in thee pre-season, starting this week. His poise and two-way play make him one of the highest touted prospects in the system. After slipping in last year's draft, Detroit should be very happy with his progression coming into his coming season.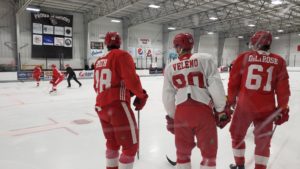 Filip Zadina may need another season of fine-tuning in Grand Rapids this year, unless he shows his scoring prowess in some exhibition matches. In the tournament, he proved he is not simply a one-dimensional shooter, taking the role of playmaker while Veleno played sniper. It was interesting for both players to show a different side of their skillsets. He still has massive potential. "He's got to score," said Coach Blashill. "He's a goal scorer. Now he can't do it cheating. If you cheat for offense, you don't have any chance to win, so you've got to be able to score without cheating. You don't have to score every game, but you've got to have opportunities to score in every game, and ultimately you have to score. That's what he does best."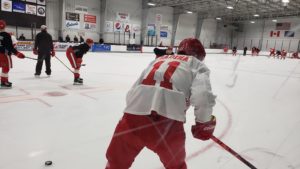 Patrik Nemeth is a newcomer to Detroit, but not the NHL. Coming from the Colorado Avalanche, Nemeth is a well-spoken defenseman that's excited for a chance to come to a team with so much youth and promise on its side. "First of all I think it's an organization that's on its rise. A lot of good young players. The history it has I think that was the most exciting part of it."
Taro Hirose and Ryan Kuffner were college free-agent signings toward the latter half of the 2018-19 season. Both have impressed in the tournament and throughout camp. When asked about his experience playing in the tournament Hirose said "just being familiar with the systems and the way Blashill likes guys to play, I think it gives me a little step (advantage) over some of the guys that haven't played at that level before."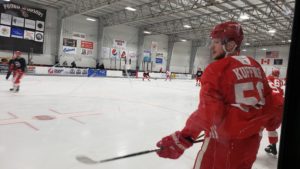 "I thought Kuff did a real good job in the Prospect Tournament," said Blashill. "For him to come to the Prospect Tournament, that just gives all of us confidence and it gives himself confidence, which is probably the most important."
Newcomers also include forwards Adam Erne and Valtteri Filppula. Both have played in Tampa Bay, where Yzerman was the GM. Erne played parts of three seasons for the Lightning, splitting time between the NHL and AHL Syracuse in the first two years. The veteran Filppula won a Stanley Cup with Detroit in 2008 and was on the runner-up 2009 squad as well. He spent last year with the Islanders and the prior two seasons with the Flyers, but he and Erne played together for a short while in 2016-17. At 35, Filppula looked good at camp. He's still a silky smooth skater with some skill.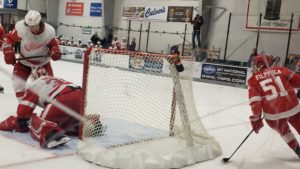 Defenseman Dennis Cholowski will need to work in the pre-season to impress the coaching staff. Although the top-six blueliners appear set with Jonathan Ericsson, Mike Green, Danny DeKeyser, Patrik Nemeth, Trevor Daley, and Filip Hronek, there is always room for shifts and there is always the lingering possibility of the team running into injury troubles which plagued the start of next year. Although the Wings opted not to have Cholowski play the full year in Detroit, his 25 games in Grand Rapids should have given him the added experience and motivation he needs to succeed this season.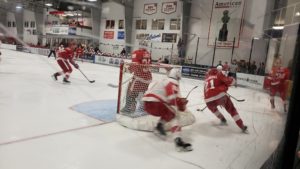 Needless to say, it will be an interesting and exciting year of changes and possibilities, and the Griffins lineup will be even more dangerous in the American League.
Follow me on Twitter @KevinSporkaHOHM