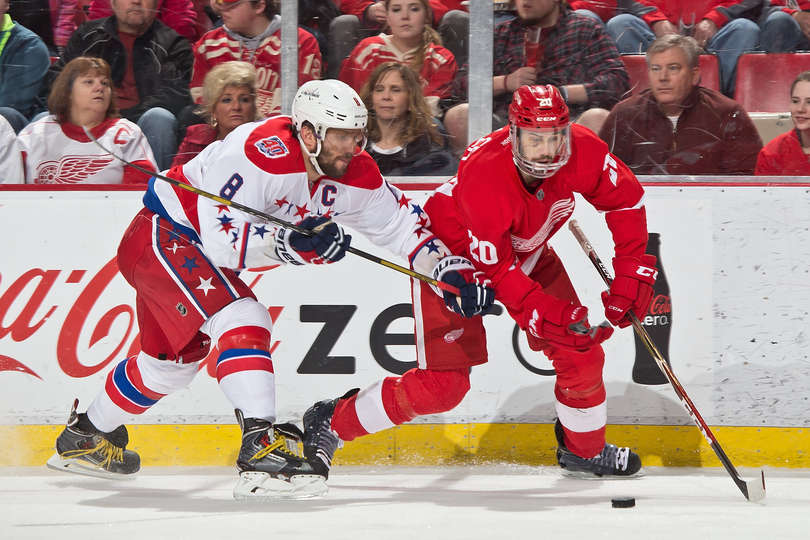 The Detroit Red Wings are trying to keep their streak of 23 consecutive playoff appearances alive this season. Since the 2011-12 campaign, the Wings have had to battle hard in the final weeks to solidify a spot in the post-season, and this time is the closest they have been to falling short.
With only three games remaining in the regular season, Detroit sits in the eighth and final spot, the second wild card position. The Boston Bruins sit third in the Atlantic Division with the same amount of points and regulation-plus-overtime wins (ROW), but they have the season series on the Wings, the second tie-breaker.
Let's break down what needs to happen for Detroit to make the playoffs and extend their streak to 24 seasons.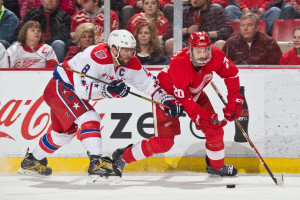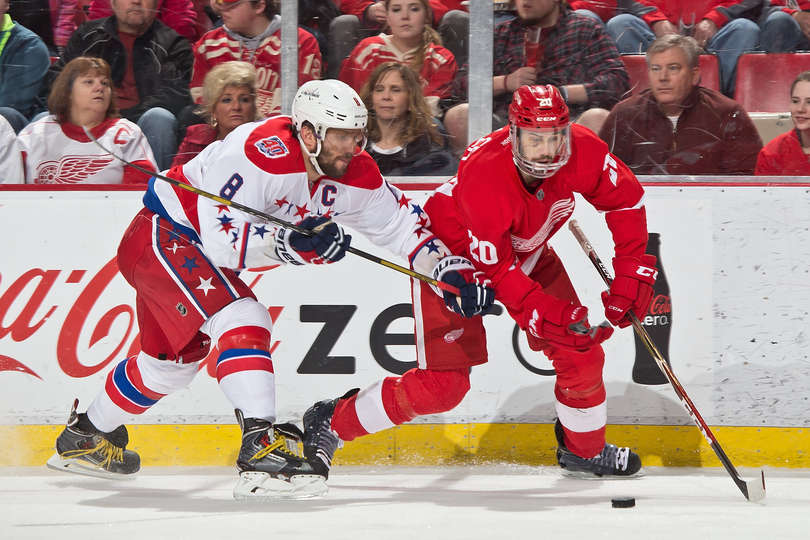 Detroit
The month of March was not friendly to the Red Wings. The trend of Win-Loss-Loss repeated five consecutive times as they went 5-8-2 in 15 games. They are currently 1-2-0 in April and as of now have not decided on a starting netminder. Both Jimmy Howard and Petr Mrazek have had up-and-down seasons of late. Howard was victorious in his last start Saturday in Minnesota, defeating the Wild 3-2 in a shootout. Although he has not had success in the skills competition this season, he was able to stop six shots in the win. Mrazek, on the other hand, has not had much offensive support. He has lost his past three games, with the Wings being outscored 6-4 (not including the additional goal provided by the shootout). However, his stats in those three games were outstanding.
A look ahead – The Red Wings have three games remaining: Tuesday vs. Carolina (at home), Thursday @ Montreal and Saturday @ Carolina. The Habs have earned 13 of a possible 20 points in their last ten games (5-2-3) and sit first in the Atlantic with 106 points (two points ahead of second place Tampa Bay). While they may not win Thursday, it should be expected that the two games against the Canes should result in two wins. Carolina sits third-to-last in the Eastern Conference with 69 points (just two points ahead of Toronto) and have allowed 36 more goals than they've scored. In their last ten, they have won only three. They were most recently defeated by the last-place Buffalo Sabres on Monday night. If they let the Leafs pass them in points, their lottery odds increase.
My prediction: 2-1-0, four points: two regulation wins over Carolina, one regulation loss to Montreal (the key here is if the Habs' Carey Price and Max Pacioretty are in the lineup). 95 to 99 points / 37 ROW to 39 ROW
Boston
The Boston Bruins have won five consecutive games, including one in overtime and one in a shootout. This comes after they lost six straight. This rebound has propelled them from being outside of the playoff picture to potentially replacing Detroit in the third spot in the Atlantic. Tuukka Rask has been hot, winning each of the five games, allowing only eight goals in the process. As mentioned earlier, the B's have the second tie-breaker over Detroit, and the two teams also currently have the same number of ROW, 37.
A look ahead – The Bruins have three games remaining: Wednesday @ Washington, Thursday @ Florida and Saturday @ Tampa Bay. The Panthers have only recently been eliminated from playoff contention, so there is not much at stake in their end. However, the Capitals, although they just clinched a playoff spot, are still fighting to hold second place in the Metropolitan Division. They are only one point (99) ahead of the New York Islanders, but the latter has a game-in-hand, meaning to earn home-ice advantage over the Isles, they need to win their last two. The Bolts are also fighting to overtake the Canadiens for first place in the Atlantic. They have won six of their past ten and still own the league's best offense. There is a chance, however, that they may rest some key players in this game.
My prediction: 2-1-0, four points: regulation loss to Washington, regulation win over Florida, regulation win over Lightning. 95 to 99 points / 37 ROW to 39 ROW
Pittsburgh
The Pittsburgh Penguins have been on a steep slide since mid-March. They have lost nine of their last twelve games, including an active three-game losing streak of which they lost to non-playoff teams, two to Philadelphia (a pair of 4-1 losses) and one to Columbus. They have been rattled by injuries all season and are currently without Kris Letang, Pascal Dupuis, Olli Maatta, Christian Ehrhoff, and Steve Downie.
A look ahead­ – The Pens have three games remaining: Tuesday @ Ottawa, Friday vs. New York Islanders and Saturday at Buffalo. The Ottawa game will be a big game for the Red Wings. If Pittsburgh wins, they move to 97 points; Detroit will likely be at 97 points if they can win against Carolina. Ottawa meanwhile would still have 93 points, with a maximum of only 97. So, if the Wings and Pens win tonight, the Senators are officially eliminated, since it will no longer be possible to catch either team in ROW. The Islanders are still fighting for home-ice in the Metropolitan. They currently sit third with 98 points, one point fewer than second place Washington. However, the Isles have a game-in-hand on the Caps and have a good chance of passing them. So expect them to be on their A-game in this contest. Lastly, Buffalo will not prove to be a challenge in any aspect.
My prediction: 1-1-1, three points: overtime loss in Ottawa, regulation loss to Isles, regulation win over Sabres. 95 to 98 points / 38 ROW to 39 ROW
Ottawa
The Ottawa Senators have had an outstanding run with Andrew Hammond in net. The first-year netminder has gone 17-1-2 in Craig Anderson's absence and has put the team on his back with a mind-boggling 1.86 goals-against average and .939 save-percentage. He has been named the NHL's first star of the week three times in the short amount of time he's been with the big club. He has defeated many top teams, including Tampa Bay (2-1), Detroit (2-1 SO), Boston (6-4), New York Islanders (2-1), Montreal (2-1), Winnipeg (3-1), Los Angeles (1-0), Anaheim (3-0), and Montreal again (4-2). The caliber of his opponent does not seem to make one bit of difference. It also appears that the team plays much better in front of him than they do in front of Anderson, allowing far fewer shots against the "Hamburglar" than his counterpart. They have been one of the league's best teams since Hammond took over in mid-February.
A look ahead – The Senators have three games remaining: Tuesday vs. Pittsburgh (home), Thursday @ New York Rangers and Saturday @ Philadelphia. This schedule is not an easy one, but they have an off-day between each game, a luxury that only one other team (Detroit) has in this playoff push. Pittsburgh is swimming against the current at the moment, but will surely be ready for this key matchup. The Rangers are always dangerous, but they may have the conference title by this game, meaning they will most likely rest a number of important players. Lastly, Philadelphia, while they have long since been eliminated from playoff contention, they have not stopped trying (well, at least Steve Mason is still trying), as evidenced by a pair of 4-1 wins over Pittsburgh in the last three games, of which Mason saved 70 of 72 shots (.972).
My prediction: 1-1-1, three points: overtime win over Pittsburgh, regulation loss to New York Rangers, overtime loss to Philadelphia. 93 to 96 points / 34 ROW to 35 ROW
My updated standings
Atlantic Division
Boston Bruins – 99 points (39 ROW, tie breaker over Detroit)
Detroit Red Wings – 99 points (39 ROW)
Ottawa Senators – 96 points (35 ROW)
Metropolitan Division
Pittsburgh Penguins
Wild Card
Detroit Red Wings – 99 points (39 ROW)
Pittsburgh Penguins – 98 points (39 ROW)
Ottawa Senators – 96 points (35 ROW)
Eastern Conference
New York Rangers
Montreal Canadiens
Tampa Bay Lightning
New York Islanders
Washington Capitals
Boston Bruins
Detroit Red Wings
Pittsburgh Penguins
Ottawa Senators
Boston Bruins will hang onto the third spot in the Atlantic Division, while the Red Wings will snag the first wild card spot and will likely be paired against the Montreal Canadiens, assuming the Habs finish second. After a valiant effort, the Senators will fall just short of the last wild card slot and miss the playoffs by a hair.
Playoff Matchups (all else equal)
New York Rangers vs. 8. Pittsburgh Penguins (second wild card)
Montreal Canadiens vs. 7. Detroit Red Wings (first wild card)
Tampa Bay Lightning vs. 6. Boston Bruins (Atlantic Division)
New York Islanders vs. 5. Washington Capitals (Metropolitan Division)
What are your thoughts? Agree/disagree? Let me know in the comments.
Be sure to follow me on Twitter @KevinSporkaHOHM
Love Reading About Hockey?

Subscribe to keep up-to-date with the latest and most interesting hockey news!
| | |
| --- | --- |
| | We hate spam just as much as you |