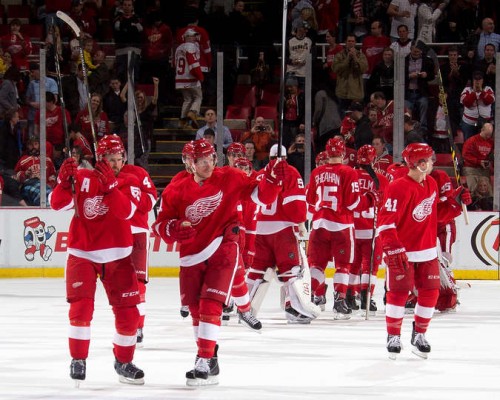 The Detroit Red Wings increased their wildcard lead on Friday night, pulling ahead of the Columbus Blue Jackets (who lost to the Chicago Blackhawks) by three points. The win over the last place Buffalo Sabres increases Detroit's winning streak to four games (best current streak in the East, second best in the League).
Surprisingly, team MVP Gustav Nyquist was held without a point against the league's worst team, but had no problem scoring goals against the Bruins, Lightning, and Maple Leafs the three previous games. Go figure. It ended his 10-game point streak that dated back to March 16th.
The Red Wings took a 3-0 lead in the first period, and appeared to be on pace to score ten or more in the contest. Darren Helm, Tomas Jurco (power play), and Daniel Alfredsson all scored early goals to give their team a seemingly comfortable lead.
Then, everyone let off the gas.
Buffalo defenseman Jamie McBain scored a power play goal in the second period, and left winger Nicolas Deslauriers scored his first career NHL goal to make it a one-goal game very early in the third period.
Fortunately for goaltender Jimmy Howard and the Red Wings, the team was able to collectively hold onto their slim lead and win the game. The two points in the standings give them a bit of breathing room heading into the final five.
Final score: 3-2
Jimmy Howard: 21/23 – .913
Danny DeKeyser: 2 assists
Justin Abdelkader, Alfredsson, Luke Glendening, Jakub Kindl: 1 assist each
Buffalo beat Detroit 10-5 in injuries (probably the first time all season that Detroit didn't have that stat on lock).
Notable Injuries:
Buffalo: Chris Stewart, Drew Stafford, Jhonas Enroth, Michal Neuvirth, Henrik Tallinder, Tyler Myers, Marcus Foligno, Zenon Konopka
Detroit: Henrik Zetterberg, Jonathan Ericsson, Stephen Weiss, Daniel Cleary
Who's Back?
Pavel Datsyuk and Daniel Alfredsson
Who Did They Replace?
Joakim Andersson (healthy scratch) and Todd Bertuzzi (healthy scratch)
Playoff Picture
Here are the numbers you need to know for Detroit to make the playoffs:
Wild Card
Detroit (currently in first wildcard spot) – Can max out at 98 points.
Columbus (currently in second wildcard spot) – Can max out 95 points.
Still in the Picture
Toronto (currently in 9th place) – Can max out at 92 points.
New Jersey (currently in 10th place) – Can max out at 92 points.
Washington (currently in 11th place) – Can max out at 91 points.
Games Left (current points total)
Detroit – 5 (88)
Columbus – 5 (85)
Toronto – 4 (84)
New Jersey – 5 (82)
Washington – 5 (81)
Who has the easiest schedule? Well let's take a look.
Detroit – Montreal, Buffalo, Pittsburgh, Carolina, St. Louis. Two favorable matchups.
Columbus – New York Islanders, Phoenix, Dallas, Tampa Bay, Florida. Two or three favorable matchups.
Toronto – Winnipeg, Tampa Bay, Florida, Ottawa. Three favorable matchups.
New Jersey – Carolina, Calgary, Ottawa, New York Islanders, Boston. Four favorable matchups.
Washington – New York Islanders, St. Louis, Carolina, Chicago, Tampa Bay. Two favorable matchups.
Does Detroit have a chance to finish 3rd in the Division.
Tampa Bay – 93 points
Remaining Schedule: Five games: Dallas, Toronto, Philadelphia, Columbus, Washington (first four all at home).
Will it happen? Not likely.
Is it possible. Definitely.
The Lightning can max out at 103 points while Detroit can max out at 98. Detroit is only 2.5 wins behind the Bolts with five games remaining.
My prediction
Wild Card
Detroit – 1st
Columbus – 2nd
Detroit will take on the Montreal Canadiens tonight at 7:00 ET on the NHL Network.
Follow me on Twitter @yungspork