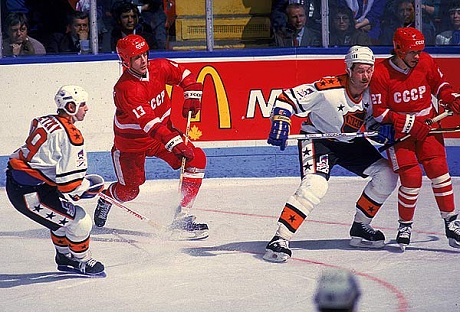 The All-Star Weekend is upon us and it seems most appropriate to take a moment and remember a great tradition once held by the name of Rendez-vous '87. Back in 1987, the NHL gathered up their elite players to form a single NHL All-Star Team to take on the Soviet Union Hockey Team in a 2-game All-Star like series in Quebec, Canada. Rendez-vous '87, replaced the NHL's All-Star festivities for that 1986-1987 hockey season. One key note is that The Soviet team was paid roughly $80,000 for their appearance in Rendez-vous '87, while the NHLers raised nearly $350,000 for the NHL players' pension fund.
The series was a total hit with both the players and the fans.  Some other players, including  Wayne Gretzky, advised that there should be more international hockey played of such a structure for the following years. The two Behemoth-skilled teams split the games, with the NHLers winning the first game, 4-3 on a go-ahead goal from Gretzky with less than 2 minutes to play, followed by a good comeback Soviet 5-3 victory two nights later.
Although the Soviet Team ended up outscoring the NHLers 8-7 over the two games, the series has always been considered a tie on both ends. "The NHL didn't win and neither did we," said coach Viktor Tikhonov. "The person that won was hockey itself. Both games were like holidays, like festivals, two of the greatest hockey games you'll ever see."
Here's a short clip of  A Look Back: Rendez-vous '87
Love Reading About Hockey?

Subscribe to keep up-to-date with the latest and most interesting hockey news!
| | |
| --- | --- |
| | We hate spam just as much as you |