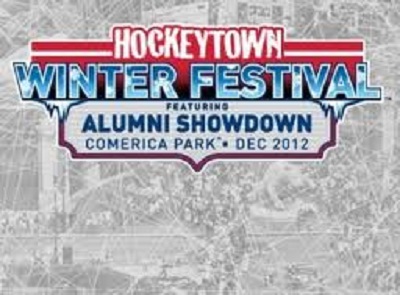 Is it December yet? Not quite, but the 2012 Hockeytown Winter Festival and the 2013 NHL Winter Classic are exciting dates that many hockey fans have had circled on their calendars for a long time. And for the city of Detroit, this will be a historic time.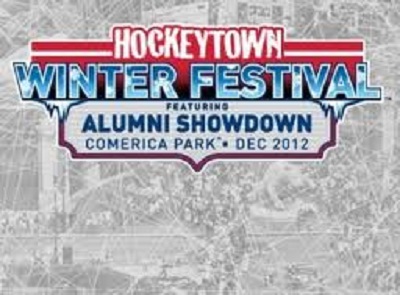 The festivities will begin on December 15th, with amateur games (including high school games), corporate outings, and open skates, with an option to book your own ice time for a private skate. This segment of events ends on December 26th. Starting on December 27th, there will be the "Outdoor Festival" including autograph sessions and concerts/entertainment. This goes until the 31st. From December 27th-28th, the GLI (Great Lakes Invitational) will take place. This annual tournament includes the Michigan Wolverines, Michigan State Spartans, Western Michigan Broncos, and the Michigan Tech Huskies. Can you tell we love hockey yet? On December 29th, the Plymouth Whalers and the Windsor Spitfires of the Ontario Hockey League will play one another along with the Saginaw Spirit and the London Knights (who just won the OHL Championship, the J. Ross Robertson Cup last season). The last OHL game I saw was in Plymouth versus Saginaw, and those games are fun to watch. All 4 teams have a rich history of producing NHL talent, including Tyler Seguin (Plymouth) and Taylor Hall (Windsor). December 31st will feature an American League matchup of the Wings' and Leafs' farm teams, the Grand Rapids Griffins and the Toronto Marlies. And on December 31st , the Alumni Showdown will commence.
The Alumni Showdown will include 2 Alumni games that will features upwards of 50 alumni players per team. If I could only go to one event, I would choose this one, even over the Winter Classic. Here are the rosters for the game (more players to be announced later in the summer). The Wings will be coached by Scotty Bowman and Barry Smith, both of whom coached Detroit to Stanley Cup championships in '97, '98, and '02. The forwards that will be playing include Mickey Redmond, John Ogrodnick, Joey Kocur, Kris Draper, Kirk Maltby, Darren McCarty, and Hall of Famers Alex Delvecchio, Luc Robitaille, Dino Ciccarelli, Igor Larionov, and Ted Lindsay. On defense you will see Chris Chelios, Jiri Fischer, and Hall of Famers Mark Howe and Larry Murphy. And in net, who else but Mike Vernon and Chris Osgood. A lot of players I have been fortunate to meet through the years and more that I hope I can meet this year. Sergei Federov and Brendan Shanahan are rumored to play as well.
Coaching the Leafs is 8-time Stanley Cup winner Red Kelly, along with Pat Quinn. Kelly first won 4 Cups with Detroit, than 4 more with Toronto, which is a record for most Cup wins outside of Montreal. The forwards for Toronto will feature Darcy Tucker (who the Leafs are still paying buyout money to until 2014), Dave Andreychuk, Kevin Maguire, Rick Vaive, Ron Ellis, Wendel Clark, and Hall of Famers Darryl Sittler and Doug Gilmour. Jim McKenny is the only blueliner that has been announced so far. In net there are 4 goalies listed including Curtis Joseph, Felix Potvin, Johnny Bower, and Mike Palmateer. Now I can't see 88 year old Johnny Bower being able to skate onto the ice, let alone play, but he'll definitely be there.
Now are you excited? I know I am. The 2 Alumni games will take place at Comerica Park. Last but not least, the Winter Classic matchup between the Red Wings and Maple Leafs will be on New Year's Day, January 1st, 2013. The idea to have it at Michigan Stadium is to break the NHL attendance record. Nevertheless it'll be a night to remember. But will we be able to attend these events? According to the Winter Classic site, it states that "A limited number of Alumni Showdown tickets will be made available in mid-August via ticket lottery. Uhh, a ticket what? Is that fair? Not to me it isn't. As someone who does not have season tickets, I'm starting to feel nervous about whether or not I'll be able to go to the events. It should be a ticketmaster, online first come first serve ticket process. Let's hope this changes in the coming weeks.
In free agent news, Alexander Semin signed a 1-year, $7-million contract with Carolina. Yet another disappointment this summer. Also Shane Doan has been reportedly asking for a 4-year, $30 million contract ($7.5 mil per year). At 35 years old, what team wants to take that high of a risk. Ken Holland certainly doesn't, and he has withdrawn from the Doan sweepstakes. George Malik of Kuklas Korner wrote "…[the Wings] may end up settling for Mike Knuble" ('97 Cup winner). Whether he was joking or not, I wouldn't mind the idea. Pavel Kubina and Carlo Colaiacovo are possibilities for defensemen. Colaiacovo is injury prone, and Kubina is aging. But the latter could be a quick fix on defense. Holland has stated he wants to add another defenseman this offseason, so we'll see what happens.
Justin Abdelkader and Tomas Holmstrom have yet to work out deals. I talked to Homer at an autograph signing a week ago, and I could tell he wants to come back. He's probably going to tryout for a roster spot and see what happens, like Kirk Maltby did.
I hope everyone's enjoying their summer. If any more Winter Classic announcements get made, I will include them in my next article. Be sure to follow me on Twitter @yungspork for NHL news, updates etc.
Love Reading About Hockey?

Subscribe to keep up-to-date with the latest and most interesting hockey news!
| | |
| --- | --- |
| | We hate spam just as much as you |