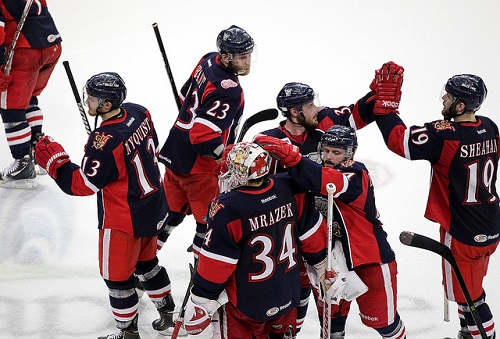 Last night, the Grand Rapids Griffins pulled even with the Oklahoma City Barons in the American Hockey League's Western Conference Finals.
The Griffins began the series with two home games, the first of which they won by a score of 2-1. The Barons won Game 2, 4-2 heading into OKC for the next three games.
The Barons decisively won last Wednesday night, giving them a 2-1 series lead.
Game 4 was supposed to take place Friday night, but was cancelled due to heavy rainfall. The rain caused a flood on one side of the arena, where the Barons' locker room and weight room is located. According to newsok.com, water poured through the radio booth, and down the steps of the upper deck and lower bowl.
Last night, Game 4 was played, after the issues were resolved. The extra day of rest proved to be all that was needed for Grand Rapids. Well, that and getting forwards Gustav Nyquist and Joakim Andersson back from the Detroit Red Wings after Detroit was eliminated from NHL playoff contention earlier in the week.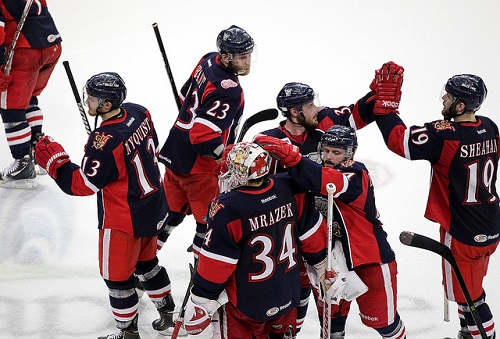 In the regular season, Nyquist finished first in team scoring with 60 points (23 goals), which was 11 points better than Tomas Tatar's 49, and in three less games. Andersson finished the season with 27 points (10 goals) in 36 games.
Red Wing defenseman Danny DeKeyser will also be joining the Griffins within the week to help their playoff run.
Andersson scored the first goal of the game with the help of Nyquist and Chad Billins. It was a powerplay goal, and the only goal of the period.
Two minutes into the second period, Riley Sheahan put the Griffins ahead 2-0 with an early goal. Francis Pare and Tomas Jurco assisted. Landon Ferraro also scored in the period before the halfway point. Billins and Tatar chipped in assists.
Forward Jan Mursak scored an empty-netter in the final minutes of the game, giving Grand Rapids a 4-0 shutout victory.
Oklahoma City really poured on the shots in the third period. They outshot the Griffins by a total of 15-5, for a game-total of 40-32.
Petr Mrazek stopped all 40 shots he faced and was named the game's first star.. Yann Danis stopped 28 of his 31 shots faced, for a SP of .903.
The game was filled with penalties. The first period had four penalties (Griffins – 6 minutes; Barons – 2 minutes). The second had five penalties (Griffins – 9 minutes; Barons – 7 minutes). The third period had six penalties (Griffins – 6 minutes; Barons – 8 minutes, including a spearing attempt).
Follow me on Twitter @yungspork