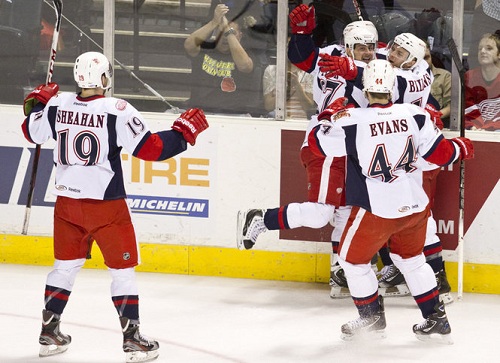 The Grand Rapids Griffins defeated the Toronto Marlies in Round 2 of the American Hockey League Playoffs (Western Conference Semi-Finals) after a back-and-forth series. Game 6 saw Grand Rapids advance after scoring three goals in the final ten minutes. Here is a quick recap of all six games.
Game 1:
The Griffins took Game 1 by a convincing 7-0 rout. Tomas Tatar scored twice and added an assist. Winger Francis Pare contributed three assists. 12 players had at least a point. Captain Jeff Hoggan had seven shots on goal, but managed to chip in two assists. Marlies netminder Drew Macintyre was pulled after giving up six goals on 28 shots. Backup goaltender Garret Sparks then gave up the game's seventh goal and saved 9 of his 10 shots against. Mitch Callahan had the first and deciding goal in the first period. Two of the seven goals came with the man-advantage. Toronto accumulated 37 penalty minutes while Grand Rapids had 21. The shots were 38-25 in favor of the Griffins.
Petr Mrazek: 25/25 saves, 1.000 SP
Series: 1-0 Grand Rapids
Game 2:
The Marlies benefited this time from their home-ice advantage by defeating the Griffins by a score of 4-2. This time the shot totals were almost even. Tomas Jurco scored the game's first goal in the second period, but Toronto stormed back quickly, scoring a powerplay goal and then a shorthanded goal. Landon Ferraro tied it up with a shorty of his own, and Toronto's Will Acton scored the game-winner just minutes into the final stanza. The fourth goal came on an empty-net opportunity.
Petr Mrazek: 27/30 saves, .900 SP
Series: 1-1
Game 3:
Grand Rapids returned home following Game 2's defeat, and took control of the series, winning 5-4, and dominating the shot totals 32-20. Griffins defenseman Adam Almqvist scored the first goal, and Hoggan scored the second, giving GR a 2-0 lead. Tomas Tatar scored Grand Rapid's third goal in the second period, but not before Toronto captain Ryan Hamilton made it 2-1 in the first. Spencer Abbott and Greg McKegg scored for Toronto, tying the game at three apiece. Pare and Mursak combined to give their team a 5-3 lead. However Carter Ashton made it 5-4 in the third period, giving the Griffins a scare.
Petr Mrazek: 16/20 saves, .800 SP
Series: 2-1 Grand Rapids
Game 4:
Carter Ashton struck first for Toronto in Game 4, scoring his second goal of the series. However, Grand Rapids responded with four unanswered goals. Jurco scored his fourth goal of the series on the powerplay in the second period, and Landon Ferraro made it 2-1 in the third period. Hoggan and Jan Mursak chipped in empty-netters to win the game 4-1.
Petr Mrazek: 17/18 saves, .944 SP
Series: 3-1 Grand Rapids
Game 5:
Once again, the Griffins outshot the Marlies, this time by a total of 33-24, but Toronto managed to score four goals as opposed to Grand Rapids' lone goal. Mike Komisarek was so bad in the first four games, that he didn't play this game. This proved to be a good strategy. Toronto took a 3-0 lead starting with two second period goals from Abbott and Acton. Morgan Rielly scored the third goal. Luke Glendening tried to give his team some life, but veteran Mike Zigomanis scored on a powerplay to make it 4-1.
Petr Mrazek: 20/24 saves, .833 SP
Series: 3-2 Grand Rapids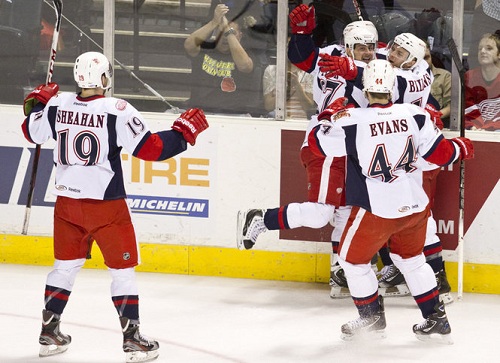 Game 6:
Toronto was facing elimination in Game 6, and put forth a valiant effort. The Marlies were successful in scoring goals on less shots taken. This game saw the Marlies shoot the puck just 18 times compared to the Griffins' 31. Grand Rapids found themselves in a 2-0 hole after the first period on goals by Ashton and Paul Ranger. Tatar scored his fifth goal of the series on a second period powerplay. Acton restored his team's 3-1 lead in the same period. Mursak, Tatar, and Glendening all scored in the final period to win the game 4-3 in a spectacular comeback.
Petr Mrazek: 15/18 saves, .833
Series: 4-2 Grand Rapids
Grand Rapids advances to the Western Conference Finals to face the Oklahoma City Barons.
Playoff Stats:
Tomas Tatar leads the Griffins in goals (8), points (11), and shots (40). His plus/minus is only +3 surprisingly. 7 players have a better rating. He is tied with Tomas Jurco with two powerplay goals.
Luke Glendeling has 10 points in 11 playoff games so far, including 5 goals. He's a +8 with just 8 penalty minutes. He also has a shorthanded goal.
Jan Mursak has 5 goals and 9 points, and leads the team in plus/minus with a +9 rating. He also leads the team in penalty minutes with 22.
Riley Sheahan leads the team in assists with 8 helpers (9 points).
Adam Almqvist leads all Griffins blueliners in goals (3), assists (4), points (7), plus/minus (+7), powerplay goals (1), and points per game (.64).
Center Louis-Marc Aubry is the only player yet to register a single point.
Goaltender Petr Mrazek is having a rough time in net these playoffs. His regular season save-percentage was .916, and his playoff SP is currently .906. He does have two shutouts though.
Round 3 Schedule:
Game 1: Friday in Grand Rapids, 7:00 ET
Game 2: Saturday in Grand Rapids, 7:00 ET
Game 3: Next Wednesday in Oklahoma City, 8:00 ET
Game 4: Next Friday in Oklahoma City, 8:00 ET
Game 5 (if necessary): Next Saturday in Oklahoma City, 8:00 ET
Game 6 (if necessary): Tuesday, June 4th in Grand Rapids, 7:00 ET
Game 7 (if necessary): Wednesday, June 5th in Grand Rapids: 7:00 ET
Follow me on Twitter @yungspork