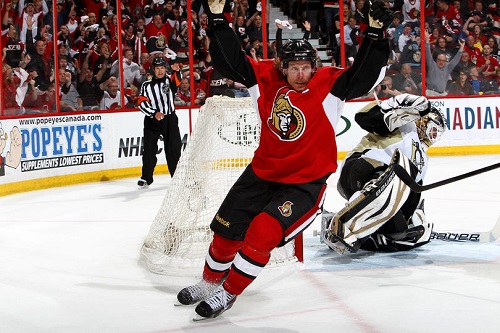 Daniel Alfredsson spoke publicly in Ottawa for the first time on Wednesday August 15th after signing with the Detroit Red Wings.
"Bibi and I came to Ottawa as young Swedes in 1995 hoping that we would be able to make Ottawa home for at least a couple of years," Alfredsson said to begin his farewell at the Royal Ottawa Mental Health Centre.
"But it became 18 years," he continued. "And over those years, I was delighted to become the father to 4 young Ottawans, to make some very special friendships, to play over 1100 games, and to lead your team for 13 seasons."
Saying goodbye was not the only reason the former Sens captain was in the nation's capital. He was also there to announce his continued commitment and support of the Royal and the Boys and Girls Club.
"Hockey was why we came here," he said. "But it was this hospital, and the great team here that taught me many valuable lessons."
He went on to talk about the value of awareness and being able to speak out with confidence.
The 40-year-old made sure it was understood that his presence would still be felt in Ottawa, then he got into the details behind his decision to leave the Ottawa Senators.
In order to help manage the salary cap, Alfredsson said the team asked if he would add an extra year after his four-year contract was up in 2012.
"Each side fully expected I would retire and not play the 2012-13 season," he said. "However, after the 2012 season, I told the Sens I wanted to play another season. I also asked if they would look at a possible extension for this upcoming season at a fairer level, to balance out the two years for both of us.
"They agreed. Sadly, the contract negotiations went nowhere."
He mentioned that he reminded management of their agreement from the year previous and that again, negotiations went stale during the week of free agency. That was when Alfie started communicating with other teams.
"Several teams contacted me including Detroit and I knew the team well, I have friends that play on the team, I like their style of play, and I knew they needed a right-handed shot," he said.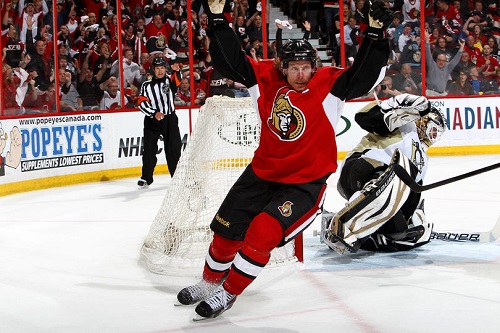 Sens Owner Eugene Melnyk admitted a week prior to the Wednesday press conference that the team simply couldn't afford Alfredsson as well as a star sniper like Bobby Ryan. It was either one or the other and Alfredsson said he didn't feel at all slighted by management's handling of the process.
"I respect Bryan [Murray] for everything he's done [for] this team as a coach and as a GM," he said. " I don't have any bad feelings against anybody. I can't say I feel disrespected I understood it's maybe hard for them to agree to my terms, but I had my reasons."
Hockey aside, Alfredsson made the decision he felt was best for his family and best for him.
"Bibi and the kids and myself struggled with this decision but in the end we decided we were ready for another adventure. This time in Detroit."
He ended his address by once again thanking the city and all the people in it.
"I don't know how long this new adventure will last, and if or when we will return, but Ottawa will always be home in our hearts. My dedication to this community remains as does my commitment to this great hospital, and thank you for everything," he said.
So, if, after all that, fans don't welcome him back with anything but a standing ovation when they host the Red Wings on Dec. 1, then they never deserved him in the first place.