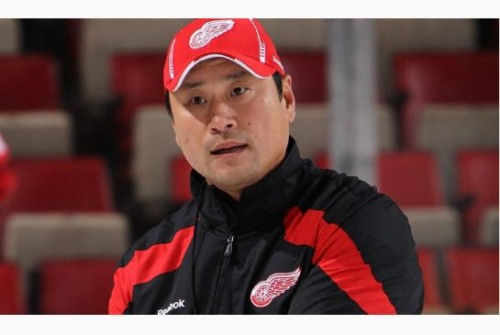 Following his nine-year coaching stint with the American Hockey League's Grand Rapids Griffins (he was the longest tenured coach in team history), Jim Paek was awarded with the opportunity of a lifetime, to lead his country's national team in the Olympics. Not only is he the director of hockey for the Korea Ice Hockey Association, but he is now the head coach for Team South Korea as the country prepares for the 2018 Olympics in Pyeongchang.
South Korea earns direct entry into the prestigious tournament by being the host country. The team is currently ranked 23rd in the International Ice Hockey Federation's World Ranking and are competing in Division 1 of the World Championship. Following a first-place finish (4 wins, 1 loss) in Group B in 2015, South Korea was promoted to Division 1A.
Paek was the first Korean-born player to win a Stanley Cup, which he did twice during the Penguins' back-to-back championships in 1991 and 1992.
I spoke with Jim at the Detroit Red Wings' 2015 prospect development camp in Traverse City, Michigan. He extended a personal invitation to two players from his team, forward Jin-Hui Ahn and defenseman Won-Jun Kim, who participated in Detroit's camp as well as the Dallas Stars' camp (where Jim Nill, former assistant general manager to Ken Holland, is head coach).
This interview took place July 4, 2015.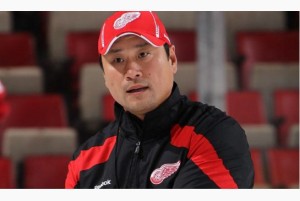 What has it been like not being directly involved in this camp, after being an assistant with the Griffins for nine seasons?
I always love coming here to Traverse City. This is one of my perks that I had being a part of the Red Wing organization. The people here, the facility, it's just fantastic. It's a great place to hold a camp. And the players, I think the environment helps with their development. When they know that you got Traverse City up here, it's such a beautiful setting, they're more energized to come and learn at the rink I believe.
How do you think Todd Nelson has done in his first time leading these drills?
Well Todd's been around forever. I played with him in the Pittsburgh organization a hundred years ago (laughs), so he's done a great job everywhere he's been, from the NHL to the American Hockey League. He's done a fantastic job. He's a great personality, he's a great coach. He's very confident in his knowledge of the game and he'll pass that on to the players for sure.
Talk about the chance that you have to be the coach of the South Korean national team.
It's a Grade-A, great opportunity for me, especially with being able to coach this team into the 2018 Olympics in PyeongChang. I'm really excited about the opportunity, very blessed to have this opportunity to go back to my homeland and help them to develop and play at a world stage.
Ahn and Kim look really good on the ice. Just talk about what you saw in them over in Korea.
They have great potential to be good hockey players for me in Korea. It's a great opportunity and I thank the Detroit Red Wings for allowing them to experience this level of hockey, this professionalism. And, for them to learn what it's like to be a pro, so it's a great experience for them and hopefully this will help them and grow as a hockey player and as a person.
What were the particular skillsets in their game that influenced you to bring them over the other players?
Jin-Hui Ahn, he's more of a skillset, he's got a good shot, he's got good hands, forward. Kim, he's more of a headsy defenseman that can move and skate the puck, very mobile, and I like that in a player that has the hockey sense, he has the brains to, because you can't teach smart. So, that's what he has, that's what excited me about him. They're good young players, they have lots of potential. They have a high ceiling and hopefully by having these types of experiences will help develop them and become one of the better hockey players, or the best hockey players in Korea.
They seem to fit in really well here. It's hard to tell that they didn't play hockey in North America growing up? Does the style of hockey in South Korea compare in terms of flow and pace?
They both have played at a professional level in the Asian League. I had them for a year; I do a lot of the same things that they were doing today in practice, systematically with breakouts and different things like that. So, they're very familiar with the kind of drills that they're doing and what the purpose is because we've done that already in Korea. They look good, and I'm proud of them for coming over here, you know, especially with the communication and the language barrier and the different culture. It's a great growing experience for them.
How has hockey developed there? Is it growing faster now in Korea?
It's a slow development in the sense that, you know, we have lots of people there, our population's big, and the hockey population is small. And I don't know if that's due from lack of rinks, lack of knowledge of the game, lack of exposure, or whatever it is, but hopefully being a part of the Olympics, it'll generate some exposure, some excitement for the kids. And hopefully the kids will get interested in playing and it will allow us to build some more rinks there so they can play, and hopefully that snowball effect will have a snowball effect.
Kim was telling me that he started playing hockey at 14. Are more kids starting to play now or just teenagers?
Right now, it's similar to here. They have lots of young teams, lots of young clubs, and so the younger players are playing and there are a lot of club teams there, so they're fortunate enough to be able to play. We just have to get them more rinks so they can play more.
Do a lot of those players on your team have NHL aspirations?
They all do, but for them to get the exposure is tough. But they play in their Asia League and they love the game, they have passion for it.
Are NHL games available [to watch] in South Korea?
You know, the power of the internet.
Are there any players in particular that they look up to in the NHL? Kim was telling me he liked to watch Mike Green.
They're all familiar with all the NHL players. They're all different, from Patrick Kane to Pavel Datsyuk, all over the place.
How is the competition in the Asia League?
It's very competitive, that whole league is very competitive and there's some good hockey players over there from Japan, China, Russia, and Korea, so for me, when I watch those games, they're good hockey games.
What's the funding like for hockey? Has the country provided the funds necessary to build the arenas?
See that's the hard part. Money's always the downfall of everything, right, so, the land space, and all of the above. I think the interest will force people to invest in the game, and we'll see what happens.
Do you think them just being in this environment with all these other prospects in North America is going to help them coming back to Korea, in terms of their development?
Absolutely, I think so, and as a hockey player you learn from other people, by watching your teammates or watching guys you play against, there's great caliber of hockey players here. They're going to learn from them, more so from the coaches here, but that's the environment they're in right now, and then hopefully they'll learn from that.
Do you think that this organization has taken the initiative and is leading the way by inviting players from South Korea to the camp?
I hope so, and the Red Wings, they're so open to anything and I'm very gracious for them allowing me to help develop Korea. So, that shows you the span that the Red Wings have in trying to develop the world of hockey, and hopefully that will continue. And hopefully [Kim and Ahn] go back and develop other players, which will allow them to continue to come to camps like this.
What do Ahn and Kim need to do to catch the eye of a team's scouting staff?
You know, the whole reason for bringing them here is to expose them to the experience and to have that exposure of what it's like to be a pro under the Red Wings organization, and hopefully they'll bring that back to Korea with them. If they catch someone's eye, that's fantastic, good for them, but here it's more, let's get the experience, let's interact with other players, let's come out of our shells, and grow them as people also. You know, they're good young men.
Follow me on Twitter @KevinSporkaHOHM