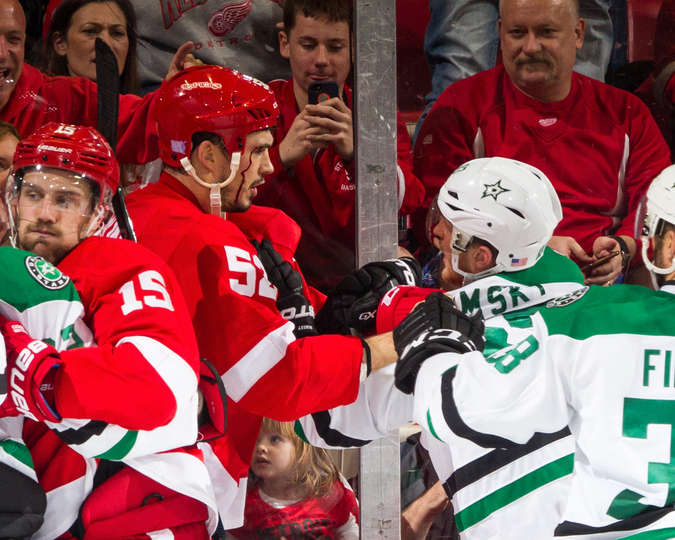 The Detroit Red Wings took on the Western Conference leading Dallas Stars Sunday afternoon. The Jim Nill-led team scored twice while adding two empty net goals in a 4-1 win over the Wings.
Dallas, the only team to score fifty or more goals to this point beside the Montreal Canadiens, were quick to take an early lead in the contest. John Klingberg fed a tape-to-tape pass to Patrick Sharp who snapped a shot past goalie Jimmy Howard.
Eight minutes later, Valeri Nichushkin, who had not scored a goal this season, broke his goalless streak with a great individual effort. He passed the puck, and was ready to corral the rebound from a point shot, after he escaped the coverage of defenseman Brendan Smith.
Detroit was outshot by a total of 15-8 in the opening stanza, and it looked as if Dallas would dominate the first twenty minutes, that is until Gustav Nyquist notched a power play marker with 27 seconds to play in the period. Niklas Kronwall faked a slap shot of which Nyquist deftly redirected past netminder Kari Lehtonen.
The second period was much more tightly contested. Whereas there were twenty-three shots in the first, there were six in the second. Man-to-man coverage from both sides prevented many quality scoring chances.
"Then we started playing," said Kronwall. "The first [period] we didn't play at all. We were watching too much, turning way too many pucks over, and that's why they kept coming. They're a good team. They've got some good skilled guys. If you keep giving the puck, they're going to find ways to make it hard on you."
On a power play which followed a Dallas too many men on the ice call, Detroit sustained pressure and kept the puck in the offensive zone for the entire two minutes. Although they failed to score, there were many positives to take from it.
The ultra-competitive play from the second carried into the final period. Midway through the final twenty, Howard received a knee to the head from Dallas forward Jason Spezza. Howard was visibly shaken after the collision, but play was not stopped. Following the subsequent whistle, he was evaluated by team trainer Piet Van Zant and was pulled from the game. However, his exit was not due to concussion protocol as was originally thought. Instead, it was noted that he had an issue with his contacts. He was able to return, but with Petr Mrazek already in, coach Jeff Blashill didn't send him back.
Not long after, Jonathan Ericsson was hit from behind by Stars forward Ales Hemsky. Ericsson had his back turned on the play from the beginning of Hemsky's charge, and the impact caused the Swedish defenseman's knees to buckle and face to hit the end boards hard. As blood trickled from just above his right eye, he regained his balance and through a couple punches toward Hemsky, in part due to a lack of a penalty call from the referees. Instead, Ericsson would receive the only penalty on the play. Dylan Larkin served the beginning of the minor penalty, before Ericsson was able to return and finish the two minutes.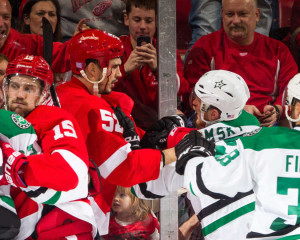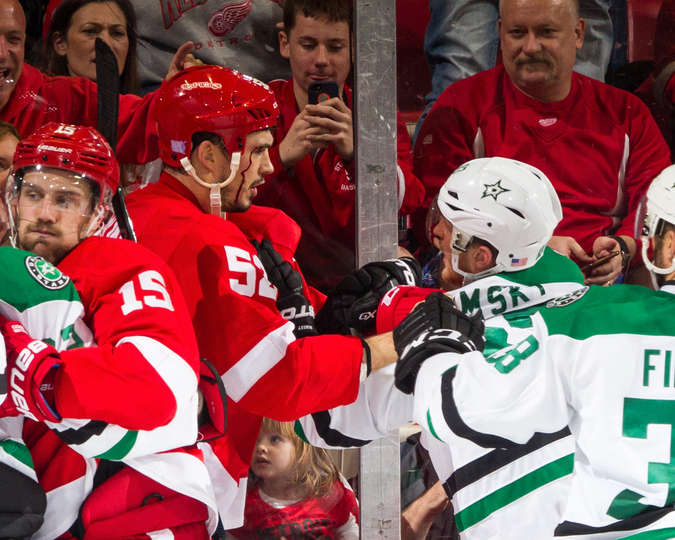 As of now, there has not been any indication that the NHL will take disciplinary action against Hemsky.
After what should have been a five-minute major, which likely would have allowed the Red Wings to tie the game, they were then forced to kill off the penalty. Blashill was visibly upset over the non-call, but refused to pin blame on the referees after the game:
"I have no comment on that," he said. "I won't comment on the discussion between myself and the referee. Lots of stuff happens in a game, we have the best refs in the world and they're the best refs in the world for a reason. So I have no comment on that."
"Yeah that was kind of weird," said Zetterberg. He (the referee) said he saw it, saw the whole thing. I don't know if he saw something different than what we saw. It looked like a hit to the head, and then we end up in the box. But, he said he saw everything, so you got to trust him."
Athanasiou's Debut
Lost in all the controversy was a milestone for forward Andreas Athanasiou, for whom Sunday was his first NHL game. He skated on a line with Joakim Andersson and Teemu Pulkkinen. Although the 21-year old didn't register a shot, his impact was still made. He showed his speed and skill with the puck throughout the night.
"I felt pretty good out there today," said Athanasiou. "It was unfortunate that we got the loss; it would have been nice to have a win in my first game but you only get one first right? So, it was an exciting moment, a little bittersweet."
"I thought he looked good, lots of energy," said Kronwall. "Had some good chances, played well for us."
Through eight games with the Grand Rapids Griffins of the American Hockey League, he has one goal and two points.
He has all the tools necessary to make the jump from the AHL, but his stay with the team will be an abbreviated one.
Coinciding with his call-up, Detroit placed defenseman Kyle Quincey on injured reserve.
"Once we recalled him we thought let's see what he can do," said Blashill. "I thought he did a really good job. I thought he provided speed, I think he had a number of good opportunities."
Tough Start for Griffins
Athanasiou is not the only player that has struggled this season. The Griffins sit last in the Central Division with a 1-7 record. Even more alarming however is the goal differential. They have managed just 11 goals but have allowed 28 in only eight games. The other three last place teams in their respective divisions have scored 32, 27, and 15.
Although the Red Wings have transitioned reasonably well under coach Blashill, the same cannot be said about the Griffins and Todd Nelson just yet.
Anthony Mantha also has one goal and two points, Tyler Bertuzzi has just one assist, Tomas Nosek has just one assist, and leading the team in points is defenseman Ryan Sproul with a goal and four assists.
Tom McCollum has lost all five games he has started (.899), while Jared Coreau is 1-2 (.904).
Green Returns
Offensive defenseman Mike Green returned to the lineup following an upper body injury that caused him to miss six games from October 24.
Detroit takes on the Washington Capitals on Tuesday night at Joe Louis Arena.
Follow me on Twitter @KevinSporkaHOHM
Love Reading About Hockey?

Subscribe to keep up-to-date with the latest and most interesting hockey news!
| | |
| --- | --- |
| | We hate spam just as much as you |