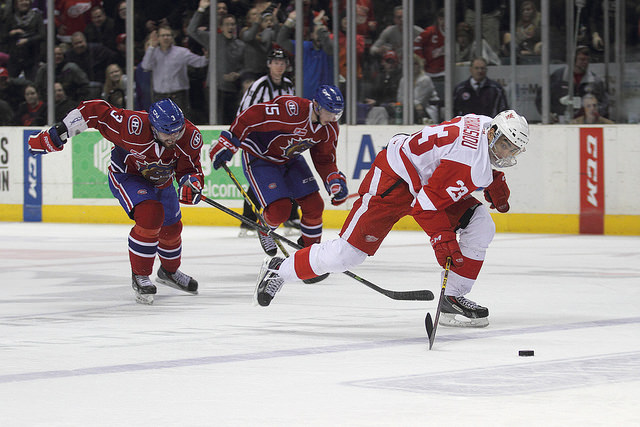 It wasn't the season he pictured coming into the 2014-15 AHL campaign. Sidelined with a broken jaw from mid-December until recently, his progress was halted for nearly two months.
He returned just two weeks ago, making up for lost time, very quickly scoring seven points in six games coming into Friday's contest against the Hamilton Bulldogs, giving him 23 points in just 31 games.
"Well the injury was tough for him," said coach Jeff Blashill, "but I think for me, he's been one of the best, I don't want to call it surprises. I didn't think he had a great development camp last summer, and I told him that, and I think he's come back and been really good, and been really good fairly consistently. I think the challenge for young players is understanding it's an everyday business and you have to be great every day. I think he has met that challenge most nights."
"I think I've made the jump to the AHL pretty well," said Athanasiou (pronounced "ath-ehn-uh-SEE-you"). "You know, obviously I had the broken jaw which set me back a little bit, but I'm doing my best to get back to gameplay and do the best I can for the team."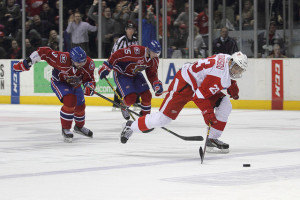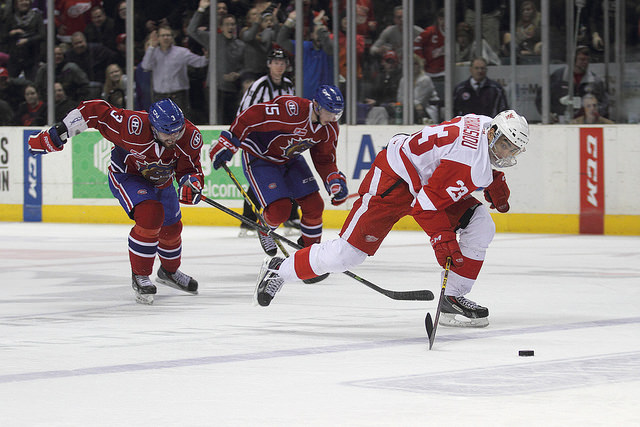 When the game needed overtime to solve a 2-2 deadlock, it was a perfectly scripted opportunity for the lightning-fast winger to showcase his abilities. When the first three minutes concluded and the 4-on-4 overtime period transitioned into 3-on-3, Athanasiou was called upon for the moment he's been waiting for all season.
"I think coming into the season and hearing about the rule, I was definitely pretty excited to hear about 3-on-3," said Athanasiou. "Being in my game, being a skater, I was just waiting for my chance to get an opportunity to play 3-on-3 and I was lucky enough to get a break there and make the most of it."
Detroit general manager Ken Holland has been pining for 3-on-3 to replace the dreaded shootout, of which the parent Red Wings have struggled mightily with all year long. This night proved just how exciting and spontaneous this format can be.
With tons of open ice, it makes for an unpredictable but energetic four minutes of sudden-death. With both teams playing with two forwards and one defenseman, 2-on-1s were traded back and forth. The pace was fast, very fast. Puck-moving goalie Petr Mrazek, who was recently sent down from the Wings due to Jonas Gustavsson being healthy, also thrives in this environment, acting almost like another forward.
"Right when he gets that puck in the 3-on-3, he's so aware and knows where everyone is and knows when he wants to play it," said Athanasiou. "Right before that, he picked it up, took a stride, saw there was nothing, and just held it. He's so smart with the puck and he has that confidence. It's like having a fourth man on the ice there in the 3-on-3."
When Mrazek thwarted a Bulldogs scoring opportunity, he started the rush the other way, allowing Athanasiou the break he's been waiting for since his first game as a Griffin. When veteran defenseman Nathan Paetsch pushed the puck along to him, he took off, careful not to allow any defender to get ahead of him with his explosive stride.
He raced from his own blueline while holding the breakaway the entire time. Soon it was just the shooter and the goalie (former Red Wing and Griffin Joey MacDonald). Careful to heed the advice he was given by his coach, he threw a big deke on the veteran netminder, scoring the game-winning goal in the most dramatic fashion possible."
"We had it off the faceoff, we had a two-on-one, and I kind of sauced over to Lando (forward Landon Ferraro), and the D gloved it down and we came back. Petr made a huge save, Paetscher just got that puck chipped right by that guy and you know, I got it, I kind of felt a little bit of pressure so I took three hard strides. Once I saw I was clear-cut, I knew the goalie was good on a first shot, coach said that so I knew I was going to deke the whole way."
"I mean, you can feel the crowd start to roar," he said, barely able to contain his excitement while grinning from ear-to-ear. "You know, I love that, these fans are amazing, so I want to do my best for them. Like I said, I knew I was going to deke the whole way, and I really wanted to put that one home."
Sort of like a shootout? Not quite. The spontaneity of the 2-on-1s and breakaways leads to an unscripted finish.
"This is my first time in this league being in 3-on-3," he said. "I was pretty excited. (Laughs) lucky enough to be one-for-one. There's so much ice out there, and if you got control of that puck you have so much time to wheel around. These players are so good, they'll find you no matter where you are and no matter how fast you were going. When you get the puck at top speed it's a good feeling."
"What we've done all year, we've gone with two forwards and a D," said Blashill. "What it really becomes out there, is it becomes zero systems and all about individual ability. I thought you saw that a little bit with the last goal, in a sense that 'double-A' is so fast. Once he had a step, nobody was catching him. It really does become about individual ability and guys making plays, probably why it's so fun to watch. It's really hard to coach from a systematic standpoint. From a fans standpoint, it's fun to watch because of it. We were saying in the third period what a high-level game it was. When you get the space with 3-on-3, guys just create plays, and once the chance happens one way, it's going right back the other way for sure."
And the team loves it, including the coach.
"I think it's awesome. I think 3-on-3 has been awesome," said Blashill. "I think what we do in the American League, is the best I've seen in terms of determining outcomes. I am a shootout guy, I'm not anti-shootout at all. I think the entertainment value between 4-on-4, 3-on-3 and the shootout has been awesome. We're all trying to sell the game, and I don't see any fans disappointed."
The fans left happy, but none were happier than Andreas, who earned first star honors, and deservedly so. Few players work harder than he on the team. He gives his all every game, and continues to improve his game night-after-night. He has earned the trust of his coach to be put into big-game situations, and he is making the most out of every situation he is given.
And he doesn't plan on slowing down any time soon (both literally and figuratively).
Follow me on Twitter @KevinSporkaHOHM
Love Reading About Hockey?

Subscribe to keep up-to-date with the latest and most interesting hockey news!
| | |
| --- | --- |
| | We hate spam just as much as you |