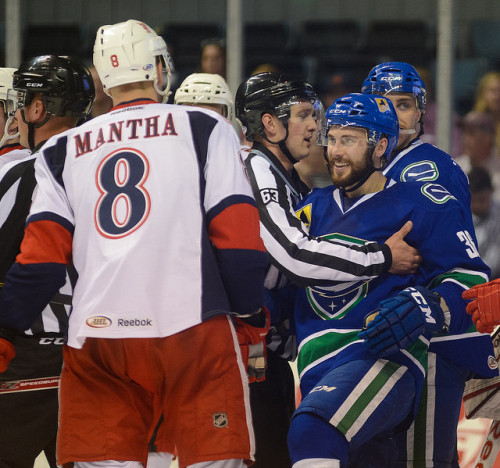 The Grand Rapids Griffins fell to the Utica Comets Thursday night in Game 3 of the Conference Finals. Having split the first two games, the Griffins were unable to take advantage of the home crowd's enthusiasm in a 4-1 loss.
Sven Baertschi scored the first three goals in a natural hat trick, and Grand Rapids was unable to climb out of the deep hole.
Beginning Line Combinations
LW Teemu Pulkkinen C Dylan Larkin RW Anthony Mantha
LW Tyler Bertuzzi C Andy Miele RW Mark Zengerle
LW Kevin Porter C Jeff Hoggan RW Andreas Athanasiou
LW Marek Tvrdon C Louis-Mark Aubry RW Colin Campbell
LD Nathan Paetsch RD Alexey Marchenko
LD Brian Lashoff RD Nick Jensen
LD Brennan Evans RD Xavier Ouellet
G Tom McCollum
After spending the first two periods on the top line with Pulkkinen and Larkin, Anthony Mantha was moved around a lot in the third period.
He was first moved to the third line with Porter and Athanasiou, then later bumped further to the fourth line with Aubry and Campbell.
Subsequently, captain Jeff Hoggan was boosted to the top line and Marek Tvrdon replaced Mantha on his power play unit.
His ice time was drastically reduced as a result, and is indicative of his lackluster play in this post-season. In 13 games, he has now scored one goal and two assists, and coach Jeff Blashill decided to make the change.
"You're just trying to come up with a combination that could get us going a little bit, get some energy going," said Blashill. "I thought in the third, we pushed hard early."
"I thought they (Larkin and Pulkkinen) played fairly good together," said Blashill. "I thought when Hoggan went on that line it gave us a little more of a net-front guy, a guy that was going to be hard on the puck a little bit more. I thought when Mantha, Pulkkinen and Larkin played together, there wasn't enough net drive, there wasn't enough net presence. I thought when we made that switch it made that line better."

"That would be the [line combination] that we changed that really had a significant impact. I thought Bertuzzi was good the whole night and I thought Miele's third period was really good, I thought Zengerle was pretty good, so that line's been a really solid line for us. We got to decide how we're going to start the game tomorrow, but I thought once we got a net presence guy on that other line it was better."
Even when he was playing top minutes in periods one and two, he was almost invisible, completely overshadowed by the strong play of Larkin and Pulkkinen. Mantha has not earned the trust of his coach and will need to make some changes if he hopes to re-gain his lost ice time.
However, Tvrdon, who was not in the lineup in Game 2, was a positive for the team, scoring the lone goal for Grand Rapids on the power play.
His third period was very impressive, and his one-timed slap shot was the only one to beat Jacob Markstrom on a 40-shot night.
"Tvrdon's a real good power play player," said Blashill. "He's been a real good power play player ever since he came up from Toledo. That's one of his best assets. He's a guy that when he shoots it, he sometimes doesn't shoot enough, but when he shoots it he's got an ability to score goals for sure. I thought he played a pretty good game tonight after being out in Game 2."
Blashill hinted that he may keep the line combinations the same as last night's third period, with Hoggan likely centering the top line once again. It remains to be seen where Mantha will be placed to begin the game.
Like his QMJHL counterparts Tomas Jurco and Martin Frk, he has struggled mightily in his first year at the professional level. In 62 regular season games, Mantha put up a disappointing 15 goals after scoring 107 the past two seasons with the Val d'Or Foreurs. The Red Wings have not found a proven NHL player from the QMJHL since drafting defenseman Jiri Fischer in the 1998 Draft.
Dylan Larkin has impressed in the small sample size of three games, scoring once in each of the first two contests on the road. Although he was unable to find the back of the net on Thursday, his play was strong nonetheless.
"I thought Dylan was good tonight, again," said Blashill. "He's got a will to him. He's got to learn some little habits that we work on lots. He's got to do a better job of stopping on pucks. We've talked about that, that's a habit that is created over time and he'll be better at it. He wants to win all those little battles, he's got a real defensive stick. I thought he's done a good job. He's gonna have to continue to rise his game though with the minutes he's getting. He's got to play a real big role, and he's gonna have to be even better in Game 4 for us to have a chance to have success."
He is starting to develop good chemistry with linemate Pulkkinen, and his confidence level appears to be rising.
"He's good, he's good. I know we can play better [together]," said Pulkkinen. "He's a good player, he can skate and he's smart. So it's been a lot of fun. He's a smart, smart player. When you're a smart player, you're going to figure it out fast and he's been doing that."
Larkin only recently signed his professional contract after finishing an impressive season with the University of Michigan in which he scored 15 goals and 47 points in 35 games.
The Michigan native gained valuable experience playing for Team USA in all ten games, helping the Americans win the Bronze medal over Team Czech Republic.
"This is a little bit more fast than college, and definitely more physical," said Larkin. "Coming back from overseas (he played for Team USA at the World Championship) has been pretty tough. It's taken a little bit to adjust to the smaller ice. It's more gritty, and over there it's more skill. It hasn't been too bad but the trip overseas helped me a lot to adjust to pro."

"I like skill [better], but you have to play that way, it's playoff hockey."
Defenseman Nick Jensen made his presence known throughout the game on a multiple levels. He threw a number of hard hits to presumably spark the team.
"Jense is a highly competitive player," said Blashill, "and I thought he did a good job of, I don't know if he was trying to spark the team as much, it was just him being as competitive as he can be. That's one of his best attributes, and he did that."
Jensen has proven to be a smart, all-around defenseman for the Griffins, and is reliable in all situations. He is not an offensive defenseman by any means, but he still provided 27 points this season. Last season he was only able to play the second half of the year after being injured by fellow prospect Tyler Bertuzzi at the 2013 Development Camp in Traverse City. Now the two are teammates after Bertuzzi (43 goals, 98 points in 68 regular season games for the Guelph Storm this season) joined the Griffins for the playoff run.
Bonus Facts:
The Griffins are playing without a handful of key players, namely Tomas Nosek and Zach Nastasiuk, who are both sidelined with injuries after taking hits to the head.
Both teams have a Nick Jensen, Nicklas Jensen (forward for Utica) and Nick Jensen (defenseman for Grand Rapids)
Forwards Teemu Pulkkinen (14 goals) and Tyler Bertuzzi (7 goals) have combined for 50% of the team's goals in the playoffs.
Defensemen Alexey Marchenko, Nathan Paetsch and Xavier Ouellet all have more points than Anthony Mantha.
Captain Jeff Hoggan is a team-worst -11. The only other minus players on the roster are Tvrdon (-5), Pulkkinen (-3), and Brian Lashoff (-3).
Tomas Nosek leads both teams in plus-minus at +10.
Prior to last night, Pulkkinen had scored ten goals over the highest goal-scorer for the Comets (he leads the AHL with 14)
Game 4 is tonight at 7:00 ET. Utica leads the series 2-1.
Follow me on Twitter @KevinSporkaHOHM