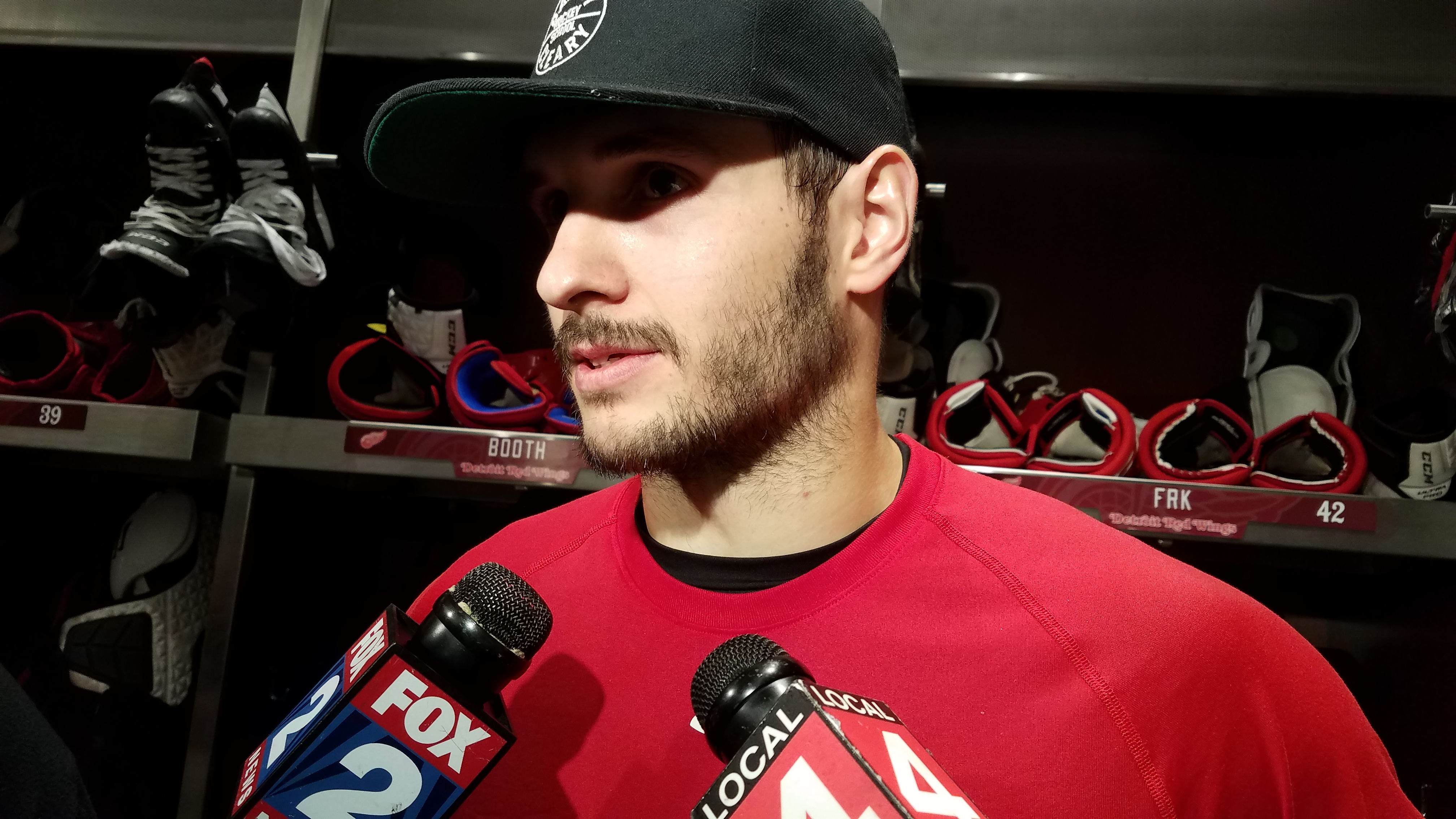 The Detroit Red Wings kicked off their season on Thursday night at the brand new Little Caesars Arena. NHL commissioner Gary Bettman was in attendance for the milestone first game (quotes on my Twitter, link at the bottom).
As RFA Andreas Athanasiou continues to sit out, forward Martin Frk, drafted in the second round of the 2012 draft (same draft class as Athanasiou) has taken full advantage of this situation. The hole that AA left in the lineup was easily filled by someone with a different set of skills. Skills that will make opposing goalies fear. He has what teammate Anthony Mantha declared "probably the hardest shot in the league." That may be a bit of biased hyperbole, but it's not that far from the truth. His lethal slap shot and one-timer that allowed him to dominate the American League has now led him to the NHL.
"When I was a young kid, I used to shoot pucks a lot at my house…My dad, he had a net, and he cut just the corners, and I was just trying to hit that. I did that every day for maybe an hour, and then I find out later, I think I was like 12, I got a better shot than the older guys. I'm just trying to use my shot. That's my biggest weapon and I have to produce with that."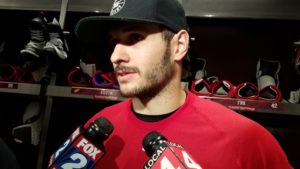 "I feel like that's the only good, well not only one good thing (laughs), but it's a good thing I can do, and you know, if Blash puts me there, I got to go take that opportunity and help the team and the power play. I knew they were struggling a little bit last year (on the PP), so I'm trying to just produce and help another guy score if I'm not scoring right away."
European players might (and often do) tend to give up on their dreams of playing in North America if it takes upwards of five years.
"First two years was really tough, when I was even in Toledo it was hard. But I told myself I will not give up on that dream. Even last year when I knew the Red Wings were not going to make the playoffs, and I didn't get called up, I was upset, but I couldn't just stop playing in Grand Rapids. I knew I have to play there good, to give me the credit for the next year if I would re-sign, and I did re-sign. Now I'm just happy how it all worked out."
I asked him if the dream was always to play in the NHL.
"Definitely. I started realizing, I didn't know there was a National Hockey League. I started realizing [at] 14 maybe, or 13. And then, first I had the opportunity to play in Canada in the Juniors. So I was really happy for that. I knew if I did good I could be drafted. So Detroit draft me, and I knew I was going to one of the best organizations. I am glad I am here right now. You know, it take, it was like five years I think. I'm just happy I made it here. It was really a dream, and I finally got it today."
After last season's roller coaster, which saw him waived by Detroit, claimed by Carolina, waived by Carolina, re-claimed by Detroit, and then sent down once again to Grand Rapids, he considered giving up the dream and playing in Russia's KHL. However, after winning the AHL's Calder Cup with the Griffins (he scored 15 points in 16 games) and a little convincing, he decided to re-sign with the Red Wings, and that decision is already paying dividends.
"I was really happy with when I was in Carolina to play two games there, but that was not the team who draft me. I did want at least one game with the team who draft me, and I finally got it tonight. So it was very special, and I will definitely remember the rest of my life."
"I guess [playing the two games] helped me. But, you know, I was last year in the beginning of the season (in Carolina). Then I got the whole season in Grand Rapids, so it's a little bit different. It's a little bit different system there, in the AHL than here. You've just to jump into it, learn as fast as you can and get better."
After a strong training camp, he has secured (for now at least) a spot in the team's top-six, on a line featuring center Dylan Larkin and winger Anthony Mantha. The line was dominant throughout the pre-season, and that translated into Thursday's season-opener.
"I think we didn't start good, but we got better as the game went along. I think we can be very good line. We got everything on our line. Larks is very fast. He's very smart with the puck. He works very hard. It's a great center to have on the line. And Mo, he's a big body. He can shoot the puck very well too. And he can protect the puck in the corners or stay in front of the net. So I think we have everything. We just got to, when we practice more and play games together, [it'll] get better and better."
I can attest to the fact that Frk is one of the most determined and hard-working players, and he's a testament that hard work and patience will pay off in the long run. He's a modest, humble man, and he's poised to have a memorable year if all goes according to plan.
Mantha scored the first goal of the game on the power play, following a Frk blast from the point. Mantha scooped up the rebound and scored on goalie Devan Dubnyk. 23 seconds later, Larkin scored on the power play, redirecting a Mike Green blast. Mantha assisted, and Frk was still on the ice. Not often do you see the same power play unit strike twice in such short time.
Frk finally got his chance to shine, as he scored the game's final goal with a hard slapper, securing the 4-2 victory. It was his first career goal, his first career assist, and it all came on his 24th birthday in the opening of the league's newest arena. That has to be one of the best birthday's a young player could ask for.
"I was coming to the game, you know, it was the first game with the Red Wings. I was really happy to put the jersey on tonight. It's just a plus for me [that] I get those two points tonight. I just want to play good. I just want to be a good hockey player, help the team, and get better every day."
He considered his shot to be a "lucky goal," indicative of his humble personality, although there was very little luck at play.
He said his Griffins teammates last season would joke that he scores a lot of "lucky goals."
"I always tell them, they don't ask how did you score, but how many in the end."
Follow me on Twitter @KevinSporkaHOHM