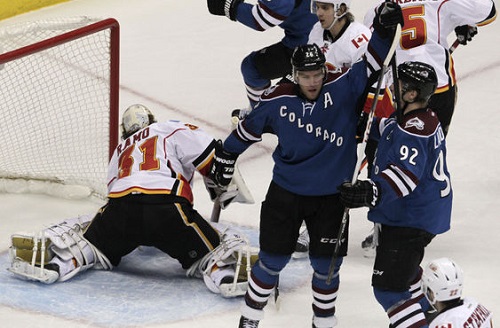 The announcements have come down and the Colorado Avalanche will be sending four players to the 2014 Sochi Winter Olympics. Joining a reloaded Team Canada will be Matt Duchene. Team Sweden will feature Avalanche captain Gabriel Landeskog on a line. Team Russia has expectedly added goaltender Semyon Varlamov to their roster, and Paul Stastny was named to Team USA during the Winter Classic last week.
The right names each got well deserved recognition from their respective countries.
You can't be a part of the Triple Gold Club without an Olympic Gold Medal, and none of the Avs going have one, or a Stanley Cup. Varlamov and Landeskog are the closest to being a part of the club with World Championship Gold. The rest are looking to begin the adventure. Duchene and Landeskog are both just making their country's Olympic team for the first time while Varlamov has made the Russian roster –but did not play- and Stastny has played in the Winter Olympics before.
In 2010, Varlamov's Russia did not medal, while Stastny and the US took the Silver Medal in Vancouver. Varlamov is expected to start in net this tournament, a huge step for him and a role he should be capable of stepping into after posting a 19-8-4 record so far this NHL season, one of the Top 15 goalies in the league.
Stastny in 2010 left Vancouver with a Silver Medal, but only posted three points (1 G, 2 A), none of which came in the Gold Medal game. His credit to still making the US roster comes from his improved play this season under Coach Patrick Roy. So far this season he has posted 30 points in 40 games (12 G, 18 A), his plus/minus is up (career average of +4, this season +7) and his shooting percentage is up as well (career 12.5%, this season 15%).
Duchene and Landeskog are leading the Colorado Avalanche in points this season. Duchene has 38 (16 G, 22 A) while the captain has 31 (12 G, 19 A). Stastny is ranked third in team points. Duchene may have been left off a deep Canadian roster but was still a favorite amongst those on the bubble. He is looking to rebound from Team Canada quarterfinal loss to eventual champions, Team Sweden, in the 2013 World Championship tournament. He posted five points (4 G, 1 A) in 2013 World Championship play through eight games.
Landeskog will be returning to international play with a 2013 World Gold in hand. He posted four points in the tournament (3 G, 1 A) and will hopefully be a larger contributor in the Olympics.
One of these Avalanche players can expect to come home with a medal, most likely Duchene and Team Canada as heavy favorites to win it all. Varlamov has a great shot at it as well, with host nation Russia as co-favorites with Canada, according to Bovada, to capture Sochi Gold. Sweden and the US round out the top four favorites, so who knows?
Only three teams can medal and it seems likely that three Avalanche players will be bringing back Olympic medals after the break.
Tournament play begins February 13th.