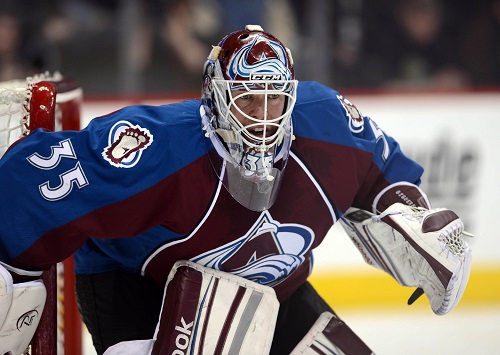 JS Giguere, the backup to the Colorado Avalanche's starting goaltender Semyon Varlamov, is mulling retirement after the season. Though not official, Giguere has now made it known that stepping away from the game is on his mind and possibly in his plans after the season ends.
The Avs traded a second round draft pick to the Calgary Flames last week for Reto Berra, 27, which has now advanced Giguere's thoughts on retirement.
He has discussed his thoughts with Coach Patrick Roy. "A healthy Giguere will serve as Varlamov's backup the rest of the season, Roy said, and Berra will get primary attention from goaltending specialist Francois Allair, who coached Roy and Giguere to become Stanley Cup and Conn Smythe Trophy-winning goalies and has helped Varlamov produce his best NHL season," Denver Post's Mike Chambers wrote on Tuesday.
Roy has said Giguere (10-5-0) will be starting for the Avs against the Montreal Canadiens when they travel to Quebec next Tuesday. It may be Giguere's last time between the pipes in his hometown.
As one team member plans to leave the game, two others are having physical problems staying in it in the short term. Paul Stastny has been out with back spasms again, something that has become an ongoing problem for him. He did not play Monday night against the Winnipeg Jets, will not play Wednesday against the Chicago Blackhawks, but may be back in the lineup after.
In Monday's game, PA Parenteau had a knee-on-knee collision at the Jets blue line and had to leave the game. He has been diagnosed with an MCL sprain and is expected to miss 4-6 weeks, leaving his availability in doubt for the beginning of the Stanley Cup Playoffs that the Avs are well in contention for, currently third in the Central Division of the Western Conference.