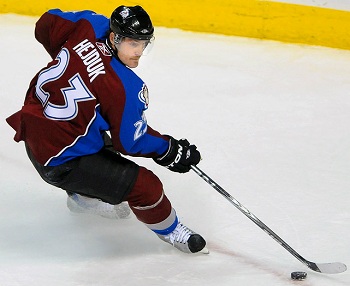 The Avs took care of the captain position this past week by inking 14 year right winger, Milan Hejduk, to a one year deal.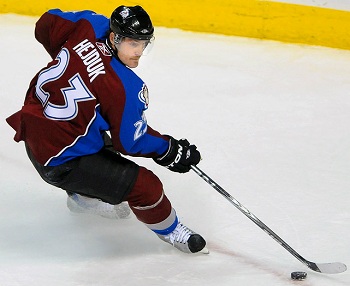 Worth $2 million, the deal will bring back the Duke for one more season before he begins contemplating retirement again. Hejduk putting the "C" back on is not a move I am totally thrilled about, but he is the senior man and has the most playoff experience, along with a ring. Milan's production has been spottier as his career has progressed, especially as of late. While Milan's hands are his biggest asset, they only produced 37 points this past season –tied 4th on the team with Shane O'Brien-. His one goal in the last 25 games of the season was disappointing and earned him a spot on the fourth line where the captain of the team should not be.
I truly believe that as the man wearing the captain's patch, that guy has to be someone who not only leads the team onto the ice, but also leads them on the scoreboards. Hejduk is a fairly quiet guy, and while that may suit the organization's power structure, I think the captain should be more vocal and put up more points.
One area where Hejduk excelled was in the very important shootouts, which Colorado mastered this past season as they continually played tied games through four periods. Hejduk was instrumental in this regard as his hands got the workout they needed.
While I can appreciate the salary spent on him for one more season, it makes me wish that Stastny would get a restructured deal as he is not worth the $6.6 million he was paid last season. Last season's leading scorer was third year Ryan O'Reilly who was paid $900,000 to make the Stastny contract look even more one-sided.
The Avs need money to use on free agents, as Denver sports teams have plagued themselves with only acquiring developmental talent to stock its entire roster. If Stastny would take a lesser paycheck to help create more cap space –which there is plenty of as is- the Avs really could make some good moves and actually use the money for once. Instead the front office is into signing marginal role players who can't hit the back of the net, or set up a proper defense for the goal tender. Defensively, this team is deficient and the D men have to score as well. The scouting is off, or someone just doesn't do their homework on the players the ink.
I will leave you with this nugget of truth about how uninspiring the team can be: the Avs did not have one defensive player this past season that cracked the top 50 in points scored. That is one horrendous "fun fact" that nobody is talking about.
Follow me on Twitter @CoryWhitmer