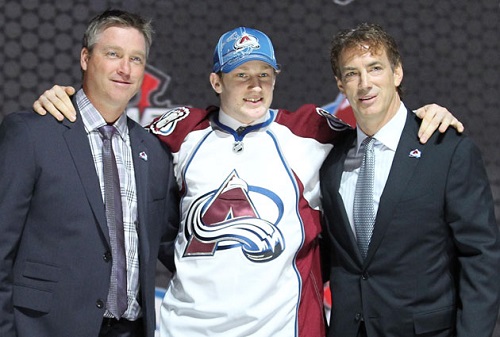 Sticking to their script, the Colorado Avalanche not only kept their number one draft pick, but also did in-fact pass on Seth Jones and drafted Nathan MacKinnon first overall. The new leadership team of Joe Sakic and Patrick Roy have checked off one of their first major tasks by drafting MacKinnon number one followed by a goalie and five defensemen in Sunday's NHL Draft held in the New Jersey Devil's house.
If anyone was questioning whether the Avs would be realistic about defense in the future –and also the announcement they would be skipping on Jones- they answered those critics by selecting: center, d-man, goalie, d-man, d-man, d-man, d-man.
After stating they would not seek Jones in the last couple weeks leading up to draft day, the Avs added a 17-year old forward who will be a contributor from game one. Patrick Roy even went so far as to tell the Denver Post's Adrian Dater that MacKinnon would be centering the Avs third line along with Jamie McGinn at left and Steve Downie at right.
MacKinnon is plenty excited to get out on the ice for Colorado and knowing the coach all ready wants you in bad enough to move players to other positions is a nice endorsement. "It wouldn't matter where I play," MacKinnon told Dater. "I just would do whatever it takes to help the team."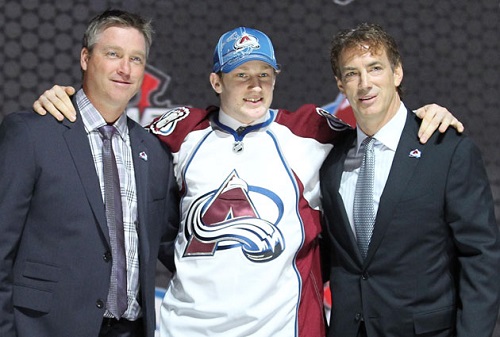 Included in that plan for MacKinnon was also a second line centered by Paul Stasty with Captain Gabriel Landeskog at left and returning vet Alex Tanguay at right. Roy's proposed line schema had Matt Duchene centering the first line with PA Parenteau at right and the Avs number one headache, Ryan O'Reilly at left.
O'Reilly doesn't play left wing, so that should be interesting.
The Avs first draft under Sakic and Roy looked to go just fine despite those who have decried them for not drafting Jones. Only time will tell who was the better pick and it won't be answered after just one season of hockey. The Avs can wipe their brows with the first draft of the new regime in the books and start focusing on getting ready for training camp and hopefully making some more moves before it.