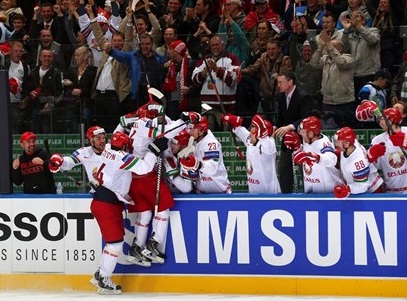 After knocking off Kazakhstan to pick up their first win less than twenty-four hours ago, Belarus would go on to double their winnings ways bolting them up to a current 3rd place standing in Group B. This time Belarus started off the game in a different fashion as they took the lead on a short-handed goal by Sergei Kostitsyn. Yet the lead would be short-lived as Switzerland quickly knotted the game up on that very power-play.
Switzerland then took a 2-1 lead into the first break, with once again Belarus finishing off a first period trailing. Luck though was on the Belarus' side as the home crowd's energy kept the team skating hard throughout the full sixty minutes. In the second, Belarus managed to tie the game up at two a piece and knew a crucial third period would determine the true outcome of the game.
However once again Belarus found itself trailing early on in the third when Etienne Froidevaux blasted a shot by Belarus' Vitali Koval to put Switzerland up 3-2. Belarus wouldn't go silently and once again Sergei Kostitsyn found his way onto the score-sheet with his second tally of the game, knotting the score up at 3-3 of the halfway mark in the third period.
Then to cap-off his heroics, Sergei Kostitsyn threw a long pass to an open Mikhail Grabovski who broke down the offensive zone putting Belarus up 4-3. The goal came inside the final three minutes of the period electrifying the crowd and absolutely stunning Switzerland.
Belarus' consecutive day victories have given them six points and the current third spot in Group B with two days off until they take on current winless Finland on Thursday. Meanwhile last year's silver medalist Switzerland have dropped their first three games and needs to win-out more than likely the remainder of their games if they dream about having any run on medaling in this year's tournament.