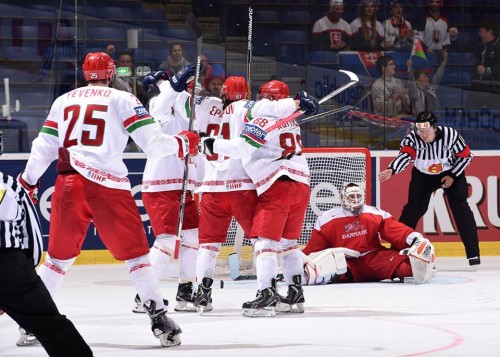 Belarus came in focused and determined to grab another three points which would keep them in the playoff hunt for group B.
Yevgeni Kovyrshin scored twice, including the game winner. Netminder Kevin Lalande backstopped Belarus to its second win in three tries here at the 2015 IIHF Ice Hockey World Championship.
"Of course we're feeling happier than after the last game," said Kovyrshin. "When you win it always puts you in a good mood."
Denmark would finally score a goal for the first time since its opening game against Slovakia. Julian Jakobsen would put the Danish up 1-0 at 13:38 of the first period. However that would be all the offense Denmark would have for the day as Belarus would begin their grind to put up a five spot on the board and take the game.
Sensing they needed to come out with something more in the second, Belarus poured on the pressure and enjoyed their best and most decisive period of hockey. It was likely the unhappiness of the coach that woke the team up.
"The first period didn't really work out for us," said Kovyrshin. "(Head coach) Dave (Lewis) was swearing at us in the locker room, he had a go at us."
This was seconded by Lalande:
"I don't think coach was very happy," he said. "There was nothing to be happy about, we weren't playing our game and the effort wasn't there. I don't know what it was, but it was good for Dave to come and wake up the guys a little bit and remind everyone that it was an important game."
The talk must have worked. Belarus would go on to score on 17 shots over the next twenty minutes. All of their goals would come in the first ten minutes of the middle frrame.
Kovyrshin scored his first of the game to give Belarus a 2-1 lead at 7:27 of the second period. Finally, Igor Shinkevich took a perfect little pass from Kalyuzhny and put it past Galbraith. In the period Kalyuzhny and Andrei Kostitsyn had two assists each.
Belarus maintained its dominance in the game, controlling the puck and allowing little in the way of a Danish counterattack.
Kovyrshin scored his second of the game in the third to put the game even more out of reach. Belarus would score one more before the final horn sounded.
Belarus next encounters the high-flying Americans on Thursday in what will be another crucial battle for group standing.
Love Reading About Hockey?

Subscribe to keep up-to-date with the latest and most interesting hockey news!
| | |
| --- | --- |
| | We hate spam just as much as you |