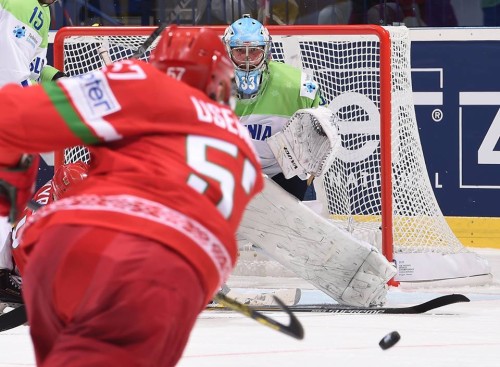 After hosting a record setting 2014 World Championships and finishing respectively Belarus started right back where they left with unfinished businesses.
Kostitsyn's scoring was backed up by a solid defensive display that neutralized the threat of Slovenia's LA Kings centre Anze Kopitar. The country's lone NHL representative was so well marshalled that he could not deliver a shot on goal in the first two periods and his team-mates could only manage 10 over two periods of play.
The game exploded into life with two goals in the 11th minute, and Belarus defenceman Dmitri Korobov was involved in both. First his mis-hit shot turned into a pass for Andrei Stas. The CSKA Moscow forward took a moment to weigh up the situation then ripped a wrist shot from the deep slot, beating the unsighted Robert Kristan as Alexei Kalyuzhny made a nuisance of himself in front of the net.
But almost immediately Korobov was left stumbling in the wake of Rok Ticar as the Slovan Bratislava frontman wrong-footed his opponent on the blue line. Ticar's shot was saved but his club-mate Ziga Jeglic put away the rebound to bring Slovenia level after just 34 seconds.
"After tying the game we thought we could come back," Zeglic said. "Unfortunately, we weren't tough in front of our net for the second goal they scored and things went their way."
The breathless trade in goals continued with Belarus regaining the lead in the 13th minute. Stas shot into Kristan's pads and as the rebound got caught up in a tangle of skates Andrei Kostitsyn pounced to slide it through the goalies pads from a tight angle to claim his first World Championship goal since 2011.
That was the end of the scoring in the first session but Kostitsyn was instrumental in his team's third early in the middle stanza. Released by his brother Sergei, Andrei overran the puck slightly and lost out as goalie Kristan came a long way from his crease. However, the puck broke straight to Kalyuzhny and the experienced captain was never going to miss an almost empty net to stretch the lead to 3-1.
When all was said and done Belarus skated out with a 4-2 victory and will look to take on Slovakia on Sunday.