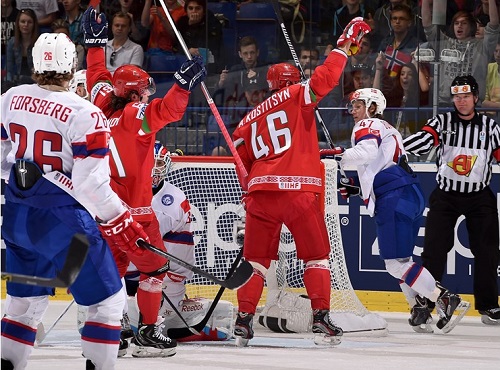 Going into the final day of preliminary action, Belarus knew that they would need to secure a single point in order to clinch the last spot for a quarter-finals appearance Thursday. Although another potential scenario would be to have Slovakia not defeat USA in regulation to make Belarus advance without having to gain any points but that wasn't something coach Dave Lewis wanted to even consider.
Belarus came out flying and pressing early in Norway's end looking to take an early lead. After going only 1 for 20 on the powerplay all tournament prior to today's game; Belarus would find themselves with a surplus of opportunities on the man advantage against Norway. In-fact Belarus would take the lead in the first on their first powerplay of the game thanks to the team's leading goal scorer Alexi Kalyuzhny.
Then Belarus would find themselves on a 4-minute powerplay near the halfway mark of the second where they'd capitalize both times to take a 3-0 lead. However only a mere 7 seconds later, Norway's leading goal scorer Patrick Thoresen would get the Norwegians on the board.
The third period found Belarus playing survival mode as Norway cut into the lead to make it 3-2 with more than half the period to go. However Belarus hung on thanks to stellar saves by their netminder Kevin Lalande who returned after sustaining an injury early on against Russia in the tournament.
Belarus went 3 for 7 on the powerplay which in the end was the difference on the offensive front. Captain Alexi Kalyuzhny factored in points on all three goals. Now the team will have a day off to plan their approach as they take on undefeated Canada in the quarter-finals round on Thursday.
This is Belarus' second consecutive appearance in the quarter-finals round which has helped the team gain substantial ground in world rankings as the next Olympic qualifiers approach for the 2018 Winter Olympics.