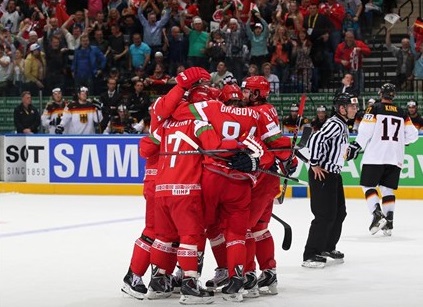 It wasn't going to be easy for host nation Belarus when they found themselves in an early 2 goal deficit but they found a way. Belarus went on to score 5 unanswered goals to defeat Germany and pick up their third win of the tournament.
Mikhail Grabovski lead the way for Belarus notching 2 goals in the game. The host nation's best twenty minutes of hockey was their second period against Germany where they found themselves tallying 3 goals and taking a 4-2 lead into the final period to decide the game.
They certainly haven't made it easy on themselves as they have had given up goals in the first twenty minutes of just about every game, including all three victories to this point. However this resilient team fed off their home crowd support rallying to beat Kazakhstan, Switzerland, and now Germany.
With this victory and Latvia's loss earlier to Russia, Belarus finds themselves sitting in second place (9 pts) of Group B with a chance to secure a playoff spot if they pickup a regulation win against Latvia on Monday. Although it's not out of the question to catch up to current Group B leader Russia, it would take a loss and a regulation defeat by Belarus to overtake them. For now, Belarus is happy with where they sit and know that their ultimately control their own fate moving forward.