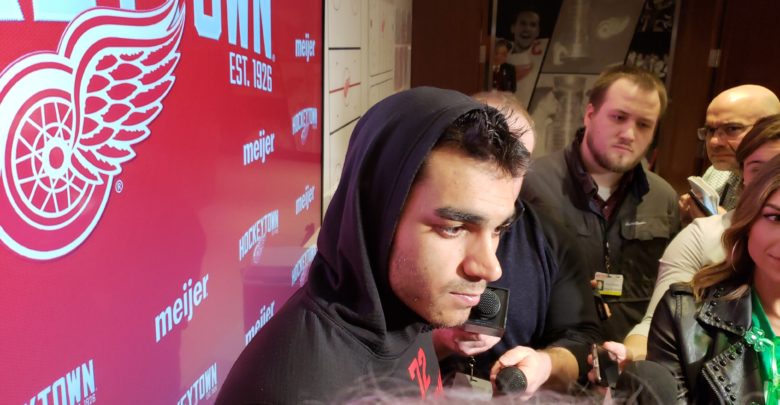 Jonathan Bernier put on a goaltending clinic in Saturday's matinee, stopping an astounding 41 shots against a strong New York Islanders team that has excelled in the Metropolitan Division all season long.
Andreas Athanasiou continued his strong season by scoring an unconventional goal. While attempting to pass the puck to a teammate, the puck deflected off the leg of Isles defenseman Ryan Pulock and past goalie Thomas Greiss.
At the midway mark of the first, Anders Lee tied it up just as the Wings returned to full strength, as he scored five-hole on Bernier (his only blemish).
Athanasiou scored at the 9:57 mark of the second for his 26th of the season. That would be the game-winning marker. After the game he talked about the possibility of reaching the 30-goal mark, a feat that no Red Wing has accomplished since the 2008-09 season.
"If he can be a winning centerman, which means a two-way center, then we're a better team, because he's a dynamic player," said Jeff Blashill. "He's got to make sure he plays like he did tonight on a consistent basis."
New York outshot Detroit by wide margins of 16-7 and 14-5 in the first two periods while Detroit narrowed the margin to 12-10 in the third. The Isles had more shots than Detroit had shots, blocked shots, and missed shots combined.
"I thought he was excellent throughout the game," said Blashill of Bernier. "We gave up way too many chances, we weren't good enough defensively, especially through the middle of the ice."
The most alarming stat was the 17 giveaways and only two takeaways that Detroit had.
Kuffner's Debut
Forward Ryan Kuffner, a recent signing by Detroit out of Princeton University, made his NHL debut this afternoon. The 22-year old played four years with Princeton, scoring 75 goals and 152 points over 132 games (1.15 points-per-game). He played 7:08 of ice time.
Bowey Plays More Minutes
Defenseman Madison Bowey, acquired in the Nick Jensen trade from Washington, played a season high 19:38. With Mike Green, Jonathan Ericsson, and Trevor Daley out, it allowed more time for Bowey.
Standings
Detroit (60 points) moved past Los Angeles in the race for Jack Hughes as the Kings lost today and remain at 58 points. Ottawa also won today, moving to 54 points.
Games Remaining:
Detroit – 10
Los Angeles – 12
Ottawa – 11
Schedule
The Wings hit the road to take on the Rangers, Blues, and Vegas on Tuesday, Thursday, and Saturday respectively (7, 8, and 10 ET). The road trip continues the following week in San Jose and Buffalo on Monday and Thursday before the team returns home on March 29th.
Follow me on Twitter @KevinSporkaHOHM