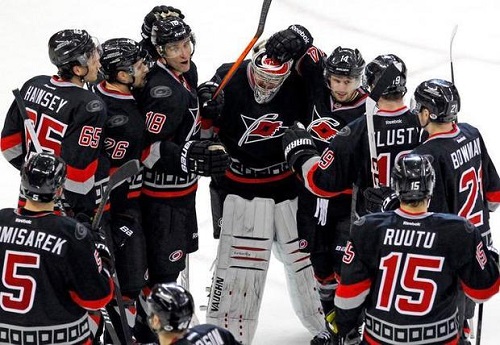 Finishing January with a 10-4-0 record, the Carolina Hurricanes are hoping to kick their first game of February off to a great start against the Winnipeg Jets tonight at PNC Arena.
Led by former Canes' coach, Paul Maurice, the Jets will meet the Hurricanes for the first time this season. Not only does the fact that many Hurricanes were coached by Maurice less than a year ago make the game a big deal, but also, the fact that before the team was moved to Winnipeg, it was the Atlanta Thrashers- one of Carolina's biggest rivals.
Having won their past three home games, the Canes are confident entering a four-game homestand. However, the Jets picked up a 2-1 win on Sunday against Montreal to start a four-game road trip. Also, in their last 10 games, they have only lost two.
The two teams are very close in regards to their play this season. They share a total of 59 points each for the season, but Carolina marks 10th place in the Eastern Conference while Winnipeg marks 12th. Carolina has a record of 25-20-9 this season in 54 games played while Winnipeg's record is 27-25-5 in 57 games played.
The Jets come to Raleigh tonight with an 8-2-0 record in their last 10 games, tying with a franchise best in a 10-game stretch. After getting a nice little break, the Canes are ready to push them out of breaking a franchise record. And, at home, is the best place to do it.
In January, Carolina finally proved that they can have the home-ice advantage. Regarding this, Coach Kirk Muller said, "When you have an opportunity to win at home, good teams have a good home record, and we knew we had to get it going in a better direction. We did that in the month of January, so now we just have to build on it." Tonight is their night to build on it, continue their superior play with a 5-1-0 record in their last six games, and end the Jets run before leading into the Olympic break.
There was talk about Cam Ward coming back from his long-term injury for his first game in 2014 tonight, but it's looking like Anton Khudobin will take the net once again. After being named NHL's First Star of January, Khudobin has the momentum the Canes need for tonight's game. He has started 13 of Carolina's last 14 games and tonight will mark his seventh straight game and 15th consecutive appearance since returning from an ankle injury. Khudobin's NHL First Star honor was only the fifth time in franchise history that a player has been rewarded for a month honor.
Khudobin and the Canes plan to take on the Jets with full force tonight. This is an important game, and neither team will take it lightly.
Love Reading About Hockey?

Subscribe to keep up-to-date with the latest and most interesting hockey news!
| | |
| --- | --- |
| | We hate spam just as much as you |