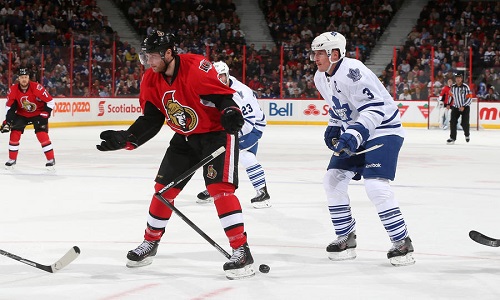 In the wake of the Toronto Maple Leafs' 3-2 Winter Classic shootout win, the Americans unveiled their 25-man roster that will travel to Sochi in February. Bobby Ryan wasn't on it.
Ryan has 18 goals and 18 assists in 42 games and is on pace for a career-best 70 points. The right winger, hailing from Cherry Hill, New Jersey, casually shared his displeasure in response to a tweet from Ottawa Sun writer Don Brennan.
@SunDoniB 2014 is off and rolling to a fantastic start haha

— Bobby Ryan (@b_ryan9) January 1, 2014
Team U.S.A GM David Polie told the media following the outdoor game that his management team did not pick the best players by the numbers, but the best 25 players that would help the team win a gold medal. More specifically, many of the selection committee members were "nervous" about Ryan earlier in the selection process, as per a feature by ESPN's Scott Burnside. "I think he's sleepy. I think he skates sleepy," one of them said, according to Burnside. A "flurry" of hands then shot up when Polie asked for a show of hands to determine if committee members were nervous about Ryan's play.
Among the 13 forwards named to the team, Ryan is currently third in goals and ranks fourth in points. The 26-year-0ld scored a goal, an assist, and was a plus-3 in six games while representing the U.S. at the 2010 Olympic winter games in Vancouver.