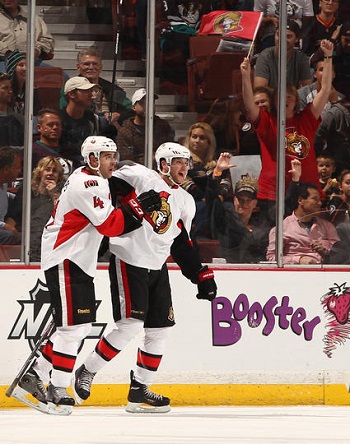 Bobby Ryan scored his third goal in five games in a 4-1 loss to the Anaheim Ducks Sunday night.
But coach Paul McLean said the game was worse than Saturday night's loss to the L.A. Kings.
"It's two nights in a row that we give up over 50 shots … we hang our goalie out to dry. Right from the start of the game we did," he said.
"We're not very good. We need to go back to square one and find something to hang our hat on and about the only thing we have is goaltenders. We make them work too hard."
McLean said Starter Craig Anderson was pulled before the halfway mark of the first period following the second goal in an attempt to generate momentum.
Robin Lehner stopped 45 of 47 shots and made a total of 92 saves over the weekend.
In his mind, it's puck possession that will lower the amount of shots against. And that starts, he said, at the face-off dot.
The Sens won only 38.7% of the face-offs against the Ducks.
Captain Jason Spezza, who was 40% in the face-off circle, said the loss was embarrassing.
"It's not [how] we want to play, it's not the type of team we want to be," he said.
Morale, according to Spezza, was down after losing like they did Sunday evening.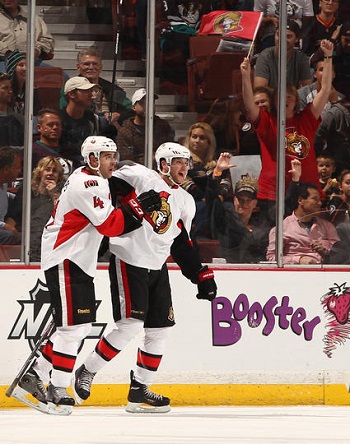 "When you get beat like that, I hope your confidence takes a little bit of beating," he said. "Hopefully it's a bit of an eye-opener for us."
The team will travel to Arizona next to face a 4-2-0 Coyotes team. Another tough road test, but Spezza said nobody is going to feel sorry for them.
"We're getting right back it against a Phoenix team that's played well in their rink," he said. "Nobody's going to feel sorry for us so we can't feel sorry for ourselves."
The Coyotes have had their own share of road games to start the season. They will return to Jobing.com Arena for only the second time this season after playing five of their first six games on the road.
The desert dogs are 1-0 at home thus far.
Weekly Sens Predictions – Record: 3-2
Sens 2 Ducks 3 (Ducks won 4-1)
Sens 3 Coyotes 2 (Oct. 15)
Sens 3 Devils 1 (Oct. 17)
Sens 4 Oilers 2 (Oct. 19)