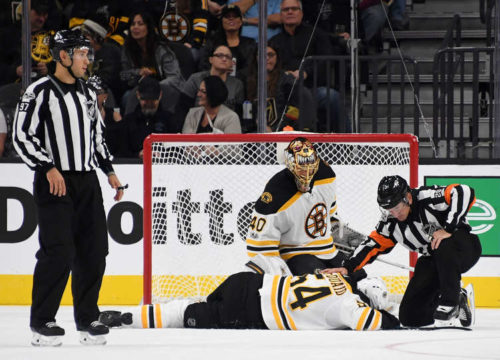 It's still much too early into the season to be worrying about the playoffs. However it is never too early to be concerned with inconsistent play that can hinder giving teams good habits to form to create winning ways. In the case of the Boston Bruins and their 2-3-0 start through the first 5 games, there truthfully hasn't been anything positive to say as of yet. The Bruins have won two games by holding on for dear life after nearly blowing a 4-1 home-opener and by beating up on the only winless team left in the NHL; Arizona Coyotes.
The heart and soul of the team is missing and with Patrice Bergeron nursing an injury it's still feeling like there are far more questions than answers to be had. The Bruins were embarrassed in their most recent game falling 3-1 to the Vegas Golden Knights. Embarrassed by the fact that Malcom Subban, who was placed on waivers by the Bruins at the beginning of the season, picked up his first career NHL win in a near dominating shutout. The Boston Bruins betting odds to win the Stanley Cup opened at 28/1 for this season.
Although they're not off to the greatest of starts it's still fair to assume Boston's odds won't fluctuate as much until a bigger sample size of games is played. Fans are getting impatient for a better product on the ice in one of the most expensive hockey markets ticket-wise.
Netminder Tuukka Rask has found himself at the center of criticism once more and will need to improve his play to be the team's true backbone of success. The youth on the roster is showing signs of speed and play-making but execution isn't coming up on the scoresheet. Perhaps it's a matter of patience until things start to mesh for the Bruins who will be fresh going into their game on Thursday hosting the Vancouver Canucks. There's no better time to get things straitened out than to pick up a W against a team that's still in rebuild mode coming into TD Garden.
Love Reading About Hockey?

Subscribe to keep up-to-date with the latest and most interesting hockey news!
| | |
| --- | --- |
| | We hate spam just as much as you |