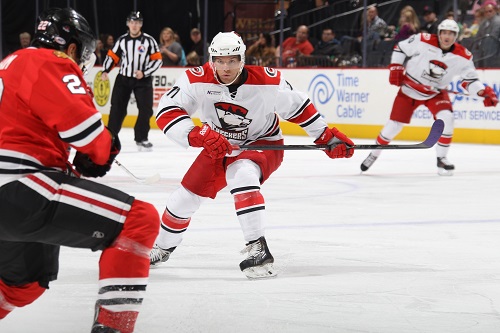 Charlotte Checker's leader in points, Zach Boychuk, received a great Christmas present this year. Hurricanes Vice President of Operations, Ron Francis, gave the 24-year old a call on Christmas Eve to tell him that he had been recalled to play for the Canes.
Boychuk has played in one other game for the Carolina Hurricanes this season and will return for his second in tonight's game against the Pittsburgh Penguins. Although his recall might be due to Jiri Tlusty's emergency appendectomy on Tuesday, December 21st, his recent performance with the Checkers has proved him to be a more than fine replacement. In the past month and a half, he's scored 12 goals in only 16 games.
In 2008, Boychuk was Carolina's first-round draft pick but since then, he hasn't seen much ice time at PNC Arena. Tonight he will play on the Canes' fourth line with Manny Malhotra and Radek Dvorak. Boychuk made the statement, "I'm very excited to be back here, and I'm very excited to get another opportunity." Hopefully his opportunity tonight will lead staying up in the NHL for the forward, rather than falling back down to the AHL.