Featured
Breaking News: Canadian hockey icon Howie Meeker has passed away at the age of 97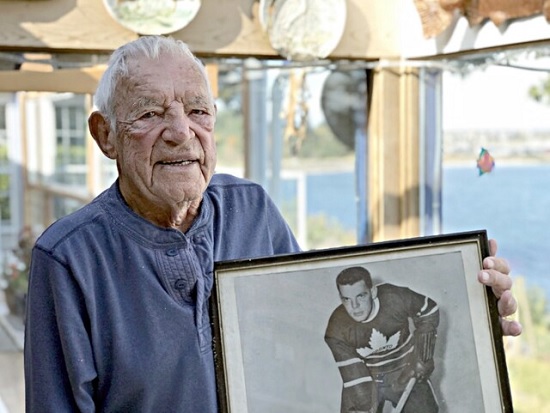 Howie Meeker, a former NHL player, Hockey Night in Canada icon and legendary personality, died Sunday at age 97 at Nanaimo General Hospital in B.C.
Meeker, who won four Stanley Cups with Toronto and was the oldest living Maple Leaf, was an NHL star who won rookie of the year honors in 1947 after scoring 27 goals and 45 points in 55 games.
A spokesperson for the Maple Leafs, the team that signed Meeker to a free-agent contract on April 13, 1946, confirmed his death earlier Sunday. There was no immediate word on the cause.
Meeker went on to become a broadcaster and was known for phrases such as "Jiminy Cricket," "Golly gee willikers" and "Stop it right there!" His work with HNIC earned Meeker the Foster Hewitt Memorial Award in 1998 after a 30-year career on CBC and TSN.
Born on Nov. 4, 1923 in Kitchener, Ont., Meeker played eight years with the Maple Leafs — winning NHL championships in 1947, 1948, 1949 and 1951 — and appeared in three all-star games.
He finished his NHL career at 30 in the 1953-54 season with 83 goals and 185 points in 388 regular-season games while adding 15 points in 42 playoff contests.
Most famously, he passed the puck to Bill Barilko for the 1951 Cup overtime winner against Montreal.
Among Meeker's other career highlights was scoring five goals in a 10-4 win over Chicago on Jan. 8, 1947, one of only 44 players to tally five or more times in a game.
He continued to play pro hockey on and off for another 15 years at a variety of levels, including the American Hockey League and Newfoundland Senior League, among others.
Meeker retired from playing after the 1968-69 season and kept skating into his 80s.