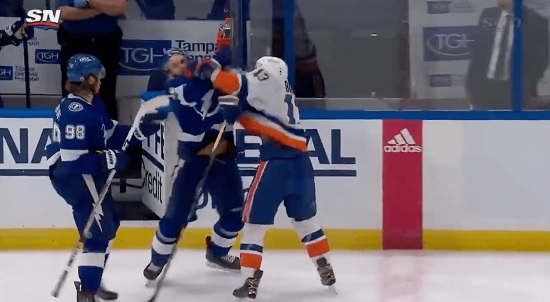 NHL Player Safety has issued Mathew Barzal a $5000 fine for his illegal cross-check in Game 5 to Jan Rutta.
NY Islanders' Mathew Barzal has been fined $5,000, the maximum allowable under the CBA, for Cross-checking Tampa Bay's Jan Rutta.

— NHL Player Safety (@NHLPlayerSafety) June 22, 2021
Barzal hit him in the chest with his stick and then in the face, causing the defenseman to fall to the ice. The trainer came out to check on him and Rutta eventually skated off on his own, but did not come out for the third period. Lightning coach Jon Cooper had no update after the game.
Mat Barzal received a five-minute major and a game misconduct for this crosscheck on Jan Rutta. pic.twitter.com/GZnvW9I5EH

— Sportsnet (@Sportsnet) June 22, 2021
As for their Game 5 loss, the eight goals were the most allowed by the Islanders since an 8-2 loss to the Lightning in Game 1 of the 2020 Eastern Conference final.
"No one expected an 8-0 game, let's be honest there," Stamkos said. "But you earn everything you get. And now we're going to get an extremely desperate team and they're a proud group over there. We know their rink is going to be rocking."
Islanders forward Josh Bailey chimed in: "We know the way we need to play to have success, and this game, we're going to put behind us."
Can the Islanders once again tie up this series and force a winner-take-all Game 7?