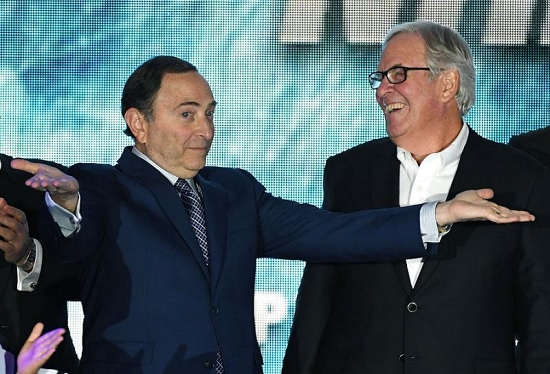 Vegas Golden Knights owner Bill Foley said he believes the 2020-21 NHL season will begin on February 1st, a full month after the NHL's current "target date."
Foley told KSHP's Vegas Hockey Hotline that he expects the season will be less than 60 games, saying it could be "48 or 56 games." But he said the fate of next season relies on when fans can return to NHL arenas.
"Who knows if we're going to be playing? If we aren't playing in front of fans, a lot of teams can't make it. That's including us, to make a serious financial commitment to fund the team without playing in front of fans," said Foley, a member of the NHL Board of Governors. "I don't believe [commissioner] Gary Bettman is going to have us fly all around [the country] and play in empty arenas."
On Wednesday, Bill Foley shared his thoughts on how the pandemic could affect the coming season, joining the 'Vegas Hockey Hotline' show on local radio station KSHP.
Asked about the prospect of his Golden Knights frequently facing Schmidt as a Canuck next season, Foley replied, "Yeah, but they're going to be playing in the Canadian division this year."
https://twitter.com/KSHPVegas/status/1316469553962967040
Rumors of the league's seven Canadian franchises potentially re-aligning to form one division up north have circulated as of late due to the continued closure of the Canada–U.S. border during the pandemic.
Foley also discussed the border issues on Wednesday, speculating on whether the league will be able to have teams crossing the border by the time the 2020-21 NHL season begins.
"It is a big deal. I don't think that border's going to be open before January 1st, if it's open January 1st. I really don't," the Golden Knights owner said. "Because Canada's going through — they've got spikes going on and they're starting to lock down again. Winnipeg's locking down. Quebec has got spikes going on. So, you know, I think they're going to play a Canadian division. I don't think they're going to be crossing the border."
"The NFL has such a great TV contract that they can survive. We do not have that kind of contract. The NHL is a game-day activity. If you don't have game-day revenue, you don't survive," said Foley, calling the TV revenue the teams received during the 2020 postseason "pretty [minimal], honestly, and not very good."
He said playing next season inside "bubbles," like the ones in Toronto and Edmonton that housed this year's Stanley Cup playoffs, isn't feasible. "I know the commissioner is dedicated to having a season and awarding the Stanley Cup, but we can't play in bubbles. It's impossible. We can't afford it," he said.
"If we're going to play 56 games over four months, that's a lot of games. There's not going to be a break. There's going to be a lot of back-to-backs. In theory we're going to play four games a week to get this season done. Maybe even more — five games a week," said Foley.
He said the NHL will rush to complete the season by the end of June to avoid a conflict with the Summer Olympics in Tokyo.
The Vegas owner isn't sure how many fans — if any — will be able to attend Golden Knights home games at T-Mobile Arena but would like to strive for more than 50% in attendance if feasible.