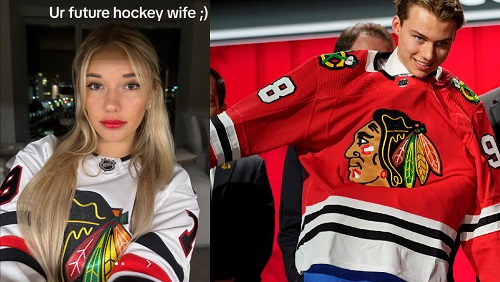 In his rookie campaign, Connor Bedard is winning over a lot of new admirers, and one TikTok celebrity is taking another chance on the hockey sensation.
With three million followers on TikTok and Instagram, Breckie Hill has shared multiple pictures of herself sporting a Blackhawks shirt and tagging Bedard. "Ur future hockey wife ;)." is the caption attached to one of the photos.
Although Hill effectively referred to Bedard as her "hockey wife," it is likely that she intended to imply that Hill would one day become Bedard's hockey wife. The model is wearing a Jonathan Towes jersey with the captain patch, something the Blackhawks felt Bedard was not yet ready for, so it looks like Hill is purposefully making Bedard envious.
View this post on Instagram
Despite being locked in since the beginning of the Blackhawks season, Bedard hasn't seemed to bite the hook. However, Hill seemed committed to making this one count. Hill stated that she was present to support Bedard during Thursday night's Colorado Avalanche game against the Blackhawks.
Given that Bedard has missed numerous goal opportunities in the Blackhawks' first four games, this would be a simple shot for the rookie.