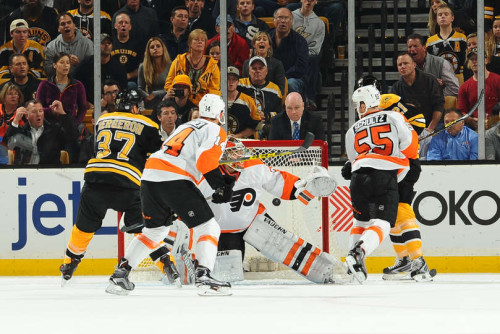 We're only a little over two weeks into the 2015-16 NHL season and the Bruins find themselves with a 2-3-1 record heading into their game against the New York Islanders tonight. Although only a small sample size (not even 10 games in yet) to this point, the Bruins currently hold the best powerplay in the league that is converting at 38.1% (8 for 21). That's one of the very few bright spots with this team right now but the real question is will it be sustainable in the long run?
The Bruins have surrendered the second most amount of goals (26) through six games with only the winless Columbus Blue Jackets behind them (37). However on the upside the scoring has been there too as the Bs sit tied for the 6th most amount of goals for (22) with the Washington Capitals and New York Rangers. Yet as good as the powerplay has been, the penalty kill has given nearly all of it back sitting in 27th with a 70% efficiency (14/20).
It's clear that the defense is the weak point with this club; numbers alone can tell you that. The Bruins are still searching for their first win at home (0-3-1) after blowing a 2-goal lead on Wednesday in the third period against the Philadelphia Flyers. What was once the "Big Bad Bruins" has become more of just the "Bad" Bruins.
This is a transition season and fans should expect a roller-coaster of a season on a weekly basis. Expecting to make the playoffs shouldn't be high on the list either; playing consistent good hockey should be. Even with lots of youth on the roster, there are too many variables set going against the Bruins. One is of course the coaching style of Claude Julien. It's well known Claude has very little patience with young players and it shouldn't shock that Claude can very well be on his way out by Thanksgiving time if the Bruins continue the same trend defensively. As for the red-hot powerplay at this time in the season, don't count on it. The Bruins haven't played enough teams with real defensive cores yet and there will be a few slumps offensively here and there. Just sit back and enjoy that hockey's back and get those skates ready for another brutal winter in New England.