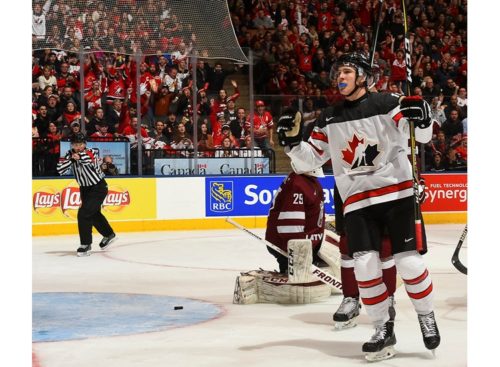 Canada moved into a tie atop Group B with the United States with a crushing 10-2 win over Latvia Thursday night at the Air Canada Centre.
Both teams remain a perfect 3-0. The result means that the winner of the New Year's Eve classic between the two North American nations will earn first place moving into the quarter-finals matchups.
"We'll be ready," said Raddysh. "It doesn't matter who we play; we'll just stick to our system, get pucks low, play strong defensively. We have to limit their chances and play in the offensive zone as much as possible."
The loss leaves Latvia in a last-place tie with Slovakia. Both teams have yet to earn a point, but that will change tomorrow night when, in all likelihood, the winner will avoid the relegation round.
Taylor Raddysh led Canada's attack with a Canadian record four goals and an assist. Dylan Strome had four assists.
"I have to be happy with what happened," Raddysh said. "I don't know if I'll ever get another four-goal game. It was a lot of fun."
Despite sloppy play and poor decisions for the first half of the period, Canada took a big 3-0 lead to the dressing room after 20 minutes. All goals came courtesy of man-advantage situations.
Matt Barzal opened the scoring short-handed. He came out of the penalty box with Ricards Bernhards, but a terrible line change by the Latvians allowed Barzal to scoop a loose puck at centre ice and go in alone. He made a nice deke and roofed a backhand over a sprawled Mareks Mitens.
A minute later, Canada made it 2-0 on a power play when a Thomas Chabot point shot was tipped in front by Nicolas Roy.
Then, with only 19.5 seconds left, Chabot drew half the Latvian team to him as he threatened to shoot, then fired a pass against the grain to a wide open Raddysh. He roofed a quick shot to make it 3-0.
Canada made it 4-0 at 9:11 of the second when Raddysh got his second of the night. Soon after, Latvian coach Rriks Miluns switched goalies, inserting Gustavs Grigals, who promptly allowed four goals in a span of 2:43, including Raddysh's hat trick marker.
The only bright note for Latvia in the period was a short-handed goal from Renars Krastenbergs, who beat Carter Hart with a weak shot to the far side off a rush down the left wing.
Raddysh got his fourth early in the third, tipping in another point shot.
Latvia got its second goal off a sensational burst of speed by Martins Dzierkals to create a breakaway and then deke Hart out of his equipment at 7:59.
Julien Gauthier got a late goal to make it an even ten and close out the scoring.