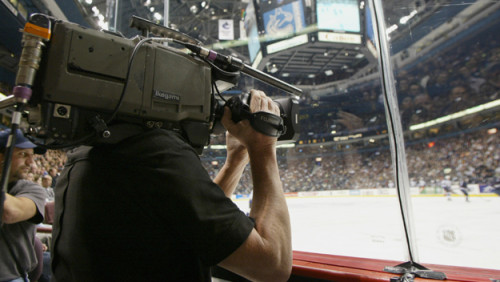 The 2015-2016 NHL season is almost over and for the first time in over 40 years, Canadian teams might be shut out of the Stanley Cup playoffs. According to NHL sports betting odds, the Ottawa Senators are the Canadian team with the best chances of making the playoffs, but they are currently four points behind the Pittsburgh Penguins, who own the final Wild Card playoff spot.
If a Canadian team fails to make the playoffs this year, it will be a disappointment to the millions of Hockey fans in the country, as well as for Rogers Media, a company that invested a lot of money in Canadian hockey talent three years ago.
In 2013, Rogers Media paid $5.2 billion for the exclusive right to broadcast all NHL games in Canada for 12 years.
This season has been a down year for Canadian hockey teams. None of the seven Canadian teams in the NHL currently hold a playoff spot, which is rare this late in the season. To make matters worse, the Vancouver Canucks, Calgary Flames, Winnipeg Jets, and Edmonton Oilers currently sit at the bottom of the NHL standings.
According to Marvin Ryder, an assistant professor at McMaster University, not having any Canadian teams in the Stanley Cup playoffs is bad news for Rogers Media.
Rogers Media's NHL gamble paid off last year. With five teams competing in the first round of the playoffs, NHL ratings went up by 36 percent, which was a significant boost from the previous year when there was only one Canadian team in the playoffs.
When the five Canadian teams were eliminated in the first round of last year's playoffs, the ratings dropped significantly.
With all seven Canadian NHL teams in danger of missing the playoffs this year, industry experts are predicting a 25 to 35 percent drop in the ratings this year.
Detlev Zwick, a professor of marketing at York University, believes Rogers Media will take a massive hit if no Canadian teams make the playoffs and predicts a 30-40 percent drop in ratings.
Zwick said, "Simply, the product they sold to, or they're going to sell to advertisers is just not worth as much."
While most experts expect a drop in ratings if no Canadian teams make the playoffs, some believe Rogers Media can still make the best of the situation by focusing on Canadian players that play for American teams that make the playoffs. Stars like Sidney Crosby, whose Penguins own the final playoff spot in the Eastern Conference, can attract viewers if his team makes a deep playoff run.
Love Reading About Hockey?

Subscribe to keep up-to-date with the latest and most interesting hockey news!
| | |
| --- | --- |
| | We hate spam just as much as you |