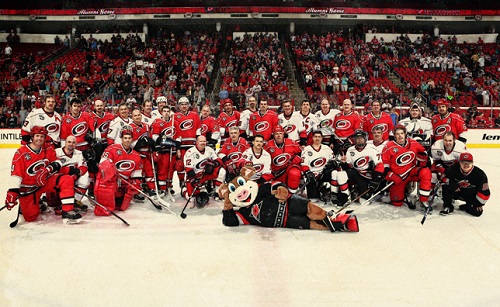 For the third year in a row, the Carolina Hurricanes have announced that they will host an Alumni Fantasy Game in the beginning of April. The game provides Canes fans a chance to gain the NHL experience by playing in a game at PNC Arena with Hurricanes alumni.
This alumni game was formed to help support the Kids 'N Community Foundation which has been the Carolina Hurricanes non-profit organization since its establishment in 1997. Since Kids 'N Community was founded, the Canes have raised over $11.5 million in cash for non-profit organizations that focus on enhancing the lives of youth in the local community. The Kids 'N Community Foundation has been able to fund many scholarship programs, youth hockey initiatives, education and literacy efforts, health programs and the arts.
The Alumni Fantasy game is scheduled for April 6th at 3 p.m. There are only 26 spots for players and three for goaltenders to participate in the game with first priority to season ticket holders, suite holders and corporate partners. After them, the spots are based on a first-come, first-serve policy.
Because the proceeds benefit the Carolina Hurricanes Kids 'N Community Foundation, the entry fee for the Alumni Fantasy Game is $3,000, but that is quite worth it to many Caniacs… especially when they get to play with former Carolina Hurricanes.
This year, there are currently 10 Canes alumni scheduled to play in the Alumni Fantasy Game. And they aren't just "no-namers." Two include 2006 Stanley Cup winners, Bret Hedican and Glen Wesley. Another big name being Carolina's Vice President of Operations, Ron Francis. Other participants include former Canes, Bates Battaglia, Jesse Boulerice, Aaron Ward, Shane Willis, and Robert Kron. Even the Carolina Hurricanes commentator, Tripp Tracy, has agreed to play.
For any Carolina Hurricane fan, it would be life-changing to get the experience to feel like a real Carolina Hurricane. Fans participating in the game will dress in the Canes locker room and have the opportunity to play with amazing hockey players on a real-life NHL Arena. The game will feel as close to a real NHL game as you could get. Participants will be coached on the bench by the Hurricanes coaching staff, plays will be announced on the video call board by Canes announcer John Forslund, and Stormy, the Eye Care Associates Storm Squad, and any fans that come to watch in the stands will be cheering these players on.
Last year the Hurricanes Alumni Fantasy Game raised over $54,000 for the Kids 'N Community Foundation. This year, Carolina hopes to increase that amount. The Alumni Fantasy Game is one of the most profitable events for the Carolina Hurricanes Kids 'N Community Foundation. The Canes highly encourage all donations and just to simply come out and watch some fun hockey!
Love Reading About Hockey?

Subscribe to keep up-to-date with the latest and most interesting hockey news!
| | |
| --- | --- |
| | We hate spam just as much as you |