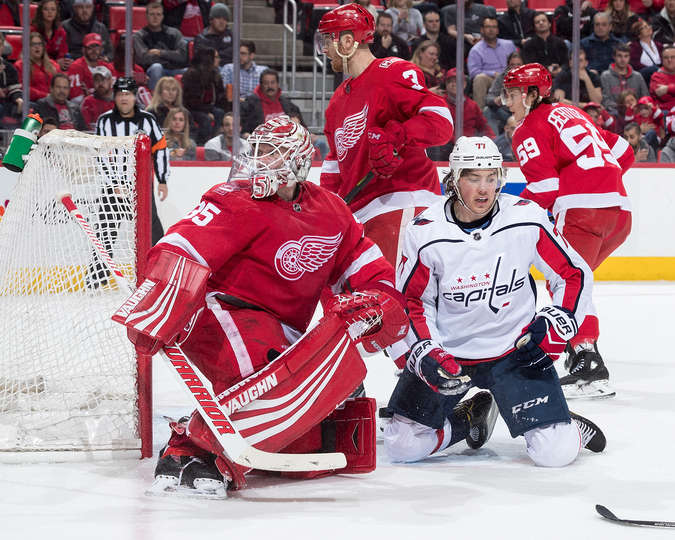 Detroit welcomed the Washington Capitals Thursday night. The Wings came into the night 6th worst in the league after earning two points in Tuesday's dramatic shootout win over the Philadelphia Flyers.
The team sank significantly in the past 12 or so games, having recently lost ten straight. With each passing game, they have drifted closer and closer to the league's cellar, while increasing their percentage of winning the Draft Lottery.
The Capitals meanwhile have won 7 of their last 10, while leading the Metropolitan Division (2 points above Pittsburgh).
It was a low scoring affair, but Detroit was officially eliminated from playoff contention.
—
Andreas Athanasiou appeared to have scored the game's first goal, as he burst into the offensive zone, deked around a Washington defender, before a quick pass to Tyler Bertuzzi, who left the puck behind the net. He then shot from the low circle past goalie Philip Grubauer. It was a fantastic play, however it was all overturned after a successful challenge concluded that Grubauer was interfered with. It was the correct call, and the game remained scoreless. Detroit also avoided the lethal Alex Ovechkin on Washington's power play.
In the second, a pair of simultaneous penalties led to a full two-minute 5-on-3. Unable to convert on this prime opportunity, Detroit did manage to put four shots on net. Forward Martin Frk teed up multiple slap shots, but few made it to the net. Too much passing ate up too much of the clock, and the Capitals dodged a bullet.
After two periods, the Wings had attempted a total of 53 shots, registering 28 on net, while the Caps had only 35. The scoreless tie was the opposite of the 5-4 scoring party on Tuesday.
The deadlock was finally broken when a huge mishap led to a Washington 2-on-0. Brett Connolly and Jakub Vrana traded passes, with the former taking the shot to make it 1-0.
That would be the only mark of the game. Athanasiou also had a third period breakaway, which was thwarted by a strong backcheck by Matt Niskanen.
On the Schedule
Saturday @ Toronto – 7:00 ET
Monday @ Montreal – 7:30
Tuesday vs. Pittsburgh – 7:30
Thursday @ Buffalo – 7:00
Saturday vs. Ottawa – 2:00
Follow me on Twitter @KevinSporkaHOHM