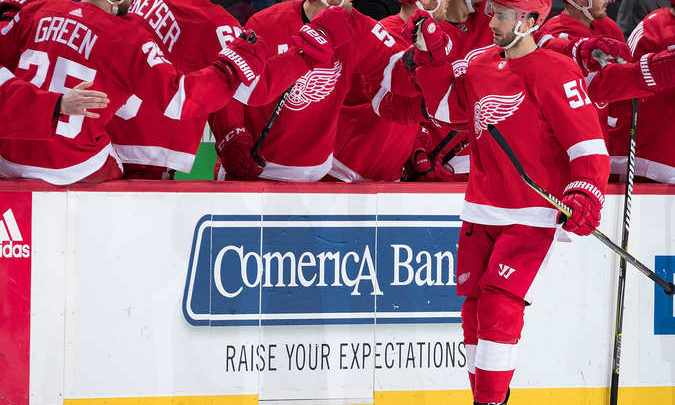 It was a battle of the bottom feeders at Little Caesars Arena Thursday night, as the Detroit Red Wings (51 points) played host to the Ottawa Senators (47 points).
Andreas Athanasiou opened the scoring with a speedy breakaway. Chased by defenseman Maxime Lajoie, he drove to the net, cut across the crease and tucked the puck nicely past goalie Anders Nilsson with relative ease.
A fight broke out behind Jimmy Howard as Brady Tkachuk and Jonathan Ericsson dropped the gloves early in the period. Tkachuk would score as well ten minutes later to even the score.
Athanasiou nearly set up Luke Glendening from behind the net. Glendening had a great chance in the slot but was turned aside by Nilsson.
Still in the first, double-A was tripped by Christian Jaros and was awarded a penalty shot. With a quick kick fake, he nonchalantly flicked the puck through the five-hole to earn his second goal.
Matt Duchene tied it again in the second period and Nielsen beat Nilsson to regain the lead shortly after. The latter resulted from a Dylan DeMelo giveaway to Darren Helm, who proceeded to sauce a no-look backhand pass to the awaiting Frans Nielsen. Nielsen dropped to a knee to one-time it past Nilsson.
No goals were scored in the final stanza, but Rudolfs Balcers was Kronwalled as he skated into the veteran defenseman with his head down. Kronwall stood his ground in open-ice and the impact caused one of Balcers' gloves to go flying into the air.
Cholowski Sent Down
Coach Jeff Blashill began his post-game press conference by notifying the media of the team's decision to send rookie defenseman to Grand Rapids to allow him more experience. The Wings have done the same thing with rookie blueliner Filip Hronek this season, and he has flourished in his time in GR.
Talking about the development process of the team's young players: "Like we've done with most of these young guys; we're looking at what's best for their long-term development."
"One, he's got to play," he continued. "Two, he gets into an environment where he can make mistakes and they're not as costly as they are at this level. So then he can learn and grow, at times at a greater rate than he has here lately. We've got to make sure that we put the individual growth of some of these young guys at a paramount step of our development process. And we felt like it was the best move for his individual development.
I don't have a timetable on how long or anything like that [but] I'm hoping he does what Filip Hronek's done, and that's gone down and grown his game. I think when we sent Fil down at the beginning of the year…honestly coming out of camp we thought that [player to send down] was going to be Cholowski. He earned his way to that not happening. Fil went down and I think Fil really improved because of it and his development showed. And so we're hoping that a similar thing will happen now with Cholowski. As the year's gone along, he's just been in a position where he's racked up lots of minuses, both from a plus-minus standpoint and from a chance against [standpoint]. And so let's go down, let's grow as a player, and let's keep getting better and better and better. I think he's had a real good year. I think it's been a real positive for him. Let's keep that positive going."
It has not been a popular decision among the fans and social media. However, a positive that can be taken out of this is that he will have the opportunity to go on a playoff run with the Griffins, rather than play meaningless NHL games as Detroit continues to basement dwell in the Eastern Conference. It's true that there's no substitute for playing real minutes in NHL games, but there is something to be said for getting more time on ice, experience, and confidence playing at a slightly easier level.
Follow me on Twitter @KevinSporkaHOHM