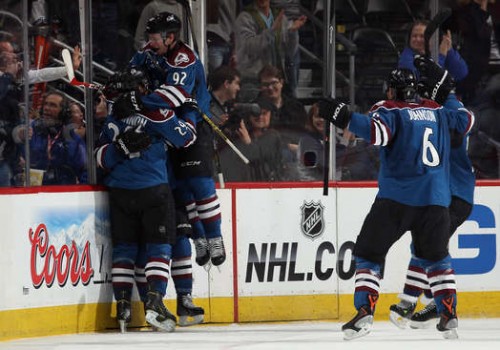 With the Colorado Avalanche securing a top seed in the Western Conference playoffs and possibly capturing the Central Division title by Sunday afternoon, I would like to present my Avalanche Regular Season Awards List.
Best Forward Nominees
Matt Duchene, Gabriel Landeskog, Nathan MacKinnon, Ryan O'Reilly and Paul Stastny
All of the nominees scored 60+ points for the season and have been incredibly valuable to the offensive production of the team, each scoring over 20 goals and putting up more than 30 assists. But only one can be my Best Forward of the Regular Season.
WINNER: Matt Duchene – This was a harder choice than just numbers because MacKinnon has been a beast all season and has played in every game. O'Reilly has proven why he needs to stay with the Avs and Landeskog has rebounded from last season. Duchene though has done more than them with about 10 less games. It is unfortunate he will miss the 1st round of the playoffs.
Best Defenseman Nominees
Tyson Barrie, Andre Benoit, Jan Hejda, Nick Holden and Erik Johnson
The defensemen over the last 2-3 seasons have been suspect and prone to being pretty useless other than falling in front of the puck. Obviously that had far more to do with former coach Joe Sacco's style than Coach Patrick Roy's. Under Roy the Avs defense has stepped up and been even more useful than just defensively.
WINNER: Tyson Barrie – This was a close one between Barrie and Johnson, but Barrie's stock has skyrocketed this season (especially as of late). Once a part timer, only worthy of the occasional call-up for an injury sub, he won't be demoted anytime soon. He combined for a -13 his first two seasons of games, but his third season he has played 64 games for a +17 scoring 38 points on 13 goals and 25 assists. His five game winning goals sealed the win for me.
Best Goalie Nominees
Semyon Varlamov
WINNER: Semyon Varlamov – Duh.
Most Improved Player
Erik Johnson, Jamie McGinn, Semyon Varlamov
Johnson and McGinn are two skaters who have seen an uptick in their usefulness on the ice and their production has risen for the first time since each came to the Avalanche. Both have also become important role players for the team, Johnson more so than McGinn. Varlamov was supposed to be the number one goalie the Avs traded for that has been on the cusp of breaking out, but just hadn't. Until this season.
WINNER: Erik Johnson – The magic number is 39. His nine goals and 30 assists tie his career record for points and he has a +5 rating, a first in his career. Varlamov has been a stud for the Avs, but he was supposed to be all along. He has been on the edge of being a great goaltender while Johnson was slowly falling into "bust" category.
Team MVP nominees
Matt Duchene, Erik Johnson, Gabriel Landeskog, Ryan O'Reilly, Semyon Varlamov
All mentioned have been listed for one of my awards or more, their accomplishments recognized. But only one can be the most valuable on the team. The MVP has to be the keystone of the club, the glue that holds the season together.
WINNER: Semyon Varlamov – It is undeniable that the Avs have played great hockey this season, going from worst to first. An unbelievable turn around that should impress any NHL fan and trouble rivals. But the key to the entire season has been Varlamov between the pipes. As the star goalie he was supposed to be, Varly has come into his own with the help of Coach Roy and goaltender coach Francois Allaire.
Troubled early in the season with domestic violence charges, Varlamov not only shook the charges but shook the monkey on his back becoming a rock solid goalie. He has broken Roy's record for single season wins and hopefully he will have a shot at breaking the franchise record for overall goaltender wins, as well as others. Varlamov is the glue that holds the Avs together and their success is largely because of him.