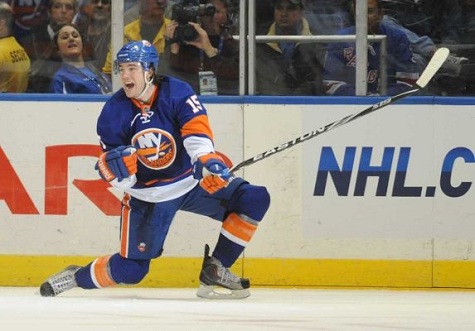 The Colorado Avalanche opted out of the Zach Parise/Ryan Suter hunt and locked up a solid free agent right winger in Pierre Alexander (P.A.) Parenteau. The former New York Islander will be bringing his talents to Denver for the same price as recently resigned Avalanche winger David Jones: four years for $16 million.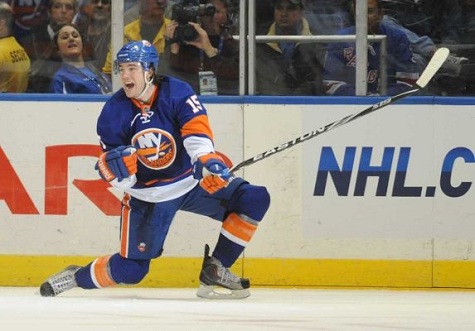 Parenteau will be a very welcome addition as he tallied 67 points last season for the Islanders. Pierre is an assist machine as 73 percent of his points were from passing and not goal scoring. His 18 goals are nothing to raise a nose at and his total points were only two below the Zach Parise's. He will do very well on a line with a forward that is looking for the back of the net often. What the Avs really need is another goal scorer, or they need someone to step up, dominate, and take the lead –I'm looking at you Matt Duchene and Paul Stastny. Hopefully P.A. won't miss John Tavares too much.
Parenteau will do very well on a line with Gabriel Landeskog. Feeding the pucks to the proprietor of "Landeskogging" would have to result in more PPG which Colorado only averaged slightly above two-per-game last season.
Signing back on with Colorado is former San Jose Shark, Jamie McGinn. Ginner was a very welcome pick-up last season for T.J. Galiardi and averaged just shy of a point-per-game during his 18 with the Avs. GM Greg Sherman said "he made an immediate impact" and I cannot disagree with that statement. Because of his performance the front office extended him a two-year, $3.5 million contract. McGinn's contract is paying him enough to keep him happy while also reflecting his performance. This two year deal also allows him time to pick up the points necessary to help the team win and get him another bigger contract sooner than later.
Ryan O'Reilly? Still unsigned.
A deal will get done, but it is kind of weird that the Avs point's leader still has not received his payday. There is still more to see from him, but his breakout season was a very good show and O'Reilly did not disappoint. The Factor –his nickname, a reference to Fox News commentator Bill O'Reilly's show "The O'Reilly Factor"- is deserving of a nice new contract, but one that reflects a breakout season. Maybe he gets David Jones money, the Avs have plenty more to spend, but it may be doubtful as Duchene received a small, but fair, offer. O'Reilly has the free agency market and his 2011-12 season on his side though, something Duchene did not due to his injuries and consistently inconsistent and streaky performances.
For game thoughts and general sports trash talk, follow me on Twitter @CoryWhitmer