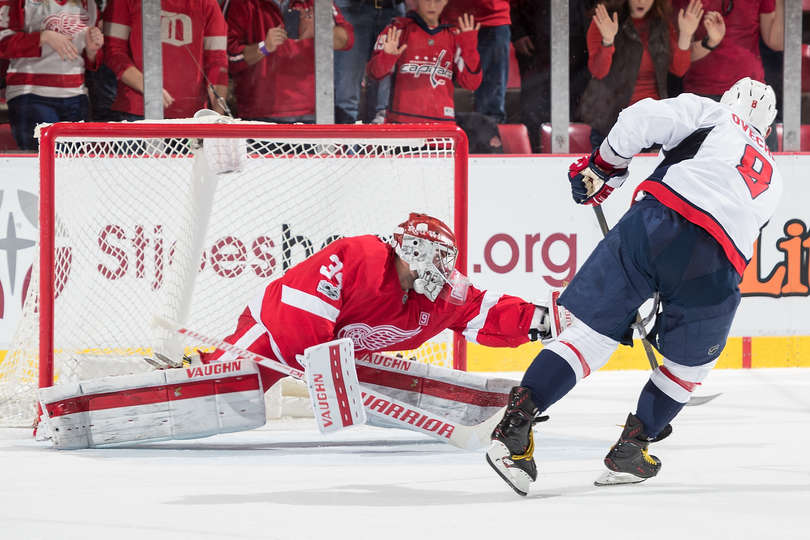 The Detroit Red Wings found a way to beat the offensive powerhouse Washington Capitals on Saturday afternoon. After relinquishing a one-goal lead late in the third period, the team succeeded in winning the seventh shootout of the season.
8:13 into the first period, Frans Nielsen notched a power play goal near the crease of goalie Braden Holtby. It was a great cross-crease pass by captain Henrik Zetterberg to Nielsen, whose first shot hit the goal post, but his follow-up attempt went in.
It was clear that this Washington team was a little rusty. This marked their first game following their CBA-mandated bye week.
Early in the middle frame, forward Anthony Mantha stole the puck and led a rush with Zetterberg at his side. He passed to Zetterberg, who then passed to a trailing Tomas Tatar, who potted the second goal.
"I was back on our defensive blueline and I saw [Mantha] intercept a pass," said Tatar. "They kind of went 2-on-1. (Laughs) I mean, I honestly didn't expect that [Zetterberg] would pass it back, but that's how good of a player he is."
Washington would strike back before the period concluded. Zach Sanford made it 2-1 with only 1:24 left.
In the third period, goalie Petr Mrazek made an outstanding stretching toe save on Justin Williams. It was a highlight reel play that kept the 2-1 lead intact.
Unfortunately, the Capitals would tie it anyway soon after, as Daniel Winnik deftly batted a rebound out of the air following a shot by T.J. Oshie. Mrazek had little chance to make a save.
In the overtime period that followed, Washington dominated the flow of play. Detroit began with three forwards to try a different strategy. The Wings have not had success in extra time this season, losing ten games. After a couple of close calls, the new strategy now focused on forcing a shootout.
"We haven't been very good in overtimes, so there's probably two theories there," said coach Jeff Blashill. "One is to try to do some different things to win in overtime and one is just to drag it into a shootout. Early in the 3-on-3 we did some different things with three forwards to try to win. And once we got later, I said to myself, let's get this thing into a shootout, because we seem to find a way to win at shootouts. We got some real good shooters, and I think Petr and Jimmy Howard, and Coreau have done a great job at stopping the shooters."
Thomas Vanek was successful on the first shot of the shootout after faking and shooting low on Holtby. Washington's Evgeny Kuznetsov scored with a skillful backhander in the second round. Lastly, Zetterberg finished his impressive game with the game-winner. Mrazek then successfully stopped Alex Ovechkin.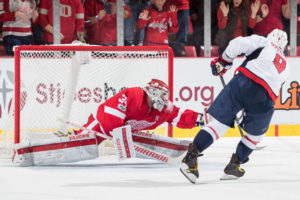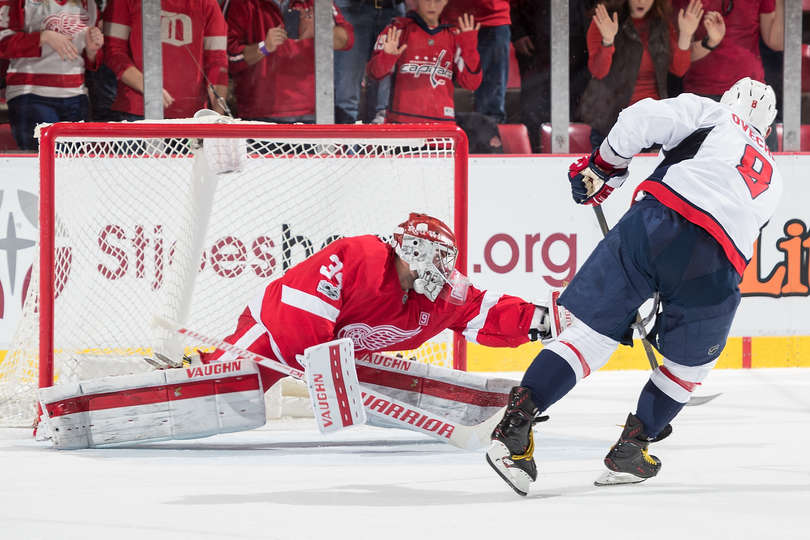 Mrazek has now had three good starts in a row, bringing his February save-percentage to .929 (.902 on the season).
"I just thought like, he just needed to get a little more confident," said Tatar. "We weren't doing good; it was hard to put the blame on him. He was playing great, but when we don't help him, it's kind of hard for him. I think he's playing great now, you know, he makes those saves which makes a difference in a game, and that's huge for us. We trust in him and he's playing great."
"Confidence is one thing," said Blashill about Mrazek's strong play. "I think when it's not going good…it shakes your confidence a little bit, and I think that happened to our power play and it happens to individual players. I can't speak 100% for him. I'll let him speak for himself, but I also think he really worked hard at continuing to improve his technique, and went to work with (goalie coach) Jeff Salajko. I actually thought he's been coming out of this for a long time, to be honest with you, and I think he's been playing good but wasn't being rewarded. Sometimes at the goaltending position, pucks go in, regardless of what you do. They go in off people, they just, sometimes you just get breaks. But I thought his game has been building for a long time, so it doesn't surprise me that he's playing well."
Follow me on Twitter @KevinSporkaHOHM
Love Reading About Hockey?

Subscribe to keep up-to-date with the latest and most interesting hockey news!
| | |
| --- | --- |
| | We hate spam just as much as you |