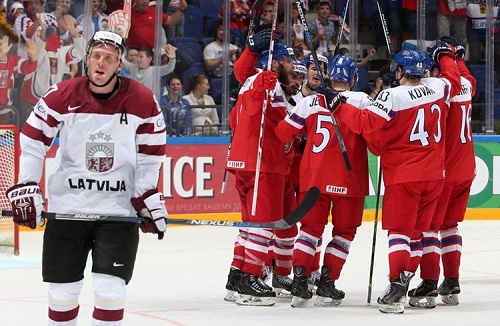 For the Czechs, it was their second victory in as many games, and for the Latvians their second straight extra-time loss.
"Latvia is a strong team," Petr Koukal of the winners said. "They lost in overtime with Sweden, but we were leading 2-0 and we made so many mistakes when we should have scored more. If we'd gone 3-0 or 4-0 maybe it would have been an easy game, but this was a tight game over 65 minutes. Five points from two games is a good start for our team."
"Two points isn't a bad return but would could have got even more," lamented Mikelis Redlihs.
Tomas Plekanec scored twice for the winners while Latvian goalie Edgars Masalskis was sensational in a losing effort, stopping 35 of 39 shots.
Pavel Francouz, playing his first full game with the Czechs, was the winning goalie, although he was less busy than his counterpart.
Plekanec opened the scoring at 3:33 when he took a stretch pass from David Pastrnak and blasted a long shot which snuck under the left pad of the veteran Masalskis. The 36-year-old goalie is playing in his 13th World Championship.
Less than three minutes later Plekanec clicked again, on a power play. He took a quick pass from Lukas Kaspar at the side of the goal and redirected it in at 6:23.
"Even when we were down 2-0, we got together in the locker room and realized that we had to do what the coach was asking of us," said Aleksandrs Jerofejevs. "We knew if we could get a goal back there would be more, and that's how it turned out."
Then came a wild finish. Girgensons gave the Latvians a lead at 17:41 when Abols saw him alone in front, but this proved not to be the winner. With Francouz on the bench, Michal Repik deflected a point shot with 59.0 seconds remaining to tie the game, 3-3 and force overtime and a shootout.
Both teams have a day off tomorrow before resuming on Monday. The Czechs play Sweden and Latvia plays Russia earlier in the day.
"We're a little bit tired," Pastrnak admitted. "We've had two hard games in two days, but we have a day off now we going regroup, rest well, have a good dinner and get ready for Sweden."